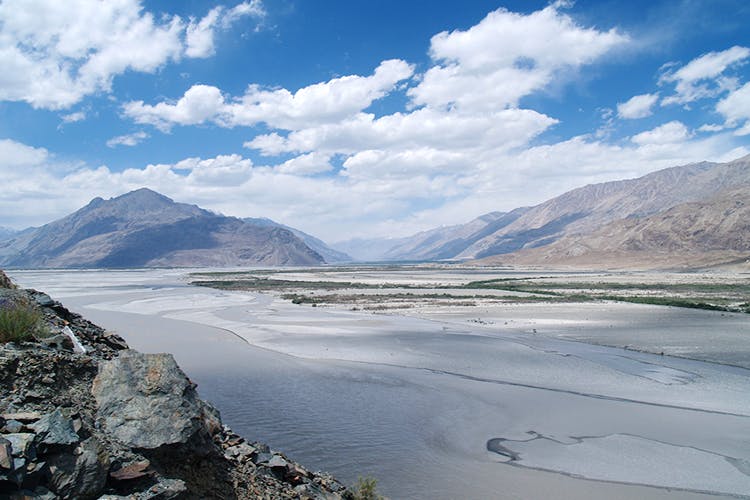 Hippie Hiatus: 12 Trippy Places To Visit In India
Someone once said traveling is like meditation. When you travel, you explore new places, meet new people and try new food. Traveling as an exercise is important to the soul, mind and body. These are 12 places in India where you should travel not for the destination but for the experience it entails. These places provide a blend of hippie feels, spirituality, natural scenic beauty and different cultures to excite the wanderlust in you.
Nubra Valley
A little north-east of Ladakh lies the gorgeous Nubra valley. It overlooks the mighty Shyok river. One can sit by the river and just feel the time pass by without having a care in the world. It is also the coldest desert in the country with mountains, sand dunes and rivers as its backdrop. You can visit the monasteries to experience serenity and peace and give in to the hypnotizing effect of chanting by the monks in these monasteries. There are many treks that one can undertake that will truly give a glimpse into life that has fortunately remained untouched by human population and modern technology.
Matheran
It is the smallest hill station of the country located in Maharashtra. Since this town does not allow any form of vehicles, you will have to walk or ride a horse or mule. While you are there, take in a breath of fresh air and immerse yourself in the greenery that is spread all around you. The town has a total of 38 viewpoints which provide a panoramic view of the Western Ghats. With internet availability being a problem and leaving millennials without surfing the web, it can become pretty eerie at night when one cannot step out to explore at night. Whether it is the haunted vibes that work for you or the quaint ones, you are in for a trippy vacation.
Kasol
We can't have a list of trippy places to visit without mentioning our own mini Israel aka Kasol. Located along the Parvati river, with the Himalayan mountain ranges surrounding it, what is not to like about a setting as tranquil as this. You can take your gang and your music and have your own version of 'Manali Trance'. You get some good quality stuff here with natural herbs being grown in abundance and also organically. It is ideal to there in the summers to escape the unbearable heat waves that engulf a huge part of the country.
Morjim
Goa has become synonymous with EDM and Rave parties on its beaches so much so that the quieter gems of the state tend to remain ignored. Morjim is one of those gems that you can head to if you want to go to Goa but not do the 'typical' Goa things. It is one of the bigger beaches in Goa where you can enjoy your privacy yet not be completely isolated and cut off from the EDM party world. With fewer people in sight, the trance parties are more enjoyable and obviously less crowded. You can also check out the Chapora Fort for an engagement with Goa's Portuguese past.

Hampi
Hampi was the capital of the Vijayanagar Empire back in 14th - 16t century and todays a UNESCO World Heritage Site. There is something something so mysterious and magical in Hampi's air. Whether it is the architecture of an era bygone or its beautiful colors and landscapes, Hampi speaks to you in a way not many places can. Ruins of various structures and buildings just lie there as part of the landscape adding to the aura of mystery of that place. Like many other historical places, some people believe Hampi to be haunted as well. In short, Hampi is the perfect blend of aesthetic, historic, creepy, mysterious and picturesque vibes.

Gokarna
Located in Karnataka, this town has two faces to it - one face shows the religious side of it, the other face shows the hippie side of it. However, there is a convergence of interest of the people who visit Gokarna and that is found in their search for the 'herbs', the sense of serenity and the fact that this place is not unnecessarily overpopulated. It is one of those raw places that has not been very affected by the commercialization of the place. Enjoy the beach life while also reveling in the centuries old religiosity of the place.

Ziro
Located in Arunachal Pradesh, Ziro is becoming the new hot tourist destination in the North East. It has been shortlisted to become a UNESCO World Heritage Site. This region is famous for its Apatani tribe who are one of the oldest tribes from the North East. They are known for their unique traditions, festivals and rituals. The town is covered with terrace paddy fields with the mountains in the background. If you are looking to dance your heart out and get lost in the melodies, then Ziro Music festival is something you should be eyeing in September.
Pushkar
Pushkar is your typical hippie place celebrating Hinduism with people coming from all over the world and flaunting their harem pants. The age old mythical city has been attracting visitors for centuries but it has become more hippie these days. This is the only city to have temple dedicated to Lord Brahma because his wife Savitri cursed him so that no temple. Is ever dedicated to him. Pushkar is not only about the hundreds of temples that are scattered everywhere. One can also go on hikes, have a view of the full city in a hot air balloon and try camel rides in and around the city.
Kutch
If you thought Rajasthan is the only state in India to have a desert, think again. Kutch in Gujarat is not your typical desert. It is a salt desert for most of the year and in the monsoons, the salt sheets are covered with watered. The Runn of Kutch festival that takes place from November to February showcases the vibrant Kutch culture with camel rides, local haats selling the famous embroidery works from the Kuth and Burj region, cultural programs and much more. While in Kutch, one can also visit Dholavira which is one of the largest and most important Harappan sites in India.

Auroville
Auroville is known as 'the city of Dawn' and is a small town located 16km from Pondicherry. The town was envisioned to be a place where unity between mankind can thrive and people can live peacefully without borders and discrimination and with spirituality. This is a melting pot for cultures and people of different nationalities. The people here are always found in a state of peace. If your life is getting too hectic for you, spend a couple of days in Auroville and get high on the peace factor here. It is the closest you can get to utopia, a town with less population, no pollution, no differentiation and discrimination and a peaceful sense of spirituality.

Jibhi
It is one of those offbeat hamlets in Himachal Pradesh that remain unexplored and untouched by the crowds of tourists that visit Himachal Pradesh every year. It is located between the Shimla Manali road. You get to have a glimpse on traditional Pahari architecture as the hamlet is dotted with 2-3 storey wooden houses all around. If you want to plan a vacation where you can laze around yet not be a complete couch potato, choose Jibhi. There are a ton of things to do and places to walk in.
Kodaikanal
The word Kodaikanal means "gift of the forest". It is an establishment of the 18th century when British officers wanted to have a retreat where they can escape from the unforgiving heat and epidemics of Madurai and Madras. It will be a romantic setting if you go there with your significant other and spend time just admiring the scenic beauty of the place. Thankfully the place offers pleasant weather all round the year. There are natural caves that you can set out exploring or just take in the cool breeze sitting by the various lakes of the city.

Ask Editors a question