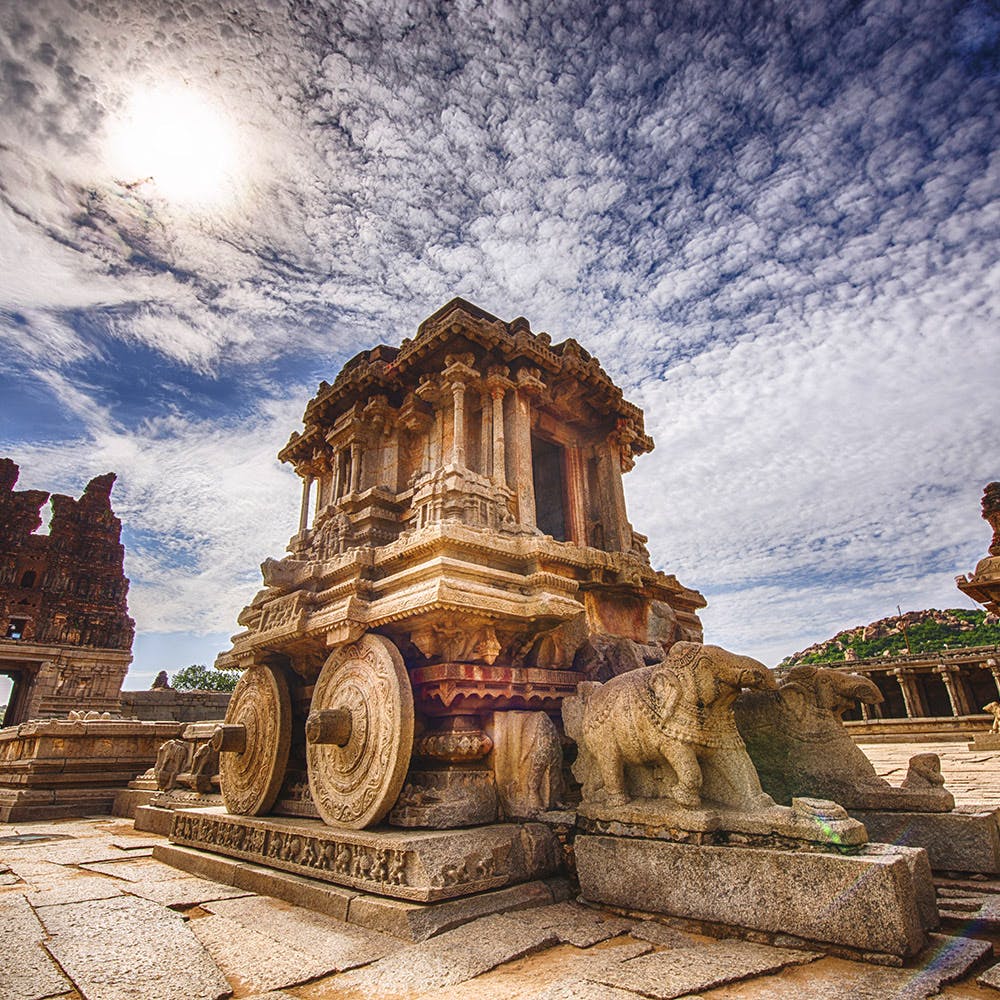 Travel To These Places For A Two-Day Trip From Bangalore
We all deserve a short break from our day to day mundane life, don't we? If you are tired of the regular party scenes or just Netflix and chill sessions on weekends, hit the road and take a two-day trip to places close to Bangalore. Hold on, you don't need to google and make a list because we have you sorted. Check out our list of places to travel to for a two-day trip from Bangalore. Pack your bags and leave on Friday night and come back by Sunday evening or Monday early morning (just in time for work).

Hampi
The last capital of the great kingdom of the Vijayanagara Empire, Hampi is located at about 342 kilometers from Bangalore. Known for the monuments and ruins of the Vijayanagara Empire, Hampi is a traveller's paradise. Visit the famous Vittala Temple and take pictures at the Stone Chariot, shop at Hampi Bazaar and witness the sunrise and sunset on top of the Matanga Hill. When travelling from Bangalore, you can drive down to Hampi or take an overnight bus to reach the city. Once you've had enough of the historical monuments, visit the Daroji Bear Sanctuary and witness Sloth Bears in their natural territory along with other animals such as spotted deer and leopards.

Kotagiri
Everyone from Bangalore has been to Ooty at least once or twice in their lifetime. Ditch the mainstream hill station and head down to Kotagiri for a dose of serenity and calm. Located at about 31 kilometers from Ooty, you can get there either through Mysore road or via Coimbatore-Mettupalayam. Filled with tea plantations, Kotagiri is pretty as a picture and is not crowded with tourists. Visit the Konadanu View Point which is an hour's drive from Kotagiri to enjoy the panoramic view of the Nilgiri mountain range. Hop in your car and drive to Coonoor for some sightseeing like Dolphin's nose, the famous toy train and Sim's Park. While you are in Kotagiri, shop for honey and organic products at the Green Shop. Don't forget to drink tea and munch on samosas at Adengeappa Tea Stall.

Puducherry
Craving some Vitamin Sea? Head straight to Puducherry and soak in some sun while you are there. Filled with pretty beaches, hipster cafes and lots of bright coloured walls for you to get your insta-worthy pictures from your holiday. Puducherry is located about 310 kilometers from Bangalore. You can either drive down to Puducherry or take an overnight bus for a two-day trip here. Walk along the Promenade Beach located in White Town and enjoy the sunrise with bae. Walk along the lanes for shopping and pretty cafes for coffee and ice-creams. Lunch at the famous Xtasi for yummy woodfired pizzas and ice-tea to go along with it. If you are craving for some chaat and north Indian street food, head to Dilliwala 6. Check out the latest addition to French cafes in Town, Coromandel Cafe for fresh pizzas, pasta, and coffee. Spend a day at Auroville and visit the matrimandir for some tranquillity. Also, check out Paradise Beach for clean white sands and crystal clear ocean water.

Mangalore
If you love beaches and seafood, add Mangalore, the coastal city to your list of places for a two-day trip. It is about 352 kilometers from the city and you can either drive down, or take an overnight bus or train to Mangalore. With the Konkan coastline, there's something for everyone from scenic views to great experiences. Fill your trip with sun, sea, and sand by visiting Panambur which is one of India's cleanest and safest beaches with lifeguards on duty. With a range of activities like the kite festival, boat races, and paragliding, this beach is filled with life. When in Mangalore, head to Pabba's and order the legendary Gadbad. Craving for some seafood? Machali and Giri Manja will help you out with their extensive seafood thails. Go on a shopping spree at one of the four malls in the city: Bharath, Empire, City Central, and Forum. Drive down to Udupi and visit the famous Krishna Temple.

Kabini
With an abundance of flora and fauna, Kabini is every nature and wildlife enthusiast's paradise. Located at about 210 kilometers from the city, Kabini is perfect for a two-day road trip. Dotted with resorts, it is a perfect place to rejuvenate and enjoy a romantic getaway with bae. As you cross Mysore on the way to Kabini, spend some time at the Mysore zoo or Mysore palace to get a peek into how the royals ruled and still live. Visit Nagarhole National Park and go on a jungle safari to spot the vast species of animals and birds. Go on a boat safari along the Kabini river and head to the Kabini dam for an evening picnic paired with a beautiful sunset. Enjoy the calm and tranquillity in Kabini and rest at your resort before heading back to Bangalore.

Sakleshpur
Located in the Western Ghats, Sakleshpur is covered with tea, coffee and spice plantations and is great for a two day trip from Bangalore. Spend a night camping and stargazing in Sakleshpur as you trek through the trails in Sakleshpur. Visit the star-shaped Manjarabad Fort built by Tipu Sultan, which is a single level fort unlike other forts and provides visitors with a stunning view of the western ghats. Trek through the railway bridge from Kukke Subramanyam to Sakleshpur to enjoy the lush forests and witness numerous waterfalls along the route. Visit the Manjehalli waterfall and enjoy the waterfall in all its glory. Sakleshpur is about 220 kilometers from Bangalore, perfect for a road trip.
Vagamon
Looking for a quaint hill station in Kerala that you can visit for a two day trip from Bangalore?Visit Vagamon, located at about 550 kilometers from Bangalore. Take a train to Kuttikanam and drive down to Vagamon or take a bus till Cochin, and another to Vagamon. Visit the Ulipooni Wildlife Sanctuary and spot different species of animals and birds while you enjoy a picnic and also go on a boat ride. Visit Kurisumala, one of the most popular destinations in Vagamon, a famous Christian pilgrimage spot. Check out the Maramala Waterfalls, a natural falls of 60 meters amidst dense rubber plantations, perfect for nature lovers. Go paragliding at Kolahalamedu and get a bird's eye view of the lush green hill station.
Comments