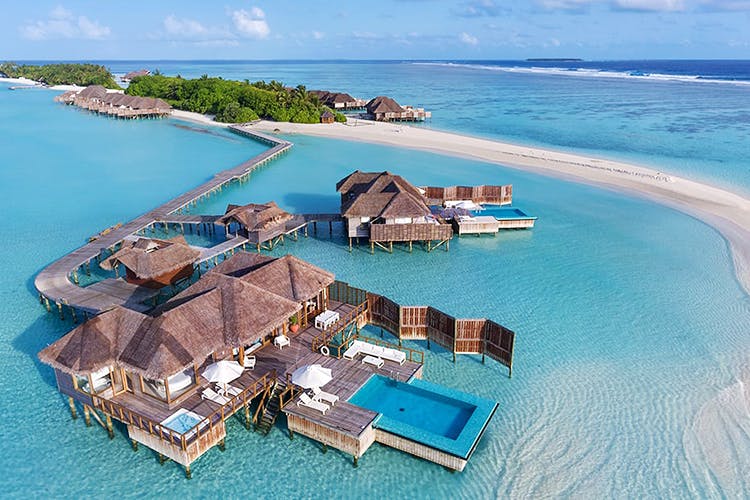 Too Cool For A Penthouse? Check Out This Underwater Residence Just A 90-Minute Flight Away
Shortcut
Expensive though it may be, the Maldives has always been a place that Bangalore and Chennai folks escape to. And now, there's more reason to do so at this completely underwater villa!
Under The Sea
Oh, you live in a penthouse? That is so 2017! Come November, you've got to check out Muraka, a bungalow built deep on the seabed of the Indian Ocean. No, really. The whole villa is built on the bed of the ocean, unlike many other underwater living spaces that are all really aquariums. A project of Conrad Maldives Rangali, which also has a lovely underwater restaurant in the Maldives is responsible for this, and it's apparently the first of its kind, in the world.
If you're wondering what the villas have, then get ready to be amazed! The two-floor bungalow features one entire floor underwater, while the second is on the surface. Well, you can't really have an infinity pool in the water, can you? The surface level features two bedrooms — one twin and the other a king bedroom, a powder room, gym, living room kitchen, a bar and dining space and living quarters for your 24/7 butler. Plus, a security room because you're obviously a high flier. There's also a deck to watch the sunrise, and a pool to lounge in with nothing but the ocean surrounding you.
Into The Blue
The undersea suite, however, is like a whole new world. With a swanky suite, living area, bathroom and unmatched views of the marine life, you'll have to fight for this spot when you head here. And since the massive villas can house up to 9 guests, good luck getting your favourite room.
Don't jump the gun yet though. First, you'll need to scrounge together about $50,000 which is about INR 34 lakhs. Then, you need to wait a while as Muraka (which means Coral in the local Maldivian language Dhivehi) won't be ready until November of this year. Lucky for you, we may not be contesting for a spot in this bungalow as it will mean we'll have to sell a few kidneys, deplete our life savings and maybe even mortgage our souls to spend the INR 3.5 lakhs it will cost each guest, per night. For a once-in-a-lifetime experience, however, we suggest you start saving up. Get the recurring deposit sorted, and live the high life, down below!
Check out the preview of the bungalow here.
Comments