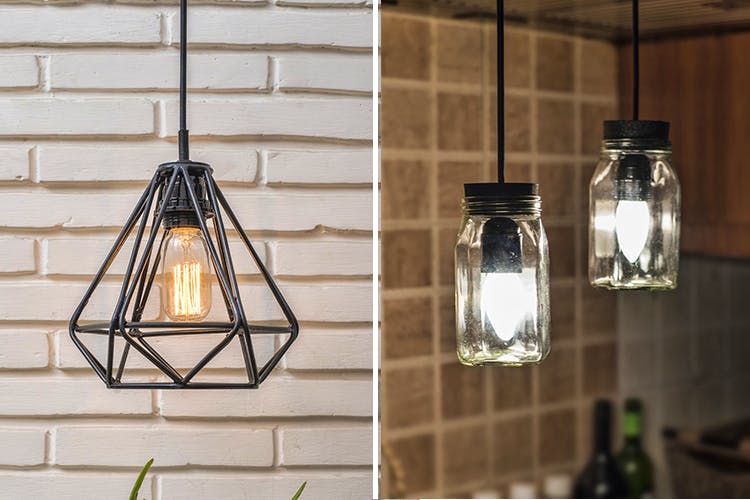 Geometric Lamps To Mason Jar Chandeliers, Light It Up The Quirky Way With This Decor Label
Shortcut
We love us some fancy mood lighting. Lighting up our lives, one hipster filament bulb at a time is Untold Homes, a decor brand that does quirky lamps and a host of other whimsy home elements.
What Makes It Awesome
Offbeat decor is always a winner with us. Yet another in a line of decor stores pandering to the hipster in us is Untold Homes, an online decor label. Their range of lamps particularly stand out, with their quirky designs. We love their geometric pendant lamps, with big filament bulbs. From metal hexagons to square frames, these conversation starters are a quirky way to light up your space. They have mason jar chandeliers as well, which are a statement piece, perfect for those who love soft mood lighting. The prices tags quoting INR 1,200 and upwards. Other stand out lighting pieces include the Birdcage Chandelier, which is a pretty birdcage, lined with fairy lights and other colourful elements, and their jute lamps that incorporate jute weaves into the lamp.
It's not just lamps that Untold Homes specialises in. The online store features wooden key holders, hand-painted pots, trays, rugs and carpets too. They have a big collection of kitchen utility stuff from spice racks to cork coasters, starting at INR 700. Each piece has a quirky twist, from being wrapped in twine or having leather accents, making their merch a refreshing change from the decor elements we're so used to.
Pro-Tip
They'll even customise your decor. Just hit up the creative bunch at Untold home via Facebook or their website and throw your ideas around and they'll create a decor piece just for you.

Comments