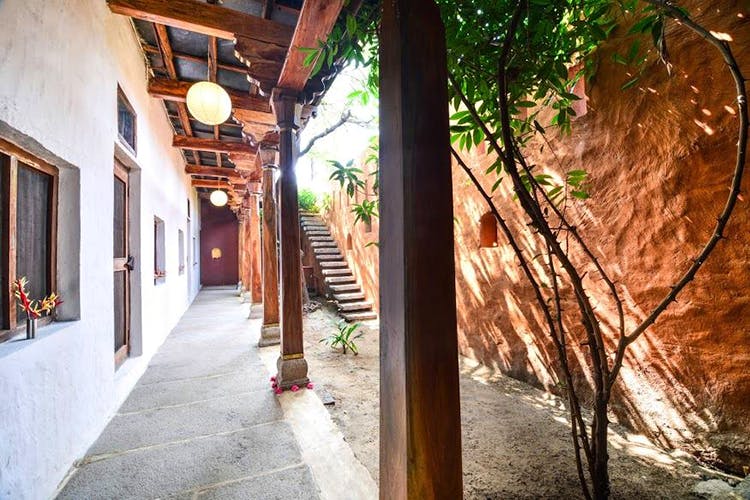 Coracle Rides And Harvesting Paddy: This Heritage Getaway In Hampi Can Be Traced To The 8th Century
Shortcut
Uramma House in Hampi is located in a charming, traditional village and offers rustic experiences like coracle rides, harvesting paddy, and trips to a weaving facility. Room prices start at a mere INR 832.
What Makes It Awesome
Right across from main Hampi town, Anegundi is a quaint village that's popular with tourists who want to experience a more relaxed holiday (minus the dietary restrictions that are enforced in the temple town). A motor boat will get you to Anegundi and Uramma House, that's close to the jetty, is an excellent option for stay.
One of the top-rated hotels, on this side of the Tungabadra, Uramma House sits on a foundation that goes back to the 8th century. The property has been redesigned and now offers two spacious rooms (INR 3,780 per night for one room, including breakfast). The house features rustic touches, a lounge area, and also a breezy courtyard. If you are travelling with just a couple of friends or the kiddies, this is perfect. At a short distance from the main property, Uramma also offers rooms for budget travellers. Known as Peshaghar House, these are basic roomsand come for INR 832 (while you can't expect fancy facilities you'll get a clean bed and hot water). These rooms come with common bathrooms.
Everyone who has been to Uramma, comes back praising the hospitality extended here. If you are keen, the property will happily hook you up with off-beat experiences that give you a sneak peek into rural life. Bullock cart rides, visits to the local fibre weaving facility, or even helping out on a paddy field – the property facilitates some fun hands on outings.

Pro-Tip
Should you want to explore outside the property, you can also try your hand at rock climbing or rappelling, or head to the Tungabhadra for coracle rides at an extra price. Ask the property to make the necessary arrangements when you are making a booking.
Comments