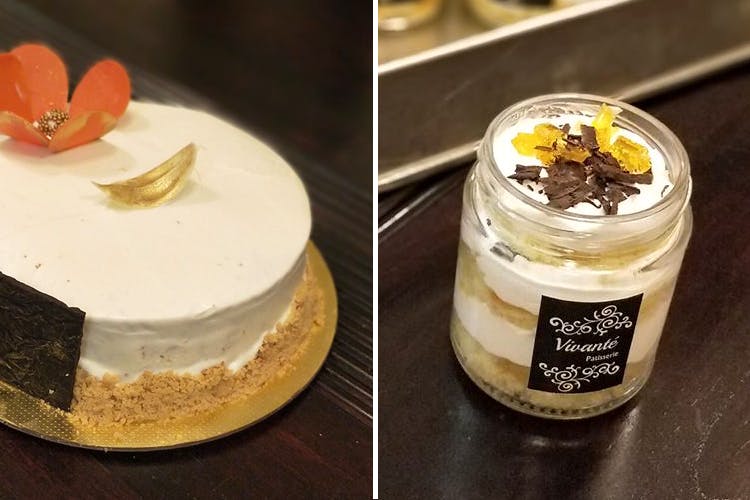 Banoffee Jars And Gluten-Free Carrot Cake: This Home Baker Is Dishing Out The Sweetest Deal
Shortcut
Pour some sugar on your day with sweet creations from Vivante Patisserie. The home-run bake shop serves dessert jars, cakes of all kinds, and breads too. 
Jar Of Tarts
Accidental baker, Tanya Warrier was once an IT Engineer. She turned to baking after receiving rave reviews about her desserts in her gated community. So, last month, she decided to officially open up Vivante Patisserie. Operating from her home, in Nagawara, Warrier whips out all kinds of cakes and sugary treats.
She is particularly known for her classic creations including her Black Forest. What we love is that she spruces them up with delicate floral details and other decorative flourishes. She also recommends her 80 per cent gluten-free, carrot cake. But the ones to watch out for are her dessert jars with flavours like Banoffee and Pineapple selling like hot cakes. Warrier also makes fondant cakes, quiches, and eclairs. And since she loves to keeps things fresh, she insists on not using preservatives. The no-frill cakes start at INR 700 while the themed ones begin at INR 2,000 per kilo.
Bread Basket
Warrier has also proven her skills in making fresh breads. However, these are only available on bulk orders. So, if you are hosting a little party at home, you can order up everything from baguettes to pesto rolls, pita, and pizza crusts. Prices start at INR 120 and you will have to place your order at least two weeks in advance. All orders will have to be picked up at Warrier's Nagwara residence.
{Calling all brides (and their tribes!) – From clothes to gifting, get all your wedding inspiration here. #HitchedWithLBB}
Comments