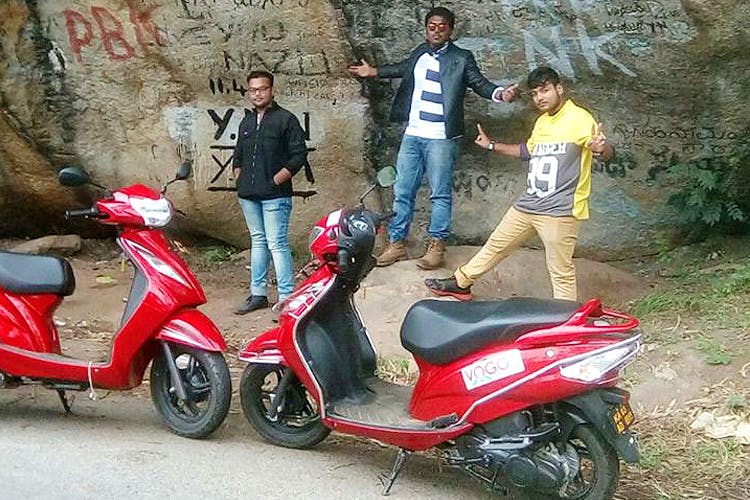 Nearest Metro Station:

Rashtreeya Vidyalaya Road
Rent, Ride, Return: Hassle-Free Scooter Booking For All Your Errands For Just INR 1.20 Per Minute
Shortcut
For quick errands, office trips, or weekend shopping crawl, ditch the cabs and get around easy with Vogo's fleet of dockless scooters. Rides start at INR 1.20 per minute and fuel is included.
What Makes It Awesome
Vogo's really about making getting to once place hassle-free and budget-friendly! Since their rides start at INR 1.20 per minute and the fact that you are on a scooter, getting from let's say Koramangala to Commercial Street, which is roughly 30 minutes (in the most ideal traffic-free scenario that Google Maps showed at the time of publishing this recommendation) will only cost you, wait for it, just INR 36. Yeah, it's that budget-friendly and it's cheaper than a Uber or Ola cab that will cost you an upward for INR 70. We are all about saving that extra one rupee!
You haven't even heard the best part yet, all the scooters come with fuel, so if you are worried about the every rising petrol charges, the good folks are taking care of it. Of course, that being said, if fuel does get over in between, then the refuelling is all on you! The app is quite user-friendly too right from signing up to uploading your original driver's license on to the server. It's a location-based service, so you will have to see if the scooters are around you or not. If they are not, you can always request for a scooter and they will turn up.

What Could Be Better
The wait time if the scooters aren't around can be anywhere between 10 minutes to an hour depending on the traffic, the available fleet and the fact that they are present only at limited locations - Koramangala, Indiranagar, and parts of CBD. Plus, their app is only for Android phones, so that's a bummer for rest of the OS users.

Pro-Tip
You will need to bring your own helmet!

Comments
Nearest Metro Station:

Rashtreeya Vidyalaya Road