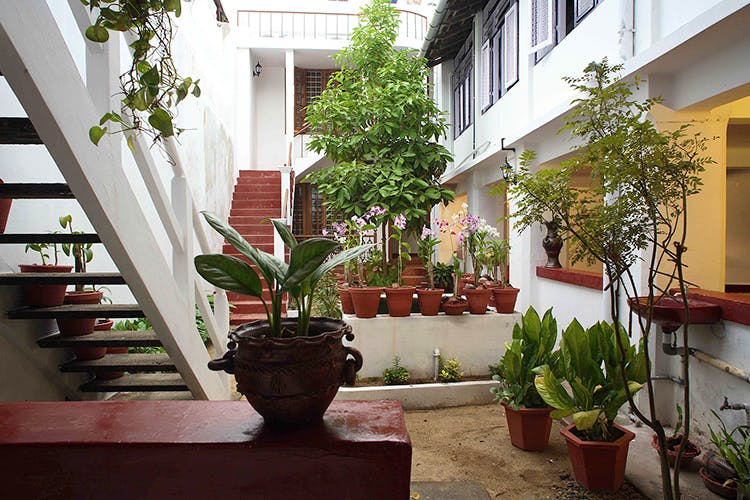 Private Library, Garden Cottage And A Synagogue: Check Into This Beautiful Fort Kochi Homestay
Shortcut
Walton's Homestay is where you need to check into, to experience life in Fort Kochi amongst Chinese fishing nets, the Jewish Synagogue, and Kerala's art and culture.
The House By The Side Of The Road
Run by a Catholic family, this centuries-old Dutch building is centrally situated on Princess Street, one of the earliest laid out streets in Fort Kochi area. With its blue-white colour scheme, and rustic wooden doors and windows, it is a welcoming sight besides the many shops, cafes, and restaurant. But those very shops and eateries will make sure you're close to all the buzz. And you know there's plenty to do after you have checked in, settled, and ready to explore the place.
Garden Cottages Or Double Rooms
Accommodation at the Walton's is either the cosy, private garden cottage or the spacious, wooden-floored double rooms with windows that open out to the garden. The garden cottage with its abundance of greens, shrubs, and those beautiful blooms, make sure you wake up to birds tweeting and doze off to crickets chirping. Very private and very calm, couples, you catch our drift, right? There's even a little porch where you could sit and catch up on some reading. Booking the place is a bit tricky because you'll have to make an enquiry and such. But you are free to book them through third-party portals.
Yoga, Books, And Community Breakfast
Before stepping out, I recommend exploring life within the homestay itself. You've yoga classes that happen every morning, and if you are in for a long day, starting your day with a bit of stretch and getting those joints all creak-free sounds like the perfect plan. Community breakfast at the family dining table is quite the affair here, with an endless supply of toasts, fresh fruits, tea, and coffee. But perhaps, the best part of the entire homestay is the well-stocked library that houses books of yore, a bit of classics, and plenty of books on Kerala's history and culture.
Exploring Fort Kochi
Talk to the hosts before stepping out. Apart from telling you about how Sam Walter Foss's poem The House by the Side of the Road serves as an inspiration to the original owner opening up this place, they will be the guides who tell you where to score spices, curios, and the likes. But a visit to the Chinese fishing nets area during sunset and the Jew Synagogue are highly recommended. Kashi Art Cafe, a very popular cafe, is a few 100 metres away from this property.
Comments