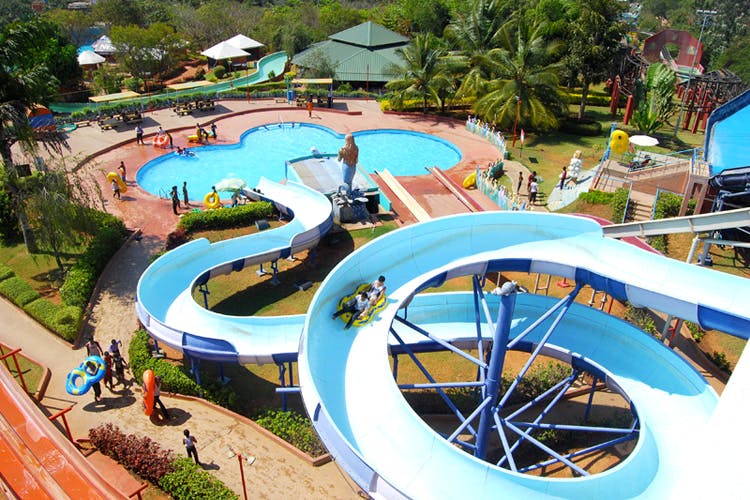 Top 5 Water Parks In And Around Bangalore To Beat The Heat
It's that time of the year again! Summer's here and it's time to make a list of all the things you want to do but, let's face it, probably won't. Summer time is as good as you want to make it, so skip the summer camps and pool parties, and be sure to visit these water parks in Bangalore. While you're soaking up some sun, might as well soak up some of that water too.

Wonderla
A reminder rather than a recommendation, Wonderla is a complete no-brainer when it comes to water parks in Bangalore. They have the most variety of water rides, which makes it ideal for the faint of heart as well as adrenaline junkies. If you grow tired of the water rides, you could always switch to land rides as well. The Vertical fall is a must try if you think you can handle it.

Water World
A segment of Bangalore's Fun World Amusement Park, Water World is located in a more accessible part of Bangalore on Jayamahal Main Road. Having 15 different water rides, the prized possession of this water park is its artificial waterfall which is the largest in South India. If you want to make a splash this is the place to do so.

Innovative Film City
Aqua Kingdom located inside Innovative Film City, may not be a strong competitor in terms of number of rides, but is nonetheless a strong contender amongst the water parks category in Bangalore. Catch the tide in the wave pool, or just kick back and relax in their lazy river. If you're an adventure seeker, take a ride on one of their thrilling slides as well.
GRS Fantasy Park
The GRS water park is the ideal place to be if you happen to be in Mysore and have a day to kill. The park showcases a whole range of kid-friendly rides, making it the perfect summer spot to spend some quality family time. It will take a whole day to experience the park in its entirety, so be sure to block out the entire day to get your money's worth.
Lumbini Gardens
Lush green, spread over the banks of Nagawara Lake, Lumbini Gardens is both a sight for sore eyes, and well as a leisurely water park to unwind. The undertones of green and blue all around sets a peaceful surrounding for visiting families. Take a serene boat ride with a loved one or break free from everyday chaos with the water rides they offer, at prices that won't even dent your pocket.

Comments