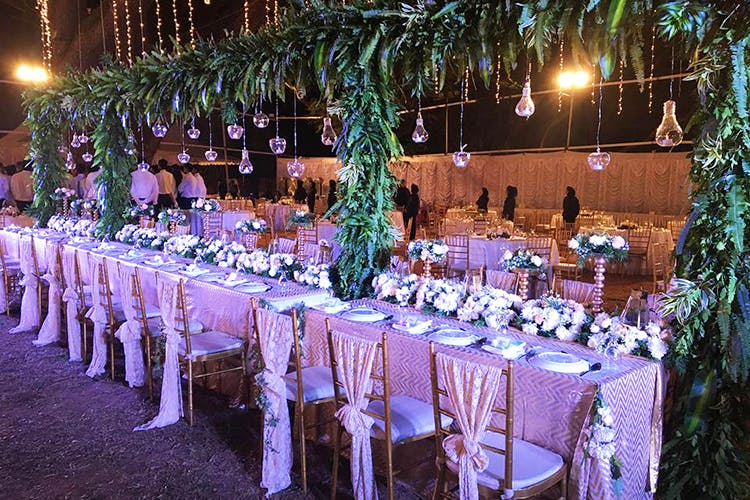 Getting Hitched? Let These Planners Organise The Wedding Of Your Dreams
Taking the marital plunge? Make sure every little aspect of your big days goes according to plan by leaving it all in the hands of these trusty wedding planners. You just need to give them a brief, and then show up on your big day! From a Pinterest worthy set up to the entertainment for the evening, these guys will have it all sorted to a tee.
Bling It On
Bling it on your special day, by hitting up this event planning service. Skip the planning and logistics, and just enjoy your big day by letting Natasha Kabra, its founder, take care of it all. All you need to do is let her know what you want your day to be like, and she'll draw up plenty of ideas for you. In fact, if you're clueless about what you want (which we suspect some people are), she'll easily come up with ones that range from decor resembling the Enchanted Forest, to less elaborate ones but with pops of colour. We love how they use props to add character to boring and dull banquet halls. Once approved, fix your budget and kick back, knowing that everything will be executed perfectly.
Naadia Mirza & Co
Want to have a theme wedding? Then Naadia Mirza should be on your speed dial. Whether it's a day at the fair or a swinging party from the 20s, Naadia Mirza & Co are all about getting every aspect of your nuptials in theme with whatever you want your big day to be about. In the business of bespoke weddings, the event planning service will have everything from the design and decor to entertainment, in tune with your vision. Check out her lookbook for different themes and stories for more.
With Love, Nilma
Nilma Dileepan of With Love, Nilma is in the business of making your dreams an Instagrammable reality by transforming the big day in your life with her tasteful setups and Pinterest-worthy decor elements and lighting fixtures. Primarily a venue stylist, Nilma is one of the best in the business when it comes to making your venue look like a million bucks with balloons, cupcakes, confetti, fairy lights, photo booths and, of course, with love.
Marigold Diaries
Around since 2014, Marigold Diaries has been quirking it up, one wedding at a time. Promising to organise a wedding under every budget, they'll customise the event for you, so feel free to run all your ideas by them to make your day stand out. With over 10 years of experience under their belt, what sets them apart is their attention to detail. From the floral arrangements to your mantap, leave it all to them. They have super fun photo booths as well (think a Maruthi cut out with Aaja Meri Gaadi Mein Beth Ja), so make sure to get one for your own wedding.
Amanati Events
Amanati Events will make your story a part of their lives and walk this journey with you every step of the way. Understanding that when you are planning your special day, you need a sounding board, they will happily be there for you. From invitations to hair and makeup, they will take care of every little detail and make it even more special, personalised and stress-free.
Comments