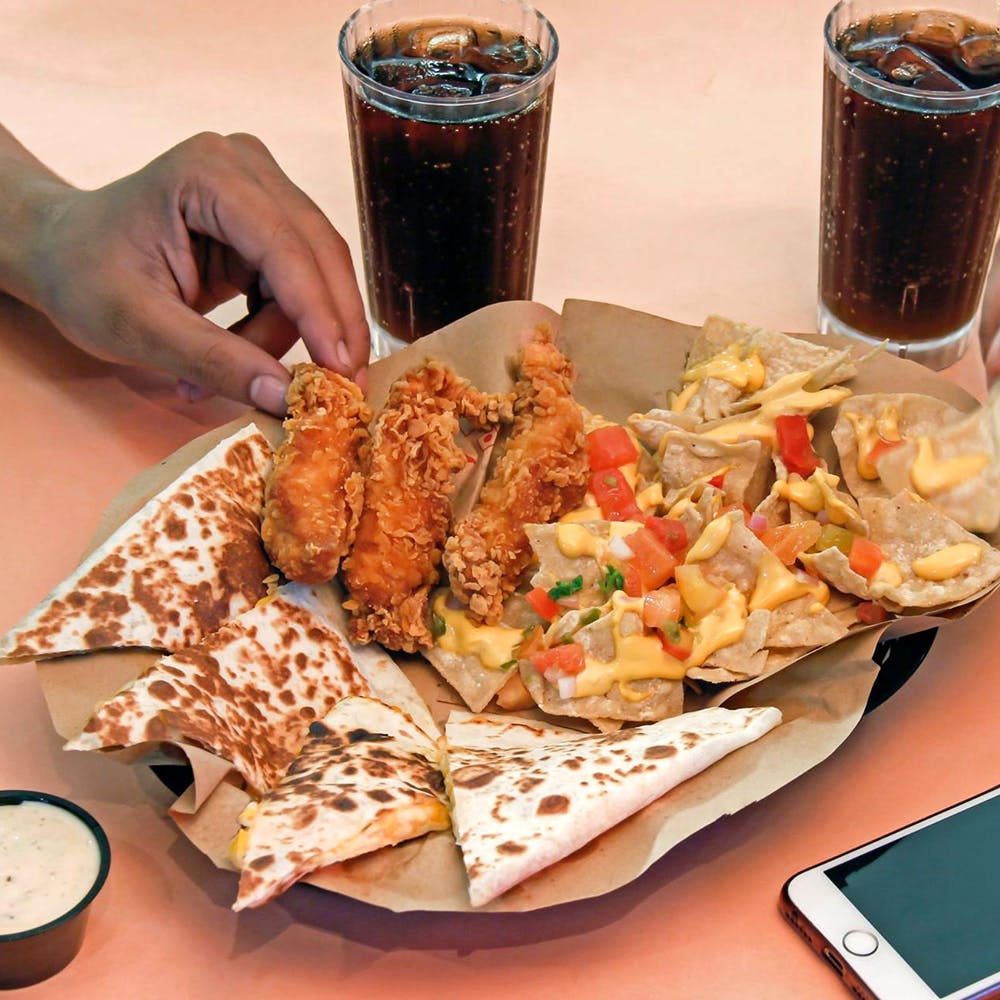 Hungry Kya? Go On An Eating Spree At Royal Meenakshi Mall!
After a long shopping haul, you deserve to sit down and treat yourself to something super-delish and mildly unhealthy food (your diet can go out of the window, for once!). This is especially valid if you're at Meenakshi Mall, because they have so many options, you wouldn't want to leave without trying a few things! Here are some of our favourites:
KFC
Does anything beat deep-fried chicken? We don't think so either! So, if you're famished and are ready to devour a whole meal, look no further than KFC. From their Zinger burgers to Chicken Popcorn and buckets, they have enough and more options to fill your tum. While you're at it, make sure to sip on some Virgin Mojito too, and recharge yourself for some more shopping!
McDonald's
Everyone's favourite outlet (because it's so pocket-friendly!), McDonald's is your best bet when you're it comes to VFM meals. Plus, their burgers are perfectly spiced for the Indian palate. Pick from their McAloo Tikki, Grilled Chilli Kebab Naan or even McNuggets, and you're good to go. And if you have kids with you, you absolutely cannot miss out on a Happy Meal!

Taco Bell
Craving for some good, meaty, spicy, cheesy food? Our mouth's watering just thinking about the tacos at Taco Bell! Their outlet at Meenakshi Mall has a large projector screen as well, so you can comfortably catch the screening of the latest cricket match all the while bingeing on a taco or ten. P.S. They have a lot of offers too, throughout the year!

TGIF
Head to TGI Fridays when you're in the mood to splurge. Located on the top floor of the mall, it's the best place to go for a cosy night out with the gals or with family. Cocktails, steaks and sizzling brownies - treat yourself to your pick from their expansive menu and we assure you, you will enjoy every bit of it here!
Kalmane Coffee
If you love your filter coffee as much as we do, a visit to Kalmane Coffee is well warranted. As you sip on your filter coffee (or your favourite version of cold coffee), munch on some cookies, muffins and brownies. In case you want to go completely old school, they have some South Indian snacks, too! Win.

Baskin Robbins
For times when nothing but a nice tub of ice cream will do, Baskin Robbins is the place to check out. You can't really go wrong with their old school options here. Oreo Cookie Sundaes, Chocolate Ice Cream Cake or Red Velvet Cake - there's a bunch of options to satisfy your sweet tooth!
Food Court
At long last, we have reached the food court. Here, you'll find everything from Kailash Parbat, Beijing Bites, Street Foods By Punjab Grill and More Pizza. For dessert, there's Ice Bowl. Or Juicy Hut, if you're looking for something to quench your thirst!

Comments