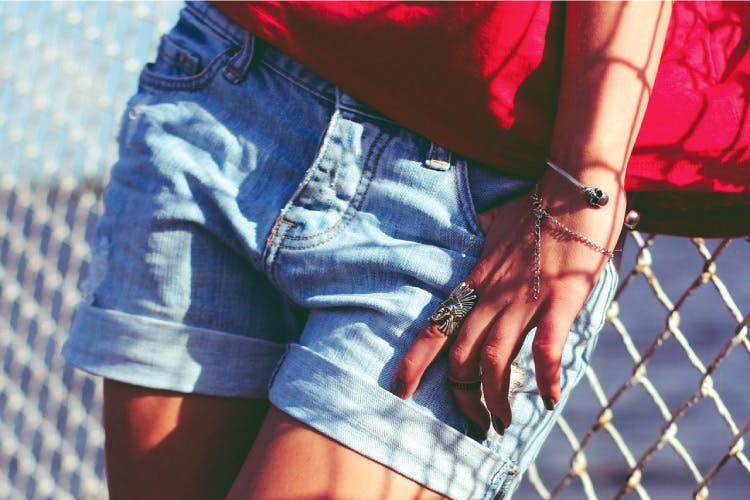 Stay Cool In Shorts When Things Heat Up
If there's a movie that can encapsulate the spirit of Bangalore these days, it's 500 Days Of Summer (and we're not talking about the plot). As the temperature skyrockets to well over 40 degrees, we can't help but throw our denims and jeggings into dusty trunks and score ourselves some cool summer shorts in cotton and linen. You can join in the shopping too.
Marks & Spencer
For classy whites, beiges and blacks, head to Marks & Spencer. They've got a ton of shorts for both men and women, which are both comfortable and chic. From super short beachy shorts to the more formal 'polo' variety, they've got it all. And their shorts last long.
Commercial Street
If you're okay stepping out in the heat (it can be worth it!), then there's no better place than Commercial Street for comfy summer shorts at super low prices. You can get everything from running shorts, denim shorts, cargo shorts, high-waist shorts to the dressier variety, provided you have the patience. Want a pair with better quality? Then head to Vashi's Jean Shack for a cotton pair.
Miss Chase
Miss Chase should be your destination if you're looking for shorts that are feminine, complete with lace and the occasional bling. Go bold with their metallic gold shorts, or keep it subtle yet girly with everything from black crochet shorts to sequined ones - ideal for a night out. They've also got the regular shorts in colours like cobalt blue and bright yellow.
Max Stores
Max Stores comes as a shining ray of light when we've exhausted most of the month's salary. With shorts and shirts starting as low as INR 300, every trip here seems almost like a trip to Disneyland (almost). They cater to both men and women and house cargo shorts, culottes, hot pants and lounging shirts. When it comes to the quality, our purchases from here have lasted us at least three years.
Koovs
One of our favourite online spots for a spot of shopping, Koovs doesn't disappoint in the shorts department either. With an equally good selection for both women and men, we're seeing lots of colours, prints, styles and materials. We're loving the Aztec print shorts as well as the Hawai-inspired floral shorts for men. Women can choose from high waist ones, culottes and shorts embellished with fringes and tassels.
Mango
We once scored a pair of uber summery shorts from here—white base with bright yellow lemons and green leaves printed all over, and we've been meaning to back and get something similar this summer. Mango's all about the colours and pretty prints. We like.
Forever 21
Stripes, checks, Aztec, floral on denims, cottons and tweed. Forever 21 stays true to its name and woos with its young, colourful designs. We're currently lusting after the navy and cherry red high-waist shorts (and their pleather shorts for party nights). There's a lot of distressed denim in their current collection and we think you should check it out asap.
GAP
We like this one more for the boys — they've taken the regular cargo shorts they love to live in and created them in a bunch of different colours- think yellow, pink and blue besides the regular khaki and grey.
H&M
H&M presents a well-balanced collection with a mix of formal tailored fits and casual denim shorts for women infused with a splash of quirk, like their pom pom shorts for example. We also love that they have some breezy, yet stylish linen shorts for both men and women which are in pretty pastels.
Tequila Shorts
Gentlemen, if you need to be beach, brunch, or boat ready, hit up Tequila Shorts. It's perfect for that no-effort look, all their shorts are cotton and come with quirky prints like monkeys, tropical fruits, and camo. If you'd prefer plain ones, they have it in solid brights, as well as pastels and start at a cool INR 599!
Comments