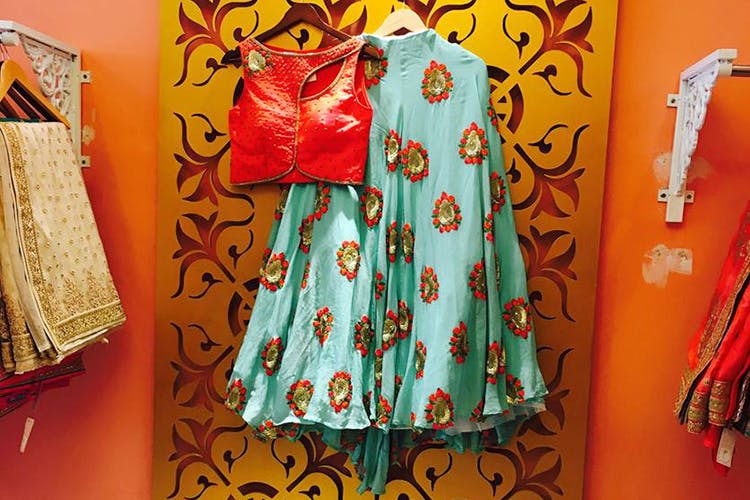 Need To Get A Lehenga Done Under INR 5,000? Koramangala Has Just Such Places
Give them a few hours and they can alter the lehenga that you bought years ago. Give them two weeks and they can stitch anything from that lehenga that Sonam Kapoor wore in Aisha to that gorgeous orange-pink lehenga that Deepika Padukone wore in Yeh Jawani Hai Deewani. You know the one we are talking about, don't you ladies? In any case, we nosed around Koramangala and found many boutiques and tailors that will ensure your lehenga be the bomb (LBB, get it?). Well, without keeping this as long as the dupatta that you might want for your Manish Malhotra-inspired piece, we give you the five places in Koramangala where you can get a lehenga stitched from the scratch. Oh, and yes, they are across budget and max out at INR 5,000.
Samruddhi Designer Boutique
Hidden in the bylanes of 5th Block Koramangala, this boutique is just opposite the Aero Fitness Gym. Sudha, who's the co-owner, is your go-to lady when you need to get onto the latest trends. Apparently her store does a lot of stitching for fashion shows too. If you have a design in mind, bring it to the store as she can help you out with sourcing for the fabric as well. If you don't want to do the legwork, leave her and her team to worry about that.
Price: INR 1500 onwards
Stitching Time: Ten days for regular stitching. Can extend beyond ten days depending on work. They also have express stitching with delivery within a week's time.
Lynn's V'llage
Located on 6th Block, this designer boutique is hard to miss, especially with a signboard screaming the store's name out in big block letters. While at first, the store looks like it's a design boutique with its readymade lehengas, kurtas, and other ethnic wear in stock, only when you enter do you see the little stitching area by the corner. Lehengas can be stitched from the scratch by the material you have brought or can be sourced according to the design you have given them. In any case, Asha, who runs the store, and her team will have your lehenga ready to kill it at your BFF's wedding.
Price: INR 3,000 onwards
Stitching Time: The quoted period is between six and eight days for regular stitching.
Lips Stitch
One of Koramangala's favourite boutiques, this place is popular among its clientele for its well-crafted ethnic wear. The delivery period is slightly longer, so it's important that you go well in advance to get your lehenga stitched. These guys work with fabric that you can pick up from their collection or the ones that you bring. Oh, panelled, A-line, and flared lehengas are what the guys do best we hear.
Price: INR 3,500 onwards
Stitching Time: The store takes about 15-20 days to deliver the first stitching. Embroidery, netting, and other works will add on to the delivery time.
Beau Bella
Run by Beenu Marwah, this stitching boutique is perfect for those urgent alterations and even stitching lehengas from the scratch. Beenu perfectly understands that finding that perfect lehenga can be hard, so she puts up with her clienteles' requests and last minute woes. She believes is quality stitching, so even if it's an express delivery, expect a stitching that's just too good. She also stitches just cholis, so in case you need just that, you know where to head to. Oh, and did we tell you that in case you are going with a design and a budget, she'll help you out with sourcing the right materials from the right shops as well? How cool is that, right ladies?
Price: INR 2500 onwards for semi-stitched, INR 4500 onwards from scratch, and INR 1800 onwards for just cholis.
Stitching Time: It takes about a week's time for delivery, but if you are in a hurry, there's also an express two-day delivery as well.
Ira
This store is quite the fancy type as you will see once you enter this 6th Block store. Readymade lehengas start at INR 12,000 here, but hey, they do stitching as well and these are from your simple to the extravagant. Thinking of something Manish Malhotra? Or maybe something straight out of Alia Bhat's wardrobe in Humpty Sharma Ki Dulhaniya? Well, you know where to head to.
Price: INR 5,000 onwards
Stitching Time: The delivery time is roughly eight days and it can extend depending on the work.
Comments