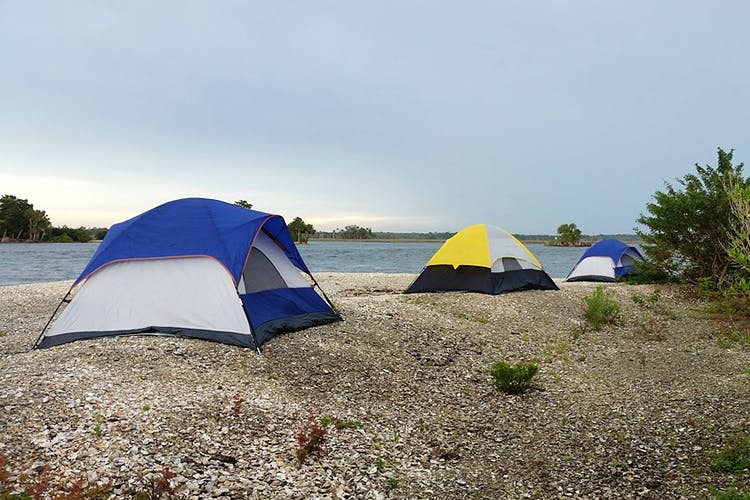 Ready To Rough It Out? Here's A List Of Places Where You Can Rent A Tent For Camping
Camping sites around Bangalore are aplenty and we have even written about some of the best camping sites around Bangalore in case you didn't know already (read about it here). And you don't need us telling you how great it is to spend time camping outdoors, right? If you are looking at spending time outdoors without spending too much money on outdoor gear especially tents, we know just the places where you can rent tents and camping gear in Bangalore. Yup, why pay when you can rent, right guys?
X-Dog Trekking
Quechua and Coleman's tents are what these guys specialise in and both the brands are available in two-person, four-person, and six-person capacities. With rental charges starting as low as INR 99 per day for these tents, you know you've got yourself a good deal. The tents come with all the accessories required and are cleaned before and after usage, so don't worry about the hygiene bit. These guys also deal with sleeping bags, hiking rucksacks, emergency lights, trekking jackets, sleeping mats, and portable stove. Now, these guys have a physical store in Bommanahalli, near the Silk Board Junction, so you can either go to the store and check out the gear for yourself or have it home delivered for INR 300. We say pick the latter because you don't want to end up using the tents to camping out at Silk Board, right?
Price: INR 99 per day onwards for tents
#LBBTip: They have package options as well where for instance you can rent a combo of a 2-sharing tent, a sleeping bag, and a backpack for INR 199. Do check with the store regarding this.
ABC Tent
Going with your squad? These guys have six-person tents that come with two separate rooms. Kinda cool, right? Along with these tents, they also have tents that can accommodate that can have two, three, and four people. They do have trekking and camping gear as well and that includes life jackets, backpacks and rucksacks, trekking poles, headlights, and sleeping bags. If you are camping out with bae, then we suggest that you pick the combo options that they offer. For INR 180 per day, you can rent a two-person tent, two sleeping bags, two mats, and a headlight. Sounds like a deal to us. If you are camping out with eight people, then be sure to check out the INR 350 combo that has two four-person tents, eight sleeping bags, eight mats, and two headlights. It's free pickup and delivery within 10 kilometres and INR 100 for beyond that.
Price: INR 60 per day onwards for tents
#LBBTip: They have a physical store based out in HSR, but be sure to call them up well in advance in case you want to check the items.
Shady Tents
Want to plan a camping trip with the fam? Well, these guys rent out tents for INR 999 per day that can fit a maximum of 15 people, so we say start planning already. These massive tents almost look like a house, so be sure to pick out your camping location that can fit the whole of the tent. Maybe if you are planning a fam trip, we suggest to check out these beautiful camping places in South India to pitch your tent.
Price: INR 35 per day upwards for tents
#LBBTip: As mentioned above, their physical stores don't have any names, so you'll have to call in advance and get the directions from the person who does the booking. They share the details through WhatsApp, FYI.

JK Trekking
They offer packages as well as rentals on individual items that include tents, sleeping bags, backpacks, and sleeping mats. We hear that the tents are waterproof and insect proof, so camping out in the Ooty rains can definitely be on the cards. Apart from these tents, they also have regular tents that can accommodate two and four people. Sleeping bags, raincoats, trekking poles, and backpacks are also available for rent.
Price: INR 60 per day upwards
Trekkers
Whether you are going with bae, squad or even solo, you will find either a package deal or a sleeping bag for you rent out here. The package deals start at INR 375 per day and can go all the way up to INR 799 per day. Their store is based out in Bommanahalli, which is after Silk Board Junction, so guys, if you are going there to see the tents, brace yourself for the traffic.
Price: INR 150 per day onwards for tents
Contact: +91-97385 15738 and +91-91080 03503 for more information, booking, and direction.
#LBBTip: They don't have a delivery service, so you will have to go pick it up from the store.
Comments