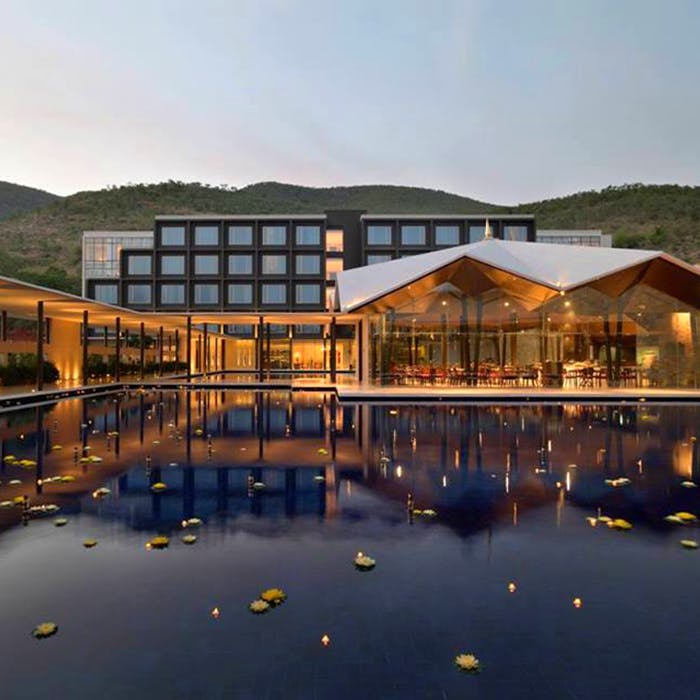 Where To Stay In And Around Tirupati For Under INR 4,000 A Night
Making a trip to the iconic Tirumala temple in Andhra Pradesh? Well, if you're the religious sort, then it's likely you make this divine visit at the least, once in five years. And if you haven't been in a while, you'll be surprised to know how much of a resort town (hotel town at least!). That too across budgets. From the swanky Fortune chain to lush Guestline resorts, here's where to check into when you're on your pilgrimage.
Fortune Grand Ridge
Right near the road that leads up to the the temple hill, this five-star hotel is perfect to get yourself fresh. With a swimming pool to wallow in, a lovely view of the hills, and two restaurants to unwind at, you're really going to want to go often if you stay here. And the best part is you get the room, all facilities and brekkie for just under INR 4,000.
Marasa Sarovar Premier
A bit further away from the main Tirupati town, and closer to the Kalahasti temple, this one sits pretty on a hill. The open plan hotel is built around a water body (not to be confused with their swimming pool as it looks exactly like one!) and even has an island restaurant. The rooms are spacious and overlook either the water body or the hills, so win-win either way. A swimming pool surrounded by firangi pani trees is ideal to soak up some sun beside. Or even get your exercise in. We suggest you have the buffet meals as it's easier than ordering a la carte. Breakfast is part of the deal, and they will happily pack it for you, if you want to start early and eat on the go.
Pai Viceroy
At just about INR 2,500 a night, Pai Viceroy is an old favourite for those who frequent this town. Equipped with a vegetarian restaurant called Plantain Leaf, and a themed-multi-cuisine one, called Gufha (of course, cave is the theme!), you can eat, take a nap in the afternoon, then explore the town as it's not too far. Better yet, chill at the hotel, then walk around the hilly area in the evening. Since it's right on the Tirumala bypass road, you can get that extra half hour of sleep in the morning before setting off to the temple.
Minerva Grand
Possibly the most popular spot in the temple town, Minerva Grand makes it really easy to have a proper darshan! They organise it like clockwork, from your check in, the booking for the temple darshan, and the cab to and from there too. Since it's smack in the centre of town, you can easily have a wander about, and maybe even walk all the way to the outskirts for some fresh air.
Rest Houses In Tirumala
If you want no distractions, just a proper religious trip, there are plenty of rest house option right on the Tirumala hill. The most known of the lot is Sri Padmavathi guest house which offers AC and non-AC rooms starting at just INR 100 per night. You can even get an AC suite for INR 1,500 for that added comfort. Other bungalows also have rooms (or book out the whole house) for INR 100 a day, upwards.
Ramee Guestline Hotel
One of the oldies goldies in this area, this is perfect for families. Unfortunately, it's a bit rundown now, but if you don't mind much, the gardens, swimming pool and buffet meals make it worth the INR 2,000.
Hotel Regalia
Right near the bus stand, and not far from the station (or Domino's pizza even!), this is a budget stay starting at INR 1,500. It is really basic however, and some of the rooms are not up to the mark. So don't expect something spectacular.
Tirupati Home Stay
A cosy homestay with two AC bedroom with attached bathe, plus space for four in the living room, we like how this place makes for a quiet holiday. It's a rather large place with a garden too, so you can enjoy your time here like it's a holiday and not a quick temple visit only. In fact, stay two nights, so you don't tire yourself with a run up and down the hill in a single day! Breakfast is on the house, and from the house (no, really, they have a vegetable patch too). You can even have dinner and snacks for a price. And it's authentic Andhra style food, so you can see why we love it so!
Comments