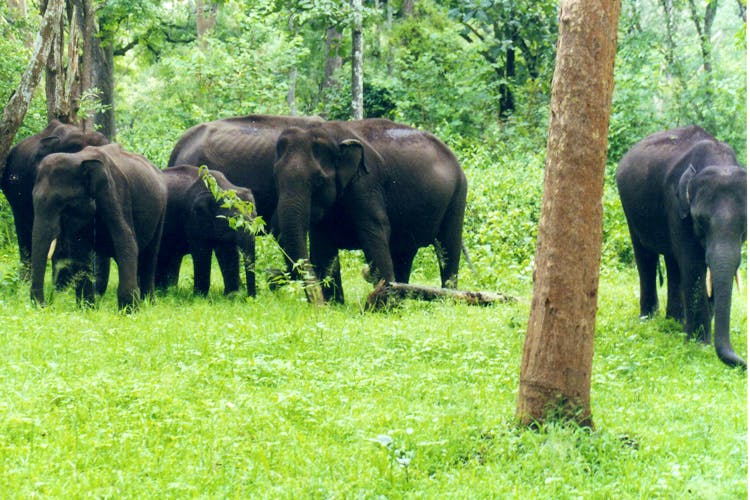 Nagarhole, Brahmagiri Or Dubare: Where To Spot Wildlife In Coorg
Exploring Karnataka's wildlife? Then, you can't possibly miss Coorg. Rich in wildlife, the national parks and wildlife sanctuaries that dot this popular weekend getaway promise plenty of adventure. On safaris or treks, you can spot elephants, gaurs, sambars, deer, and if you are very lucky — the tiger. We list the best places to spot wildlife in Coorg.
Brahmagiri Wildlife Sanctuary
Recommended for: Popular with trekkers, Brahmagiri Wildlife Sanctuary's lush greenery and wildlife are worth exploring. While there are no safaris here, the forest department does welcome hikers. The most popular route is the trek up to Brahmagiri Peak, the highest in the area. On your way up, you can encounter the forest's countless residents. These include lion-tailed macaques, gaurs, jungle cats, sloth bears, deer, and many other beasts. Also, watch out for winged creatures like Emerald Doves and Malabar Trogons. You can also spend some time splashing about the cool waters of the Iruppu Falls. Do note that you need permissions to trek through the forests and that the sanctuary is a plastic-free zone. Within the sanctuary grounds, there are cottages that you can camp at.
Pushpagiri Wildlife Sanctuary
Recommended for: A short drive from Coorg's Somwarpet area, the Pushpagiri Wildlife Sanctuary opens up in front of you. While you can take a drive through the forest, it is best experienced by foot especially if you want to catch glimpse of wildlife. You can scale the Pushpagiri peak (the second highest in Coorg) and watch out for wild dogs, Brown Palm Civets, gaurs, elephants and wild pigs. Pushpagiri is renowned for its bird life. And is home to rare species of birds like the grey-breasted laughing thrush and Nilgiri flycatchers.
National Parks & Wildlife Sanctuaries
Nagarhole National Park
Recommended for: At the border of Coorg sits the Nagarhole National Park. Along with Bandipur, it is the best place to spot the elusive tiger in Karnataka. You can camp at the nearby town of Kutta (plenty of homestays to choose from here) and sign up for safaris at the park. You can either set out in big buses or hire out jeeps (the more expensive option) and venture into the forest. Deer are common here and you should also be able to spot an elephant or two. Gaurs, wild dogs, leopards, and langurs also call Nagarhole home. At one edge of Nagarhole is the Kabini reservoir. The backwaters of the reservoir are a favourite with animals (especially during summer). So, book a lodge here (they range from super fancy to basic) and travel along the waters to catch sight of wildlife.
Dubare
Recommended for: On the banks of the River Cauvery, Dubare is best known for its elephant camp. Take a boat ride to reach the camp and you can then spend the day feeding and petting packs of adorable pachyderms. While this is the star attraction here, the forests of Dubare shelter sambars, spotted deer, leopards, and gaurs. Rarely, you can even catch a crocodile sunning by the banks of the river. On your trip here, you can sign up for a rafting experience on the waters of the Cauvery. More on the jumbo experience here.
Talakaveri Wildlife Sanctuary
Recommended for: When compared to other sanctuaries, Talakaveri is undoubtedly tiny but that's no reason to skip it. There's plenty here that will interest the wildlife enthusiast. You can drive around and explore the lush green jungles for exotic animals. Mouse deer, elephants, mongoose, otters, and tigers can all be found here. There are also over 300 birds here, including, fairy bluebirds, broad-billed rollers, and Malabar trogons.
Comments