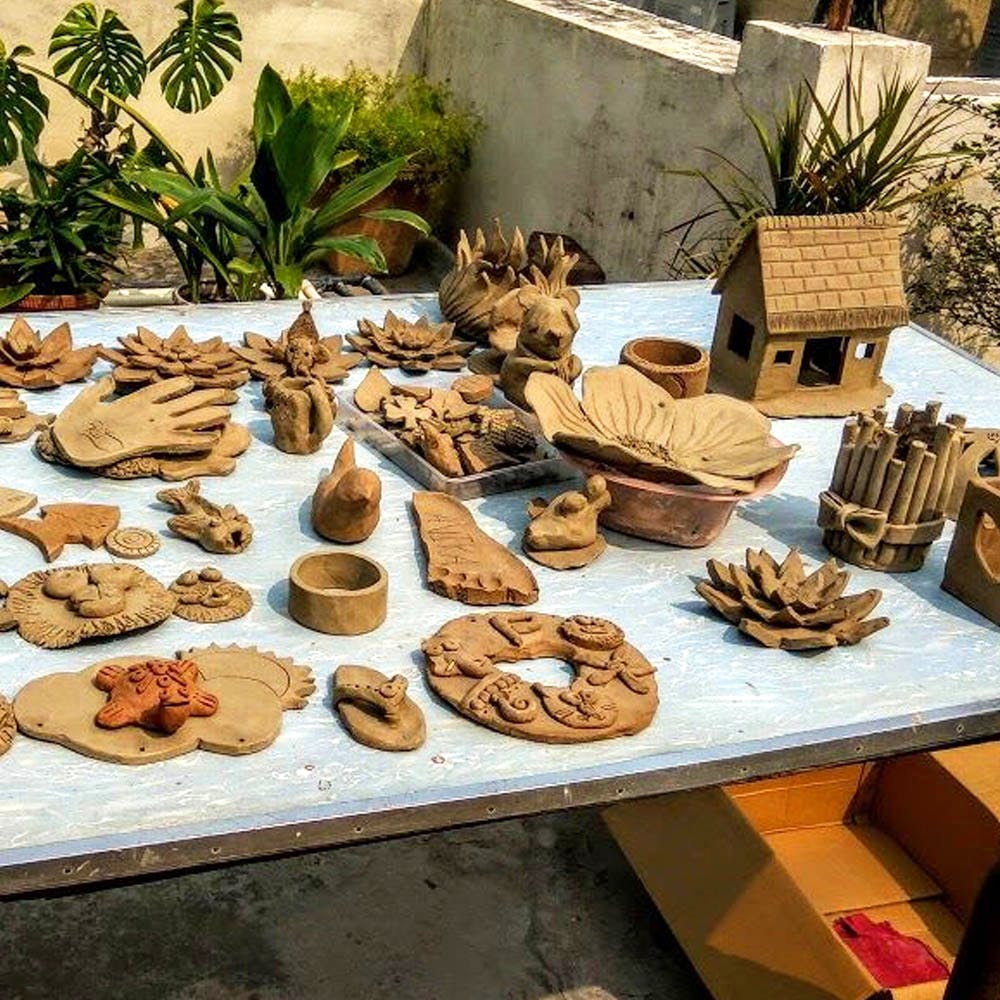 Plan A Clay Date At These Pottery Classes In The City
Get down and dirty with one of the most fun activities in town—pottery. Here we have for you a list of the best pottery and ceramic classes in Delhi NCR.
Sanskriti Kendra
At The Ceramic Centre in Sanskriti Foundation (MG Road), three-month-long classes are held twice a week and, the trainers focus on honing your basic shape-making and filing techniques.
Smug Mug
Studio potter and ceramic artist Meena Vohra takes foundation, primary, and advanced courses, and offers her knowledge of glazing techniques. Customisable classes run throughout the week, and they also eventually lead to exhibitions and special events. If you're looking for a day class or team workshop for a single day, those are also available.
We love her work in tableware, mobiles, and chimes (perfect as gifts!).
Zorba The Buddha
Facilitating the pottery class 'Magic of Clay' at Zorba, Neha teaches centering, pulling, glazing and firing along with wheel-work, clay wedging, and hand-building. These classes are held on Tuesday, Thursdays, Saturdays and Sundays, allowing working professionals to unwind. Kick wheels, electric wheels, gas kiln, shelves, and other equipment are all provided.
The Clay Company
Their studio at Nehru Place offers regular pottery classes, and they're pretty flexible with timings. They have a couple of courses to choose from along with a beginner's session that you can do in one day (it's for two and half hours and covers all the basics of potter, clay and glazing). Aparna Choudhrie's studio has a great vibe, and it's a great place to hit up over the weekend if you're looking to get creative and try your hand at pottery.
Claying Thoughts
Head over to Pooja's cute little terrace in Noida to destress with a new hobby. Her studio is open to both children and adults to experiment with clay modelling and handbuilding pottery. the fun part is you don't need to use a kiln, so you're free to really experiment with the clay and mould it into all kinds of shapes. So de-stress over the weekend or whenever you're free with her fun classes. The beginner session has eight classes. You can find more info on her blog.
Kalasthali Art School
The fine art school allows people of all age groups to explore their creativity, with their art, drama and music classes. When it comes to pottery, they have classes on working with clay, experimenting with different shapes, and then using the potter's wheel. They charge extra to learn glazing and firing. They're off on Wednesdays, but have classes on through the week.
Clay Artistry
Clay Artistry is a clay and pottery studio where you can pick up ceramic tableware and artwork or let out your creativity through their pottery classes. You can drop by to shop (there are loads of simple as well as artsy ashtrays, vases, nameplates, pots and even jewellery), create mementos or just have fun. You can even get a loved one to tag along and make it a quality date.
Find more info here.
Earthen Aura Ceramics
Earthen Aura Ceramics in Pitampura is a rooftop pottery studio run by artist Dipti Gupta. Dipti specialises in terracotta and stoneware pottery, and takes classes for all age groups. Wheel work, hand-built pottery, firing techniques and glazing are some of the things she can teach you. Also, folks who want to get customised earthenware (not in bulk) can even get in touch with Dipti for orders.
Find more info here.
Naveen Chhaya
A pottery studio hidden in the lanes of Aya Nagar, Naveen Chhayais a year-old pottery studio where you can learn everything from slab work, wheel and hand built pottery to sculpture-making and glazing. Run by artist Aniruddh Sagar (who has also worked at the Sanskriti Kendra), you can opt for two and three month courses with classes thrice a week or a weekend-only option. Busy bees stuck at work or college can even opt for their 10-day course or the single three hour class.
Find more info here.
Comments