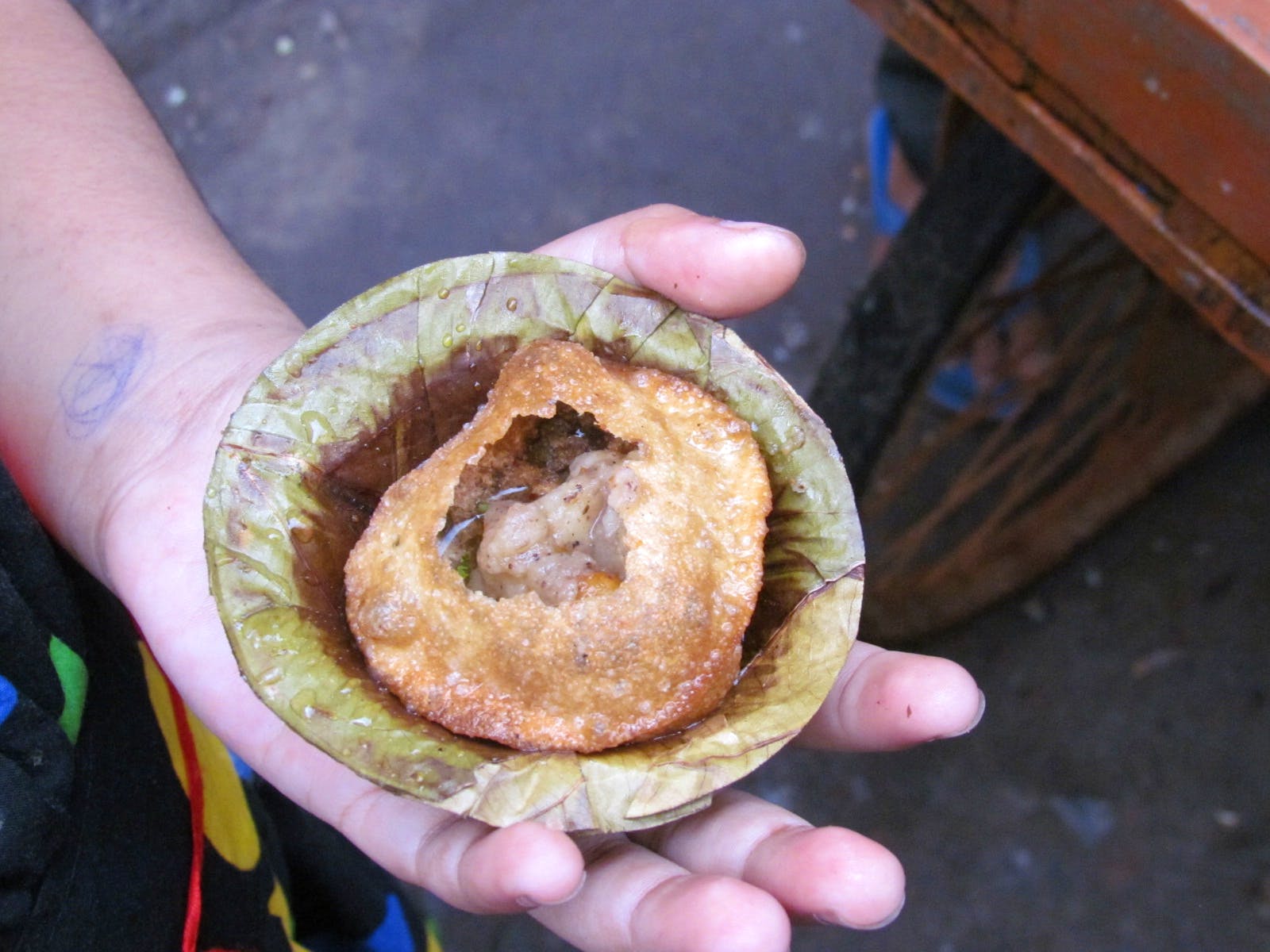 10 Places Where You Can Stuff Your Mouth With The Best Puchkas In Town
When it comes to street food in Kolkata, puchka is the indisputable leader. Golgappe, pani puri, gupchup or puchka - call it what you may, when these little flavourful bombs explode in your mouth, all that remain is pure bliss. Here's our lowdown on where you can stuff your mouths with the best puchkas in town.
Alipore
Enter Woodland Road (lane right next to the HP petrol pump) in Alipore to meet Pravesh panipuri wala. This guy is uber popular, sells 17 varieties of puchkas (read schezwan, chocolate, dahi, ghugni, dhokla, pakori and more), uses only mineral water, offers a year's supply of free puchkas to school toppers and has sold puchkas in Australia too! Need we say more?
Vardaan market
Although you will be spoilt for choice with the variety of street food on display outside Vardaan Market, you must resist all temptations and head straight to Krishnakant Sharma's puchka stall. The aroma of homemade spices such as methi, kasuri, dhaniya, ajwain, saunf and jeera will invade your senses well before you take your first bite.
Max Muller Bhavan
Another favourite haunt of puchka-lovers in the city is right outside Max Muller Bhavan in Park Street. This guy opens his shop everyday around 4pm. The hard-hitting tanginess of the pickled water (a combo of pudina, lime and tamarind) served along with the puchkas here is unmistakable.
Puchkalacious
If you are really apprehensive about the hygiene and quality of the street vendors selling puchkas, head to Puckalacious in City Centre (New Town). Choose your pick from choices like Cheese Puchka, Corn Mayo, Dahi Puchka, etc. They even have Tutti Fruity and Nutella Puchkas! Fancy a Pan Puchka? You get that as well.
Bara Bazaar
You might have to nudge your way in to get noticed by the puchkawala who sits near Bara Bazaar police station as there is a crowd of customers, with a leaf plate in hand, vying for his attention. The guy adds hing (asafoetida) to the puchka water, which further adds to the flavour.
Vivekananda Park
Talk about puchka in Kolkata and chances are many will point you towards the direction of Maharaja Chat Centre in Vivekananda Park. This destination is perfect for an evening of snacks and shikanjis with your gang. Dilipda's puchkas are full of flavours and spicy filling. Do grab a mouthful of dahi puchka, garnished with a sweet chutney made from dates, mango pulp and pudina.
Russell Street
"Pudina? lemongrass? No, must be gondhoraj!" Nankuram Gupta's puchkas on Russel Street will leave you guessing its ingredients as you come to terms with its amazing taste. Having been in the business for over 30 years, what goes into making these delish puchkas is his best-kept secret.
Chakraberia
Not a fan of mashed potatoes in your puchka? Well, Upinder's puchka stall near Triangular Park in Chakraberia offers an alternative. He uses mashed green bananas instead of the potatoes to cater to the large Jain community that resides there.
Victoria Memorial
Ram Gupta's stall outside Victoria Memorial is popular for its distinct khatta-meetha flavour achieved by mixing homemade tamarind paste and powder in the puchka stuffing. The sweet and sour flavour lingers in your mouth long after the puchkas have made their way into your tummies.
New Market
The most crowded place in town is also the most popular place for street food lovers, particularly puchkas. Check out this stall on the narrow lane adjacent to New Market. Although this guy has highly unpredictable timings, but if you happen to spot him while shopping, drop everything and taste his puchkas. You will definitely thank us later!
Comments