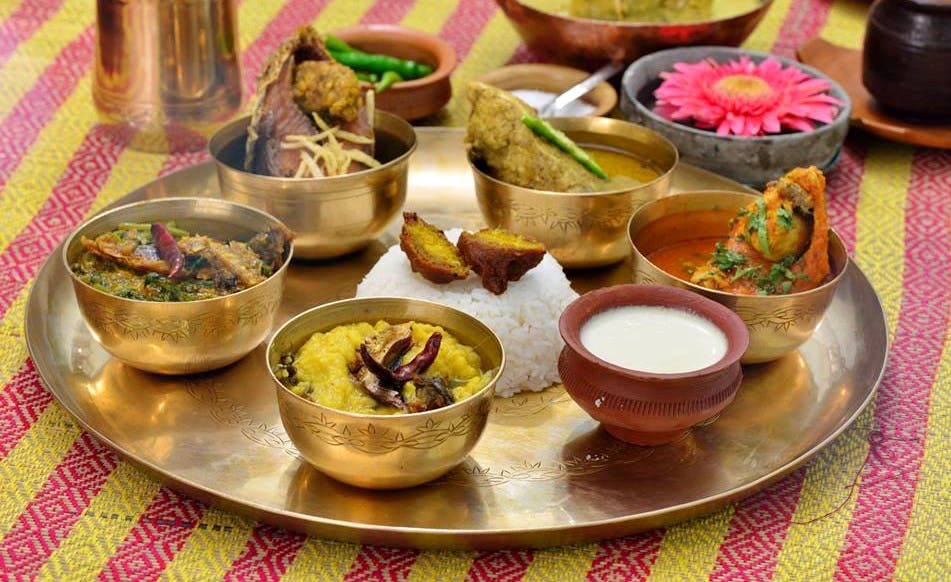 Hood Food Guide: Here Are 9 Restaurants in Esplanade That You Must Try Out
From plush restaurants to budget eateries; from legendary joints to new-age haunts - in Esplanade, there is something to suit every palate and pocket.

Alfresco
This place needs no special introduction. The oldest five star hotel in town with an impeccable ambience. If you are in a mood for luxury dining then choose Alfresco for the charming experience it offers. Set inside The Lalit Great Eastern Courtyard with beautiful views of a lily pond and a glass roof that lets in plenty of natural light, the all-white interiors of this restaurant will calm your senses the minute you enter. They serve the 'four pillars of Bengal' as far as food is concerned - Bengali, Anglo-Indian, Tangra Chinese and Awadhi cuisines. Go here for a taste of the cultural potpourri that Kolkata is coupled with an ambience that's a throwback to the city's colonial days.

The Legacy Grill
Say hello to a feast of grilled food! The Legacy Grill takes it one step further with live grill counters. Treat your palate to the delicious flavour of smoked meat with a menu that is packed with special grilled dishes from all around the world. Don't miss the Grilled Tenderloin and Lobster Thermidor here. It's a charming place with interiors done in a mixture of brick and wood, artefacts like old steam irons converted into planters and vintage crockery.

Bhojohori Manna
One of the first Bengali restaurants to have opened up in Kolkata. Super easy to locate if you know where the famous K.C. Das is on Esplanade, the restaurant sits right beside it. Our absolute favourites here are Chicken Dak Bungalow (a dish invented during the British Raj!), Basanti Pulao (sweet and fragrant), Daab Chingri (prawns cooked in coconut shell) and Bhetki Paturi (Bhetki Maach wrapped in banana leaf). Hungry anyone?

Chittoda's Suruchee Restaurant
What can be said about Chitto Da's that hasn't already been said? If Dacres Lane is a treasure trove for street food lovers then Chittoda's restaurant is its real gem. This place is easy to locate specially because its always crowded. However, it doesn't have much of an ambience to speak of. What do we care about good decor when you can have food that tastes heavenly. Go here for the Chicken Stew and Butter Toast they serve. Over a thousand plates are sold every day without the slightest exaggeration, as it makes for a splendid mid-office meal.

Amber
Oldie but goldie! The food here is legendary. Serving the hungry office-goers and the late-night tired corporates since 1954. Try most dishes from the North Indian cuisine and you won't be disappointed. Although it might not be so pocket-friendly the food they serve here will get you the bang for your buck. Not much can be said about the decor and the ambience, but the place has a lively vibe because it's always buzzing with a relatively young crowd.

Ralli's
Papdi Chaat, Dahi Vada, Chole Bhature, Pav Bhaji… you get the drift. Ralli's is the place to hit up when you are craving street food that is as hygienic as it is lip-smacking. Also famous for its delicious kulfi topped with their famous syrup and vermicelli, Ralli's will satiate those hunger pangs with its variety. They even serve South Indian dishes, of which the masala dosa is a must-try.

New Aliah Hotel
If biryani is bae then this restaurant in Esplanade should be on your must-visit list. Best known for its biryani and kebabs, the food they serve here is the talk of the town. The biryani here is very unlike the overtly greasy biryani you get at other places in the city. Not just the stomach, it's light on the pockets too. The service is prompt and informal. Your orders will be shouted out loud by elderly waiters albeit with a smile. Oh and don't forget to try the chaap and rezala too.

The Yellow Chilli
This chain of restaurant owned by the renowned chef Sanjeev Kapoor is at a stone's throw away from the Chandni Chowk metro station. Although temporarily closed for renovations, this restaurant has managed to grab the attention of foodies in the city within a short span of time. To say that the food here is delicious would be an understatement. Go here if you fancy a twist to the traditional Indian dishes. Must try the Lalla Musa Daal and Mutton Nalli Rogan Josh. Wash it all down with Peru Pyala, a refreshing guava drink straight out of Sanjeev Kapoor's kitchen.

Aaheli
Visit Aaheli if you have an aristocratic Bengali meal on your mind. Everything here, be it the decor or food or how the servers dress (in traditional Bengali dhotis and sarees), speaks of the rich cultural heritage of Bengal. Go a la carte or choose the huge thalis or elaborately curated meals to venture on a traditional gastronomic journey. Classic dishes like Narkel Dudhe Hansh or Anarishi Illish are perhaps ones you will find only here. Don't leave without trying their Gobindobhog Rice and Chicken Chingrir Kasha.

Comments