#LBBDigs: These Feluda Comics In Gorgeous Watercolours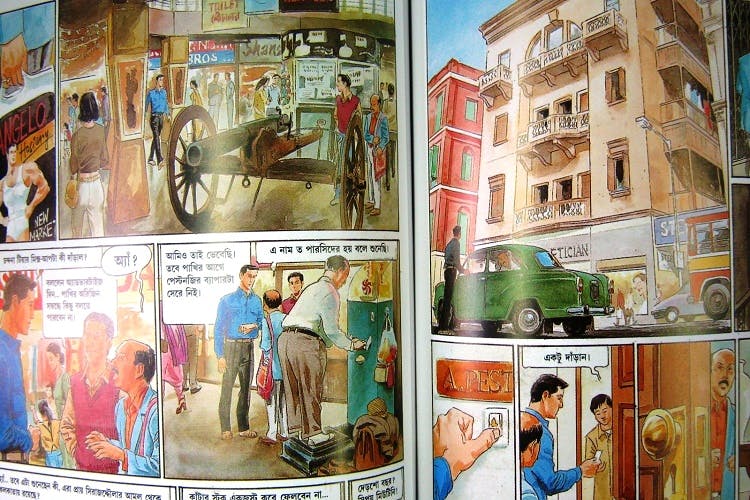 Shortcut
Are you a goyenda freak? Get your Feluda fix at this store.
Feluda, One Frame At A Time
Need a hatkey gift for someone? Try these wonderful comic books featuring filmmaker Satyajit Ray's iconic sleuth Feluda. They feature the adventures of the famous inhabitant of 27, Rajani Sen Road, his cousin Tapesh (a.k.a. Topshe), and Lalmohan Ganguly (a.k.a. Jatayu) in a new avatar. Even if you can't read Bengali, just poring through page upon page of these gorgeous watercolour panels is a treat.
Reading Kolkata
Check out these fluid panels which show off the city of Kolkata and its elements in fluid colour washes. We particularly loved the ones pictured here in the central area in New Market, with the famous canon, now no longer there. Also beautifully captured are the old houses of Kolkata.
The More You Buy, The More You Get
The best part? The store offers free books with your purchases in different price tiers. For a bill of about INR 200, you get books worth INR50. For INR300 to 399, you get INR75 worth of books. And it the freebies keep going up the more you buy.
Fun Fact: Goyendas (detectives) and goyendagiri (sleuthing) have a huge fan base in Bengal where writers here have churned out perhaps the largest number of detective stories in India.
Where: Ananda, 190/2, Rash Behari Avenue, Gariahat, Kolkata, West Bengal 700029. Phone:+91 33 2464 6212
#LBBTip
Do pick up the red and yellow T-shirts and caps showcasing the goyenda gang of three – Feluda, Topshe, and Jatayu. They also have comics on another favourite Ray character, Professor Shonkhu.
Comments