Fishy Business: Mumbai's First 'Aqua' Themed Restaurant Has Opened In Borivali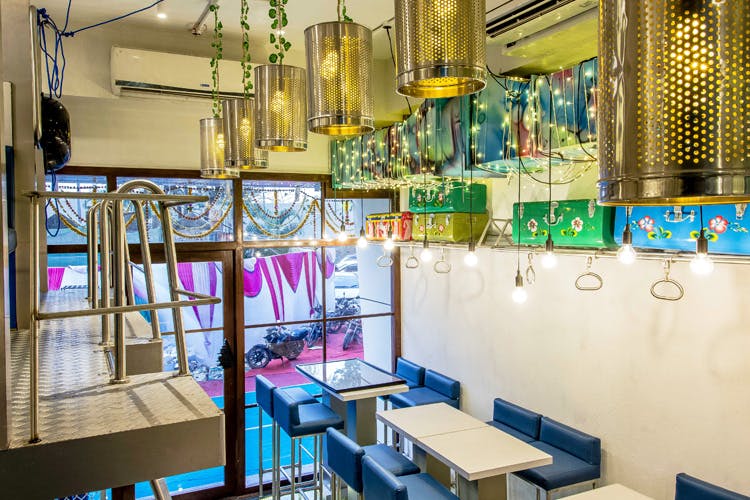 Mumbai's first aqua-themed restaurant, Cafe Hydro at Borivali is a two-floored eatery with futuristic interiors and delicious, pocket-friendly grub.
Say Whaaat?
Borivali peeps, listen up- your hood has just got five times more cool with the opening of the city's first ever aqua themed restaurant, Cafe Hydro. While you can go there to happily devour their pocket-friendly and tasty Asian and oriental cuisines with a hint of American, or gulp down their refreshingly good mocktails such as the coolers, shakes and more, but go here first for the ambiance.
As the name of the restaurant suggests, the eatery is all about the aquatic life, and the interiors are something you may have never seen before in the city. Both the floors are have been designed with different themes; while the ground floor is a representation of Mumbai's lifeline which is the railway trains, the first floor showcases the calm and serene environment of an ocean and the second floor represents the green and soothing surroundings of a garden. interestingly, the ground floor interiors are made using recycled train tracks, train floors, sleeper woods, racks, ladders, the roof is dolled up with bottles, artworks in white, blue and mixed colors of red, yellow, green and purple, and also has a typical seating arrangement like a train, viz. upper and lower decks.
The first floor is super cool and unique – as you go up, you will be welcomed by an array of blue colors and a huge tunnel aquarium. Black and white striped tables and grey colored seating on either side with the tank having different marine water fishes filled in it are the key elements here. The top-most level, which is the garden area has a huge wall aquarium with a beachy vibe and the seating, too, consists of hammocks, ledges and low seating with cushioned pouffes.
Now, we get to the food. We hear that some of their signature dishes include fried surimi fish balls, fishy onion rings, pan seared steamed vegetable dumplings, Cantonese seafood steamed Har Gow, the Mumbai bao, Asian combo meals and much more.
So, We're Saying…
Go to Cafe Hyrdo to check out this super cool, aqua themed restaurant that's sure to mesmerise you with it unique and eye-catchy interiors.