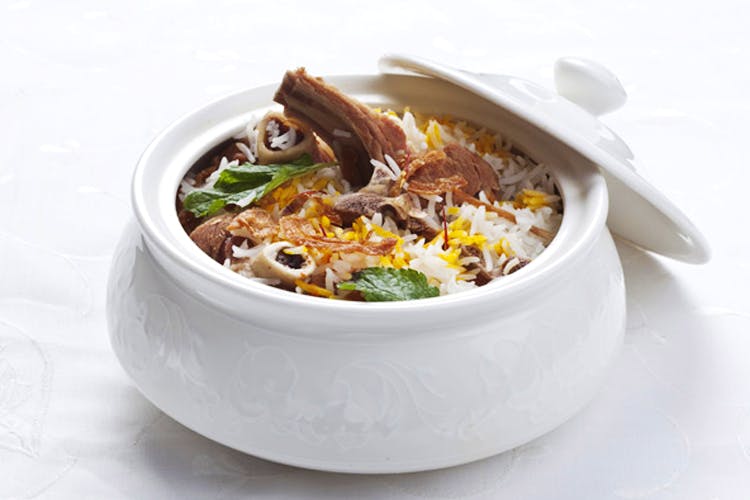 Every Biryani Lover In The City, Head To These Joints To Satiate Your Soul
If there's one dish that unites Indians, it is a well-made, mouth-watering handi of biryani. With so many local versions of it, we cannot get enough of this melting pot of flavors. Biryani's origins are many, but let's focus on the aromatic blend of the rice, with all the foodgasm inducing masalas that make Mumbai's biryani worth everything. Here are six places that will end your quest for the kind of biryani that's finger-licking good.
Lucky's, Bandra
Lucky Restaurant's biryani in Bandra will make you hate all the other biryanis you ever have in your life again. This legendary eatery has the softest pieces of mutton in its biryani, and it literally melts in your mouth. If you're shopping at Hill Road, make sure you make room for some biryani here, or maybe carry a parcel back home. A full plate will set you back INR 330 here.
Cafe Noorani, Tardeo
If you're not an ambiance person but would go to a restaurant for its iconic food, then Noorani's should be on your list. What makes this cafe unique is that they not only serve the typical chicken and mutton biryanis, but their show-stealers are Surmai Biryani, and Fish Tikka Biryani. With fresh fish that's mingled with tangy masalas, this dish is designed to excite your taste buds. The Fish Tikka Biryani will set you back INR 450 here. while the regular Chicken Biryani is priced at INR 240.
Dum Pukht ITC, Andheri
As the name of this restaurant suggests, they specialise in the slow-cooked, scrumptious Dum Pukht Mutton Biryani, an Awadhi delicacy. Their biryani is cooked in authentic metal handis, with coal and wood-fire, to retain the smokiness and the juice of the meat and vegetables. The price of biryanis in their menu is slightly on the higher end but it is so very worth it, guys. A biryani will set you back INR 2150 here.
Delhi Durbar, Colaba
If you want the perfect amalgamation of taste, flavor and juiciness, try Delhi Durbar's Mutton Biryani. For a perfect Mughlai dining experience, club your biryani with their famous Butter Chicken, Khichda, and Dabba Gosht. P.S-Have you tried their Prawn Biryani yet? It seriously delish and will set you back INR 385.
Koyla, Colaba
Apart from its candle-lit ambiance (are you planning a date night?) Koyla is famous for its Chooza Biryani, which comprises some fresh and juicy pieces of chicken, that are marinated in special spices and herbs. Club it with a Gosht Lababdar and enjoy what's on your plate. The classic Dum Murg Biryani is priced at INR 515.
Peetuk (Across all branches)
This
authentic Bengali restaurant serves the best Bengali version of biryani that's there in the city. Their Kolkata-style
Mutton Biryani
will make your taste-buds crave for more.
Peetuk's
Kosha Mangsho
goes very well with this biryani and if you haven't had it yet, its time, guys. The
Kolkata Special Chicken Biryani
is priced at INR 209.
Comments