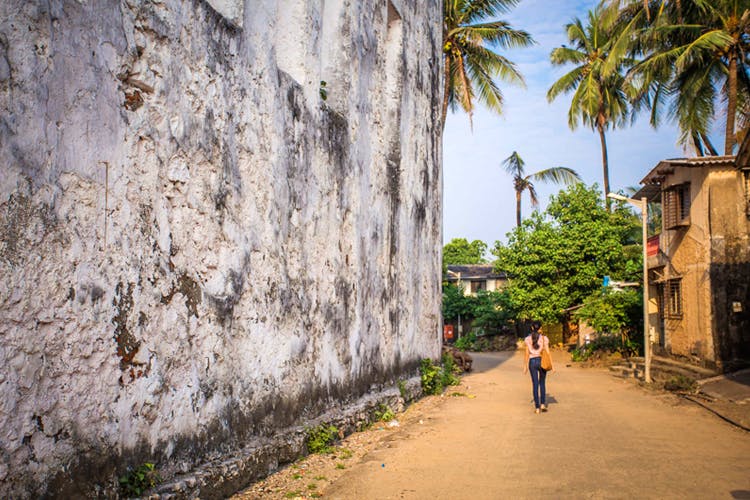 Already Been To Aksa? Check Out These Three Beautiful Spots Beyond It
Aksa Beach has been the most popular among all of the beaches on Madh Island, thanks to a certain song in God Tussi Great Ho. But there's more to the area there than meets the eye initially.
To get to any of these places, you have two options. One is to visit Versova, and then take a ferry to Madh Island. From there, you can take an auto to any of these beaches. The other route is to take the train till Malad station, and then hail an auto. Please remember to travel in a group, because gorgeous as these places are, they are a little away from the city and shouldn't be visited alone.
Marve Beach
Marve Beach is usually known because it is the beach used to connect to Essel World and Water Kingdom, but did you know it's just 20 minutes away from Aksa Beach? There are quite a few street food vendors here selling corn on the cob, chana chaat and other street foods, so plenty to nibble on after your long journey.

Protected by the Indian Navy, this beach offers perfect Instagram-worthy landscapes with a likely armed forces' vessel in the background. Also, the regular hustle-bustle of the fisherman and other locals who ferry themselves with their produce makes for a great click. However, be careful not to go for a swim on this beach as the current can get very strong in these waters.

Planning on staying there for the weekend? We'll recommend staying at Manoribel Resorts - a resort surrounded by lush palm trees, organic garden and exotic flora and fauna.
Dana Pani Beach
Dana Pani is just a little off Aksa beach, and is a beautiful space with a wide road next to it, a few residential houses and a lot of greenery. The surroundings are lovely, but there isn't much to do here and can get pretty isolated. While most of it is a pleasing sight (especially the sunset view), in some parts the beach in itself does require cleaning up, like most of the beaches in Mumbai.

What we love about Dana Paani beach is that it isn't too crowded and is very close to the city. Over there, just simply relax on the beach, try some street food. In fact, look forward to some prawns, Maggie, vada pav, etc. Like we said, visit the beach for the sunset and stay at a cosy space around. There are some good resorts if you are planning to stay and we recommend The Retreat. It's definitely one of the nicest resorts this close to Mumbai and offers a perfect beach view.

Erangal Beach
Erangal is the name of a small village in Madh Island, and that village has to itself a small beach by this eponymous name as well. We visited Erangal, and to get to it, you have to go through the small road running through the hamlet. We loved the pretty and colourful houses and villas here. The best part? Almost each had an outdoor swing in the courtyard. It's a lesser-known, small and local beach to visit. And while you are there, do visit the 500-year-old church we discovered.
Comments