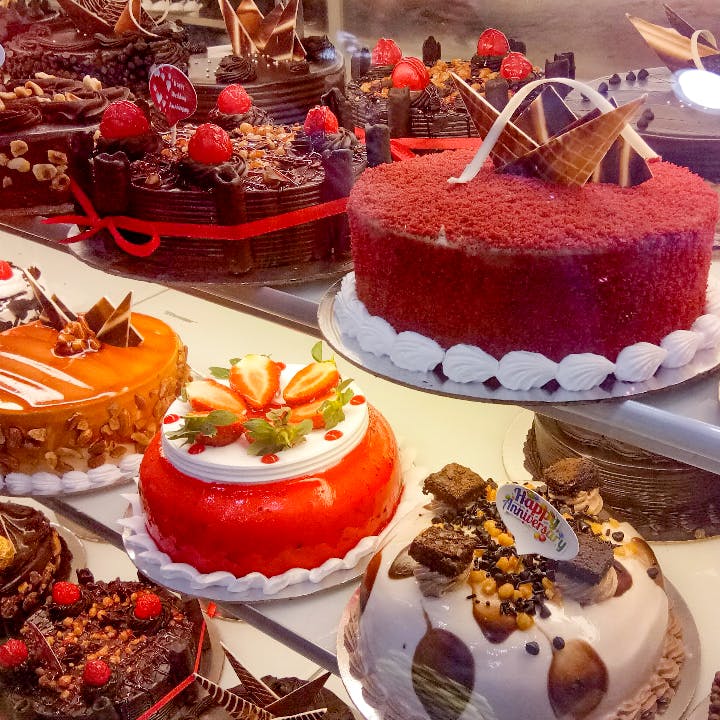 A Little Sweet, A Little Salty: Our Picks Of Bandra's Best Bakeries
There is no dearth of bakeries in Mumbai, but some places stand out from the crowd. Be it for their freshly baked sourdough breads or home made plum cakes or even savoury snacks, the bakeries have been an integral part of Mumbai's culinary history. Today, we take you through the iconic establishments in Bandra, brands that have stood the test of time and emerged to be some of the best bakeries in the neighbourhood. Bookmark this for future reference!

A1 Bakery
This tiny establishment in Bandra West's bustling Hill Road has been a local favourite for years, and the throng of people here is testimony to that. The bakery opens its shutters at 5:45 AM, and the freshly baked breads, cakes, puffs, cutlets and even kebabs disappear soon. The earlier you get there, the better your chances are to dive into baked goods heaven!
What to have here: Chicken puff, chicken burger, mutton kebab
Prices: Approx 200 for two
American Express Bakery
Located on Hill Road, this bakery is known to offer mouth-watering baked goods that remind you of home, at super affordable rates. Biting into their bakes treats is a great way to celebrate nostalgia. If you're dropping by, do try their orange cake! We suggest you drop by before 4p, as they tend to sell out of the favourites very fast.
What to have here: Cinnamon bun, chocolate pastry, chicken pattice
Prices: Approx INR 250 for two
Hearsch Bakery
Love at first bite is what the experience at Hearsch Bakery is all about. A tiny cottage on Hill Road with a large compound, this bakery is known to bake some of the best savoury baked goods in the neighbourhood. They have a large variety of options available on the menu, and if you're confused, opting for the simple veg or chicken burger is a great bet.
What to have here: Chicken puff, chicken samosa, burgers, and lollipop
Prices: Approx INR 300
Candies
A longtime favourite, no list on bakeries in Bandra could be complete without mentioning Candies at Pali Hill. We love spending time at this café, a beautiful space that serves delicious food, shakes and drinks. It's an institution in Bandra today, with 3 outlets dishing out freshly baked rolls, puffs, sandwiches, cakes and so much more. If you're confused about what to order, pick up a kheema roll and a slice of rich chocolate cake and you're good to go. They also have a salad bar for all you healthy eaters.
What to have here: Dark cherry cheesecake, chicken roll, mini meals
Prices: Approx INR 700 for two
The Baker's Dozen
Baker's Dozens' breads are to die for! From focaccia to brioche and everything in between, they are an iconic establishment as far as breads are concerned. They are also one of the very few bakeries in the city that bakes a challah, a traditional Jewish bread. We love this artisanal bakery for their traditional breads that are, best of all, chemical and preservative-free.
What to have here: Blueberry cranberry sourdough, brioche, olive focaccia
Prices: Approx INR 400 for two
Theobroma
Another one of the most popular bakery chains in the city, Theobroma has grown to be an iconic establishment in the city over the years. Today, the Bandra branch is seen packed with guests, enjoying brownies and shakes or indulging in a cheat meal of the decadent chip butty and pastries. Their dense chocolate loaf makes for a great gift too!
What to have here: Chocolate brownies, sandwiches, cheesecakes
Prices: Approx INR 600 for two
Country of Origin
Think brownies, think Country of Origin! This bakery is said to bake some of the best brownies in town, and offers 7 varieties and includes egg-less options too. We love their hazelnut creme brownie and the intense chocolate brownie. If you're looking for super indulgence, we suggest you try their dessert jars. The haute chocolate and hazelnut jar and red velvet are popular.
What to have here: Brownies, jar desserts
Prices: Approx INR 300 for two (Unless you opt for the jar desserts, which are pricey at INR 800 up)
La Folie Lab
Celebration on the cards? Head to La Folie Lab to pick up a celebratory cake, some of the best from around the neighbourhood! Their pastries too are like creations of art, and they constantly add new products to their menu. If you're dropping by, do try their French-style desserts or entremets. They also have a savoury menu here and you can try options like their Croque Monsieur, seared herb chicken, and their signature tartines like the Avo-wich.
What to have here: Desserts and the tartines or open-faced sandwiches
Prices: Approx 1,200 for two
Le 15 Patisserie
This is our OG spot for macarons - those delightful bite-size treats that are oh-so-grammable. Their macrons are the eternal favourite, but once you move over them you'll realise that the pastries, cupcakes and brownies too are out of this world! Their red velvet cupcake in fact is one of our weekly orders #sorrynotsorry.
What to have: Macarons, red velvet cupcake, tarts
Prices: Approx INR 250 for two
La Braco
La Braco on Hill Road is a small bakery with quite an extensive selection of pastries, desserts and savouries. Walk in an choose from their display of pretty desserts - you'll have a hard time choosing, we're quite sure.
What to have: chocolate pastries, tea cakes, cookies
Prices: Approx 350 for two
Ask Protima a question