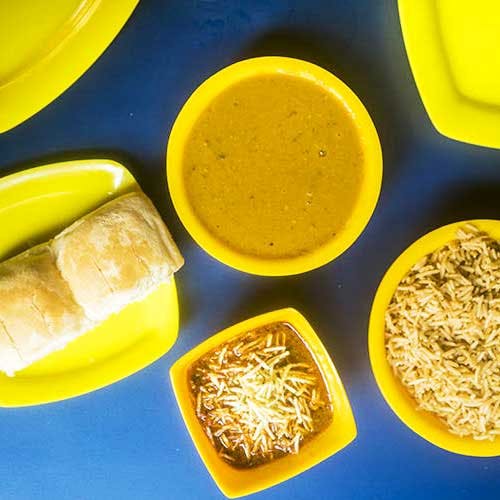 Our Pick Of SoBo Eateries For A Delicious & Authentic Parsi Meal Under INR 300
Do you love digging into Parsi food but don't have much of a budget to spare? We've got you covered. These SoBo eateries will satisfy those cravings for dhanshak and patrani macchi in under INR 300. Pinky promise!
Ratan Tata Institute (RTI)
Anyone who has grown up around South Mumbai will recognise RTI as an after-school snack fave. This little eatery is a take-away only spot and serves up a nice variety of snacks, sandwiches, and baked goodies - those buttery lemon tarts are divine! You'll get chicken cutlet, chicken farcha, tarapori patio, and the classic laga nu custard here.
Price: Laga Nu Custard INR 40, Chicken Farcha INR 124, Lemon Tart INR 48, Khichdi Prawn Patio INR 240
Good For: Snacks and catering
Parsi Amelioration Committee (PAC)
PAC located in the heart of Tardeo is a little takeaway joint that's something of a hidden gem. But, whether you're craving chicken potato pattice or frilly cutlets or want some superb continental fare like a hearty chicken and mushroom pie, PAC has just the goods to take you to your happy place at prices that don't breach the INR 200 mark. There is no parking or home-delivery, and the goodies disappear in minutes right before your eyes, so go early so you aren't disappointed.
Price: Everything below INR 150
Good For: Snacks and take-away
Grub Corner
This little takeaway counter is located at the end of the lane just before Kandeel Juice Centre in Fort. Many an office-goer has chanced upon Grub Corner while rushing off for a courier or taking a shortcut to the many banks in the area. But no matter the agenda, or how great the hurry, it's impossible to pass by Grub Corner without at least taking away some of their delicious chicken puffs, mutton cutlets, chicken farcha, egg-chutney-potato pattice or a ham-and-cheese sandwich!
Main course dishes such as dhansak-rice, papeta par eeda, biryani are great too, and they also sell a range of pickles and bakery products from Pune's iconic Kyani bakery. Since most of the food is freshly prepared either by the owner's family or Parsi ladies, this place is about as authentic as it gets.
Price: Everything below INR 100
Good For: Snacks and catering
P.S. Get here before 4 PM, things sell out quickly.
Ideal Corner
Located close to Flora Fountain, Ideal Corner is a hidden gem that's high on simplicity and dishes packed with down-to-earth goodness. The interiors here are nothing to boast of - a non-AC affair that will have you reaching for Duke's raspberry fizz to cool you off in the summer months - but the food. The food is worth it. They've got the classics sorted like mutton pulav dal, tatrelu gosht papeta, and bumla fry. They have set specials on different days of the week - try the gavti pork on Saturdays.
Price: Salli Boti INR 190, Mutton Cutlet INR 100, Chicken Dhanshak INR 230

Good For: Lunch
P.S. They don't serve any alcohol

Café Military
Many an argument has been waged over whether Cafe Military is the best Parsi joint in town. And well, it's certainly one of the most pocket friendly! This place is seriously old school, down to the checkered table cloths with a protective glass cover and the vintage wooden chairs. Tuck into chicken papeti, mutton salli boti, dhandal egg patio and pulav dal. They have daily specials that they serve on particular days - regulars will know what's served on which day. Bonus! They serve beer here, and you can sip a cold one along with your meal.
Price: Mutton Dhanshak INR 180, Chicken Salli INR 170, Atheli Chicken Masala Potatoes INR 170
Good For: Work-day lunch
Sassanian
A favourite with college kids and office goers thanks to its early opening time, Sassanian is over a century old. And let's be honest, it kind of looks it, too, but in the best way. A certain dimly-lit, old-school charm hits you as soon as you walk in and grab a table. People line up at the take-away counter for their famous chicken patties, but if you step inside you'll also get Parsi classics like akuri, egg curry, mutton kebabs, chicken farcha, and chicken dhanshak with rice.
Price: Akuri INR 35 (single egg), Chicken Dhanshak Dal INR 170, Salli Chicken INR 180

Good For: Breakfast and mid-day snacks

P.S. The Chili Garlic Potatoes is a hot favourite. Eat it, and thank us later! (Your diet may not)

Kyani & Co.
Another student and working crowd fave, Kyani & Co. is iconic. If you've never had bun maska with Irani chai here...well we suggest you fix that stat! The old-fashioned eatery still retains its classic vibe - we don't think anything has changed here since they opened over a century ago. Breakfast is big here - tuck into hearty omelettes, bhurjis, and really, eggs any which way. Other specialties include mutton salli boti, masoor gosht, pulao with chicken dhanshak dal and chicken salli boti.
Price: Irani Chai INR 30, Chicken Salli Boti INR 150, Pulao with Dhanshak INR 120

Good For: Breakfast and lunch

P.S. - They have meal combos that are a serious value for money

K Rustom's Ice Cream
How could this list be complete without mentioning a dessert? We've got a special one for all you ice-cream lovers here - K Rustom's Ice Cream. This ice-cream parlour is easy to miss if you don't know it's there. For those in the know, Rustom's ice-cream sandwiches are pure nostalgia sandwiched between two paper-thin wafers. They have a myriad different flavours and we especially recommend the seasonal mango, custard apple ice-cream and fresh kokum sherbet and watermelon juice they keep in their cooler (ask!). Other favourites include the rum and raisin and black currant. The perfect end to a stroll on Marine Drive, hit up this family-run establishment asap.
Price: Sandwich slice INR 60 (varies according to flavour), Family Pack INR 540 upwards

Good For: Post dinner dessert cravings

P.S. - Head's up: we've found their hours occasionally erratic.

Comments