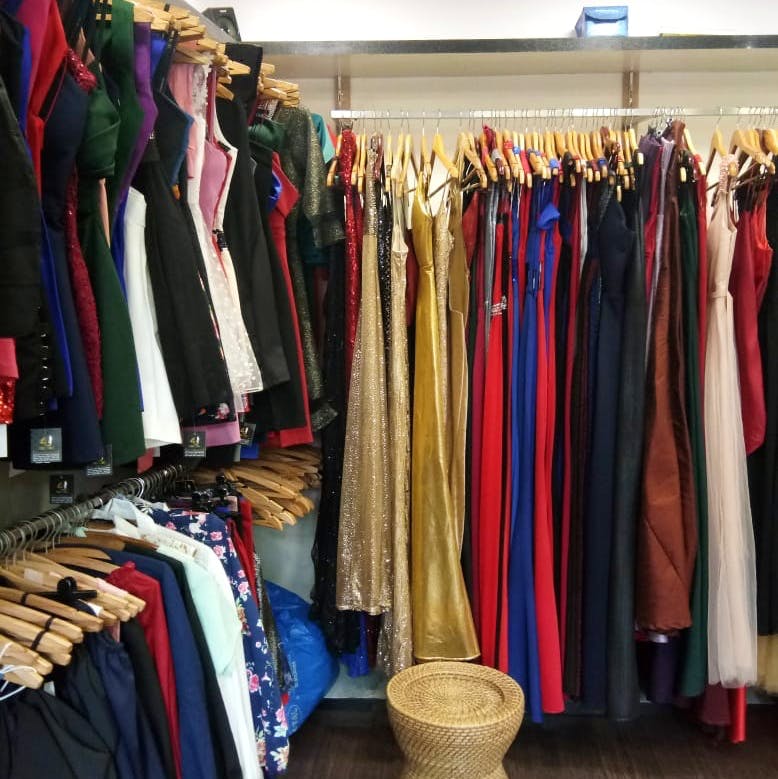 Jumpsuits, Gowns, Dresses And More: Have You Taken A Stroll At Bandra's Waterfield Road Yet?
Fashionistas, are you on the lookout for that perfect LBD, or want to rock that red-carpet gown? Then we're more than glad to be sharing this with you. Here are a few of our favorite shops at Bandra's Waterfield Road that need to be raided when you want to buy yourself the coolest clothes and dresses but are also kinda, well, sorta, broke. Read on.
What's Up?
We love this shop because it stitches up dresses that our favorite divas from Bollywood and Hollywood usually drape at a Filmfare. The only (good) difference being that we get our share at a much cheaper price. And we cannot be happier about that. Their gowns in pastel shades are worth the investment, and they'll customize dresses, gowns, and jumpsuits for you too.
On The Pocket: INR 3,000 to INR 7,000 onward.
Kocktail
Halter-neck tops, polka-dotted jumpsuits, and long dresses. There's nothing that you won't like at kocktail. They've got a tailor who customizes and alters your dresses on the spot too.
On The Pocket: INR 1,400 to INR 4,000.
Queen Apparels And Accessories
Chokers, neckpieces, bracelets, and dresses long and short, you'll find it all at Queen. They've got an excellent collection of party-wear, casual gowns, tops, skirts, and jumpsuits. And all within an affordable budget.
On The Pocket: INR 1,500 to INR 6,500.
Cute And Krazzzy
Don't go by how crazy the additional Zs look in the name because their collection is here to charm you. There's a sleeveless baby-pink dress that we absolutely adore. Cute and Krazzzy takes stitching orders too, just in case you're interested.
On The Pocket: INR 2,000 to INR 4,500.
Tweet Clothing
Its neon pink board and the twittery name attracts many, and for all the right reasons. You'll know when you see what they have. Our favorite picks our the army jackets, little black dresses, and a red hot off-shoulder cocktail gown that had us glued to it.
On The Pocket: INR 1,500 to INR 6,000.
4U-For You
Do you fancy striped palazzos? We're asking because 4U has something really pretty for you. Get yourself some black, maroon, white, and beige striped palazzos from INR 1,400 onward, and thank us later. Their spaghetti dresses are the bomb too.
On The Pocket: INR 1,500 to INR 6,000.
Redress
Redress has two stores, beside each other. Its bright orange board and its ambient lighting along with the huge chandelier attracts a lot of customers throughout the day. Go here for a wide variety in jackets both formal and semi-formal, club-wear sequinned dresses, summery gowns, and peplum tops.
On The Pocket: INR 2,000 to INR 7,000.
Kyra Chhabria
Now if you wish to drape some designer-wear culottes, jumpsuits, shrugs, and gowns, Kyra Chhabria's Waterfield Road is where you should be. From boho to chic, she's made it all to suit your styling needs. We loved her net shrug, with some zardozi work on it. Pair it with flair satin pants or silk long skirt and exuberate some elegance while you're at it.
On The Pocket: INR 3,000 onward.
Western Outfits
This one's got some really pretty boho shrugs and if you're looking for something to wear on a beachy vacation, get yourself some body-cons and suits from here. They've got both colors and variety.
On The Pocket: INR 1,300 to INR 4,000.
Ask Oindrilla a question