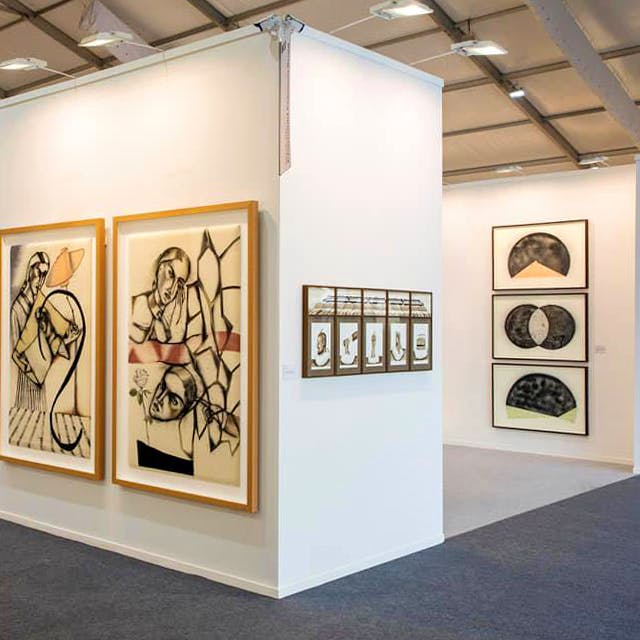 No Money, No Problem: Guide To Free Art Galleries In Mumbai
You'll be surprised to know that lot of contemporary art galleries in Mumbai don't charge a penny - visitors are more than welcome to come and explore the spaces - a concept that has been followed by top notch art galleries and museums in London (The TATE Modern and The National Gallery). Check out what we have in store for you.

Jehangir Art Gallery
Founded by Sir Cowasji Jehangir and opened to the public in 1952, Jehangir Art Gallery is in the heart of South Bombay – Kala Ghoda in Fort. It hosts a lot of contemporary art exhibitions and is a two-floored gallery. The first floor showcases a lot of exhibitions. The gallery area on the first floor can often get really crowded, especially over the weekends, so be warned. Right outside the gallery, you can also find street artists selling their artwork and artists who'll make your portrait in under 10 minutes.
Pro-Tip: You can often find and interact with the artists showcasing their artwork- and that's what we love the most about this place – unlike other galleries where the artists are often not present.
Volte
Volte is the contemporary modern gallery that opened shop in 2008 by owner Tushar Jiwarajka. Volte is known for its eclectic multimedia installations, exhibitions and a range of events. With an approach of bringing quirky and unique art via the medium of exhibitions, Tushar has managed to curate and showcase video stills like that of South-African artist and filmmaker, William Kentridge and his classic film – Refusal of Time. Volte definitely fuses well with Mumbai's burgeoning local art space and we recommend going here to check out the eclectic installations.
Chatterjee And Lal
Chatterjee And Lal is possibly one of the best regarded art galleries in Mumbai located in the art district of Colaba. The space is founded by the husband-wife duo of Mortimer Chatterjee and Tara Lal, who have left no stone unturned to make this space a creative contemporary hub. Though it's just one single room where the artwork is presented, they are known to push for outrageous and in your face contemporary art. Nikhil Chopra, a renowned artist dabbing in live art, photography, installations opened his show, Yog Raj Chitrakar: Memory Drawing Series here-which then took him to Tokyo, London and further on. Apart from this, they've featured Rana Dasgupta, Minam Apang, Rashid Rana among other talented artists – with a focus to support and push more and more Indian artists.
The Loft
This tiny art gallery in Lower Parel is a contemporary art space, organising and showcasing art installations and exhibitions. Bang in the middle of all the offices and industrial mills of Lower Parel, The Loft offers a fresh wave of culture to people looking to do something apart from eating out or shopping. They showcase international and Indian artists, and also do aesthetically pleasing installations for visitors to enjoy.
Galerie Mirchandani + Steinruecke
Have you always wanted to escape to Berlin, Manhattan and stroll through the airy, spacious galleries there? Just head off to Galerie Mirchandani + Steinruecke, run by mother-daughter team of Usha Mirchandani and Ranjana Steinruecke. They not only curate international artists like Wolfgang Laib, Sigmar Polke, Kiki Smith but have also showcased young talents of India. Their recent artists include Abul Hisham, Nicola Durvasala, Gieve Patel (with his abstract take on faces), Siji Krishnan (who experiments with rice on canvas and with subtle water colours), and other equally fascinating artists.
Gallery Chemould
Possibly one of the most iconic and reputed art galleries to come to Mumbai – which also provided the impetus to the modernists movement in the art space in India, Chemould has earned a space for itself in Mumbai's evolving art scene. This includes letting the famous MF Hussein showcase his paintings that were revolutionary at that point of time, and it is another one our list that lets you enter for free. It often showcases new and upcoming artists apart from the veterans of the Indian art community. Besides this, its decor is simply very New York street gallery-ish – with brick walls and a view of the heritage fort precinct from its big airy windows.
Project 88
A boutique studio-like vibe the moment you enter it, Project 88 is minimalist as envisioned by the owner Shree Goswami. It is housed in the space of a century old metal printing press in Colaba, now house to giving the opportunity to young artists to come and showcase their daring, avante garde artwork to the audience.
Si Bambai
Si Bambai is housed out of a building that is almost 90 years old, hidden away on the third floor in Kala Ghoda. Si Bambai offers a platform to emerging artists and talent who want to showcase their work. An gallery/performance space. Si Bambai is a creative hub that features everything from immersive exhibitions to performance art, dance and music.

Comments