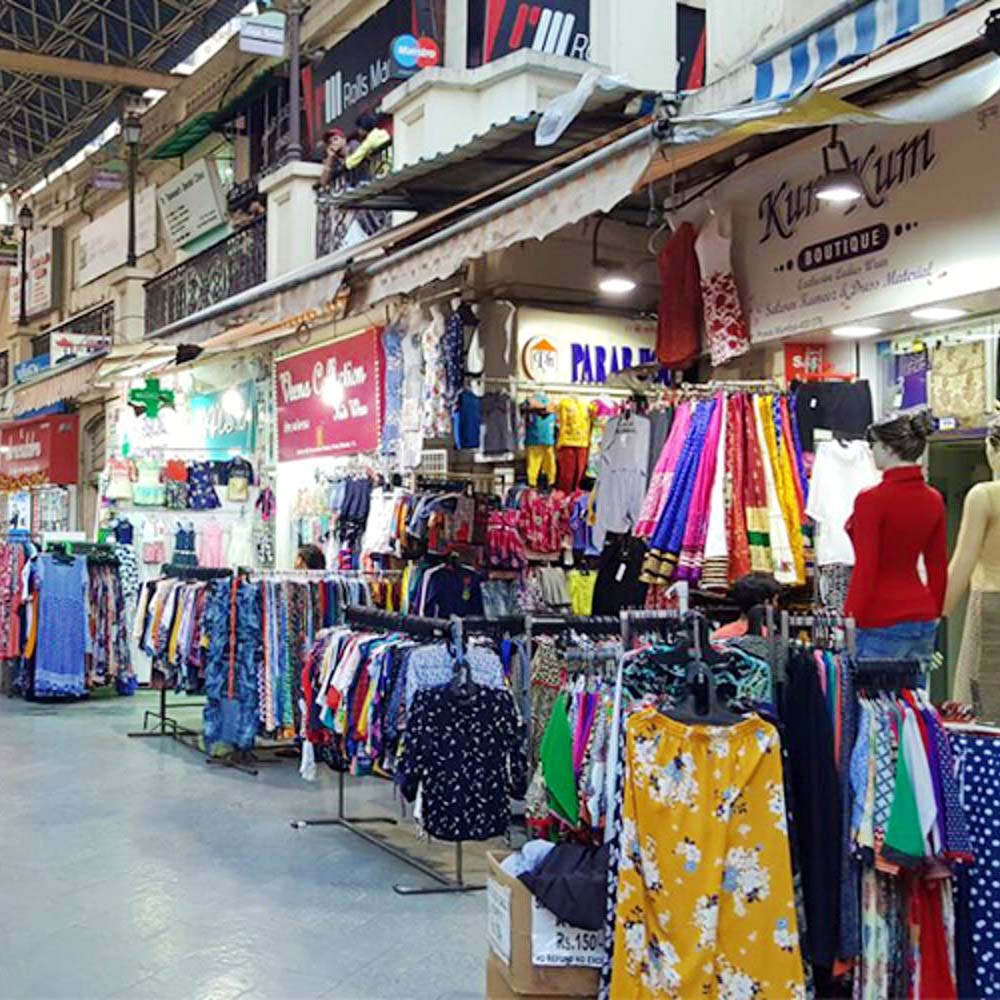 Tired Of Indoor Malls? This Shopping Paradise In Powai Is What You Should Put On Google Maps
We love how the township of Hiranandani teleports us into a different world altogether, and the Galleria Mall is a boon for not only the residents of Powai, but also for those shoppers who don't really like indoor malls but want to get everything under one roof. At Galleria, you'll find a fare mix of apparels, accessories, jewellery, bags, books, and much more than what meets the eye, and they won't even burn a hole in your pocket. Here's a tour of our current favourite shopping destination.
Beauty Collection
The first store we noticed on entering Galleria was Beauty Collection and what drew us inside was a really cute long tee with dog and cat prints on it. They've also stocked up on cutesy dresses with pockets in bobby prints, and regular-wear sleeveless cotton tops from INR 200 onward, and they honestly look too comfy to not be bought.
Global Girl
We're lovers of flairy pallazos and we spotted a lavender one in this shop for INR 400. The material is stretchable and can be used for daily wear and tear. Global Girl specializes in sleeveless kurtas made using a traditional Khun border and has a silky touch to it. They're as inexpensive as INR 400 and we couldn't help but buy one in bottle green. You can also go for their kaftaans, shrugs, and long dresses in cotton.
Non Stop
This one's your low-budget party clothing dream. Non Stop has flowery and striped skirts in minis and longs, midi-dresses with a bow-tie, tank tops, shimmery crop tops, designer sarees in silver and gold, and bell-bottom torn jeans, all within INR 3000. This one's slightly more expensive than the rest in Galleria, but definitely worth it for a wardrobe makeover.
Abracadabra-The Gift Gallery
In case you have a housewarming party to attend, or you' want to surprise your bae, or simply add a beautiful piece on a side table near your bed, you've got Abracadabra to your rescue. We spotted quirky frames with motivational quotes, starting at INR 450, and a cuttin chai glass that comes with a showpiece of the classic Mumbai wada pau, for INR 300. They also have really tiny and cute coffee mugs, love capsules, and buddha statues that are great gifting options for any occasion.
The Jackpot
The Jackpot is a complete family shop, with a plethora of options in men's wear, women's wear, jackets, windcheaters, raincoats, shoes, mobile accessories, and bags. We loved the pink and blue unisex raincoats here, starting at INR 1,500. Our second favourite is the kalamkari and ikat bags here from INR 2,000 onward.
Aarzi Boutique
Lokking for some designer kurtas but not the shimmery and gaudy kinds? You're at the right place. Aarzi, on the second floor of Galleria, has cotton anarkalis and kaftaans starting from INR 2,000 only and if you want something that's apt for office as well as any occasion, go for their indigo collection. Aarzi also keeps dress materials and even if you get a dress material from outside, they'll be happy to weave a salwar-suit or anarkali for you. They've got an in-house tailor who charges minimal rates for stitching.
Divine Collection
Another one that's a haven for casual and partywear dresses, we loved Divine for the humble staff that's always willing to show you everything that they've got in stock. And if need be, the shopkeeper can also go full stylist on you, if you require help. Their regular-wear tops start at INR 200 and the quality is bang on.
Veena Collection
Trust Veena for the best junk jewellery, and neckpieces, along with its super wide range of apparels, and kids-wear. We bought a pair of oxidised jhumkas from here for INR 200, and it has lasted us for three years, without any reactions.
Novelty Bags
Galleria doesn't have too many shops for bags, but the one's it has are enough to make you go cray. This one's got some really elegant bags for women, that start at just INR 300. We like the batuas and wallets too. Go for the beige and brown collection that's got more variety than the rest. You can call the owner on 9820995063.
Flora Fiesta
We adored the cutesy flowery tops with bell-sleeves and a sunshiny yellow skirt that costs INR 650. Flora Fiesta has kurtis, tops, and jeans too, but we eyed on the skirt and could see nothing beyond it, to be honest. Pair it with a sleeveless tank top and some elegant jewellery, and you're sorted for the evening. You can call them on 7506039988.
Walker's Stop
Since monsoon's finally here, go get yourself some monsoon-special boots and chappals from Walker's Stop. You'll get them from INR 300 onward and the grip is solid. They've got cute ballerinas and heels too. And what's interesting is that they offer shoe-and apparel laundry services too, which is really helpful during a season when drying off shoes is a task.
Fashion Point
Fashion Point, though a tiny shop and can be missed pretty easily, will surprise you with its collection of casual beach gowns for INR 800 only. The variety in prints and patterns got us laying our eyes (and money) on one of them. If you make it to this shop at Galleria, do invest on their midi-skirts in colors of Pride, and their pallazos that come for INR 200 only. You can call the owner on 9819495374.
Leather Galleria
Though known for its leather bags and wallets, we spotted the cutest pink glittery bag here that's not just for kids but can be rocked by you too, if carried with sass and style. It comes for INR 350 and is worth the purchase for just being so cute.
Mind Gym Book Shop
If you're a book lover but have been forced to come shop with your mum or friend at Galleria, well, the mall's got something for you too, friend. Raid Mind Gym and pick your favourite novels from INR 300 onward. You can also rent books per hour from here. So while your mum goes all shopaholic, you could pick a corner at the mall and read on.
Ask Oindrilla a question