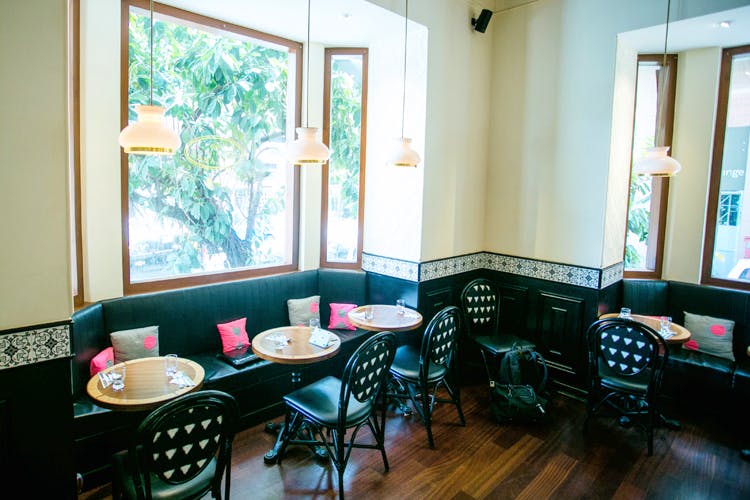 Get The Look: How I Made Le15 Cafe In Colaba A French Dream
'You give me design, I'll give you dessert,' I said to my friend Ayaz Basrai.
We were talking about designing Le15 Cafe in Colaba. When you're starting your own place, you're on a tight budget. I reached out to friends to create the space. Ayaz is is one of the best interior designers I know. He owns the Busride Company, and has designed eateries such as Bombay Canteen, Social and Café Zoe.
For this little dream of mine I wanted a French café with a good vibe, open spaces and a lot of light. Here's how Ayaz and I made it come to life.
Flowers And Kettle Vases
For our centre table – as well as arrangements around the cafe – I got in touch with my friend, Deepti, who runs a company called BudLuv. The central arrangement is one that shows flowers pouring out of kettles, which worked with our high tea focus.
We change this arrangement every week, and use a lot of flowers and even candles.
The floral arrangements start at INR 750.
Tiles And Lights
I follow an Instagram account called I Have This Thing With Floors, which really feeds my obsession with floors, both textiles and patterns. The black and white tiles we have were custom-made by my designer. We took the tiles from big blocks, chipped at them and placed each one individually.
Another of my favourite elements are the ceiling lights, which are modern, non-fussy and very pretty. They're from Chor Bazaar.
Follow the I Have This Thing For Floors Instagram page here for inspiration.
Cutlery And Cloches
Besides the food, the counter display is our focus. The set-up is similar to what you'd find at a French patisserie.
The black cake stand and glass cloches are from Nicobar in Kala Ghoda.
We also work on different types of packaging, and have collaborated with artists like Nimish Shah from Shift, Nachiket Barve and Masaba Gupta, and are now working with illustrator Sameer Kulavoor.
Our all-black menu has been designed by Delhi-based leather brand Nappa Dori.
The crockery has been either imported from China and the little trays on which cupcakes are served have been bought from a wholesaler.
Check our Sameer Kulavoor's work here. 
The crockery wholesaler, Ritual Creations, can be contacted at +919820044402.
Chairs And Ikat
A French-style café will often have cane chairs, which are easy and light to move around.
In keeping with this, our little black stools and chairs have been sourced from La Cane, a manufacturing unit in Goregaon, which we then spray-painted black.
Masaba then dressed them up by covering them with ikat fabric. The little cushions in pink and grey have also been made by Masaba.
#LBBTip: Since La Cane is a manufacturing unit, you won't get pieces on the spot, but can get them made.
Photos And Prints
Everything in this café is Paris-inspired. I had once seen this picture of this girl with balloons in front of the Eiffel Tower and I just thought it was so beautiful and French.
So photographer Naman Saraiya and I recreated the same around Colaba.  So we woke up at 6 in the morning one day and we had this balloon-guy cycle up to us with 16 helium balloons while we ran around Gateway of India, Asiatic Library, jumping, giggling and clicking Mumbai in the morning light as balloons floated up and away. These are the photographs that we had put up in the cafe and they are a tiny bit of Paris to me, which is where I studied bakery.
Check out Naman Saraiya's Instagram page here.
The Music
I love the music that we play one here as it's very ambient and soft, and most of the songs are personal favourites. It's mostly French pop or vintage covers of songs. We use this amazing app called BC Jukebox and anyone can download it. Many cafes use this for their music and you can use it at home too. As customers too, you can control the music that is playing where you are sitting.
Download the app for Android here and for Apple phones here.
Comments