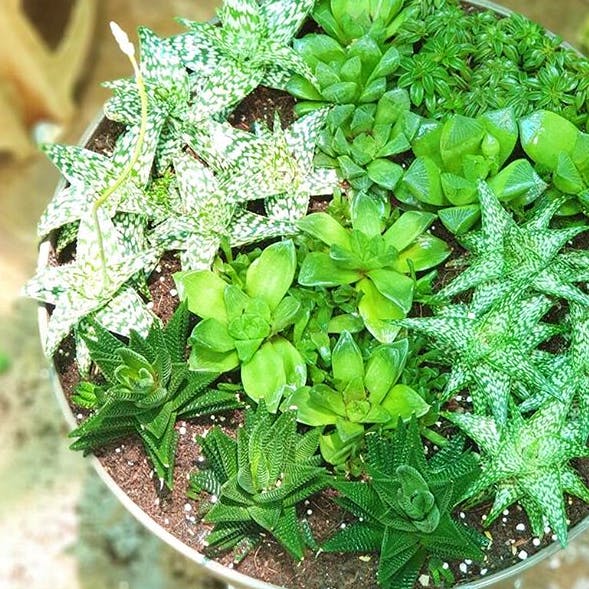 Twiddling Your Green Thumb? These Nurseries Will Home-Deliver Your Garden
Are you a plant baby and love surrounding yourself with greenery? If the tiny space of your box-like apartment does not faze you, then this list is your saviour. Check out these nurseries that will home-deliver the plants/ flowers and plant pots to you. Going green could not get easier, so we say splurge and green it up.
Vriksha Nursery
This cutesy bright yellow and green bungalow near Alfa in Irla houses even a cuter nursery out of it. This nursery curates all sorts of plants, herbs, orchids and so much more. Not just restricted to plants,they also offer services like landscaping and garden maintenance. What's so unique about this is that they possibly have the largest collection of cactus and succulents in Mumbai. Other gorgeous and never heard of plants that they offer are: heirloom purple corn, the candle light tree, the glow in the dark fern (that's a thing) and lithops. To check the availability of the plants at the nursery, go to their Facebook or Instagram page and choose a plant. You can Facebook message, DM them or even call and order. Ask for Shaan Lalwani who runs the nursery.
#LBBTip: The minimum order for home-delivery is INR 1,000 and up.
Price: INR 250 upwards
Ankur Nurseries
Going strong since 1978, Ankur Nurseries is based out of Chembur and delivers pan-Mumbai. From an array of services they offer up, they have a really good and fresh stock of plants, and flowers. Ankur offers gardening tools, seeds for keeping up the health of the plants and even tips on how to maintain a plant in the best way possible. Their collection is really diverse. You can buy oriental bulb lilies, bottle brushes, orchids and so much more. They also keep a great collection of indoor plants so you can even choose those. Even cherry tomatoes can be purchased off the website, along with other veggies and fruit plants like passion fruit.
#LBBTip: If there's a specific plant that you fancy, do give them a call and they'll try and arrange it for you.
Price: INR 650 upwards
Plants World
Hidden away in the heart of SoBo, Plants World is a beautiful spread out plant nursery. They have a large stock of exotic plants (over almost 1,000 varieties) from outdoor plants to indoor plants, flowering plants, fruit trees and so much more. If you love gardening, or enjoying sprucing up your room with green spots then this is it. They deliver pan-Mumbai, however there is a minimum charge of INR 1,500 in addition to where the delivery needs to happen. To buy the plants, just email the order request to plantsworldnursery@gmail.com, or call them at 9820264013 to place your order. They will then mail you the pictures of the plants along with the price. You can also check up about renting the plants, wherein an expert will also drop by to water and take care of the plants for you.
#LBBTip: They do cash-on-delivery, so do have your cash ready.
Price: INR 500 upwards (minimum order INR 1,500)
Passion Green
Passion Green is an amazing plant studio that runs out of Prabhadevi, Mumbai. Founded by Alka Bajoria, Passion Green has an online store that will deliver plants across Mumbai and even in Navi Mumbai. Keeping the aesthetics in mind, every plant and pot available at the store are created in a way that is appealing to the customers. Though they do offer a lot of outdoor plants, they have a great collection of indoor plants, especially catering to the lifestyle of Mumbaikars. Keeping in mind the different kinds of needs, plants can be found under a specific category like semi-shade, or sun plants. It's perfect for adding colour to a corner in your house. Though slightly on the higher end of pricing, these plants come with Alka's guidance, gorgeous pots and of course, minimal care required.
Price: INR 400 upwards
Root Bridges
Root Bridges nursery has a vast collection of bonsai plants, flowering plants, succulents, indoor plants, garden herbs and more. Choose from aralia indoor plants, air plants, bird's nest ferns, Siam tulip flowering plants, snake plants etc. There are also ornamental plants and succulents that make for wonderful gifts. We especially love the topsy turvy succulents here at INR 399.
Prices: INR 220 onwards
Comments