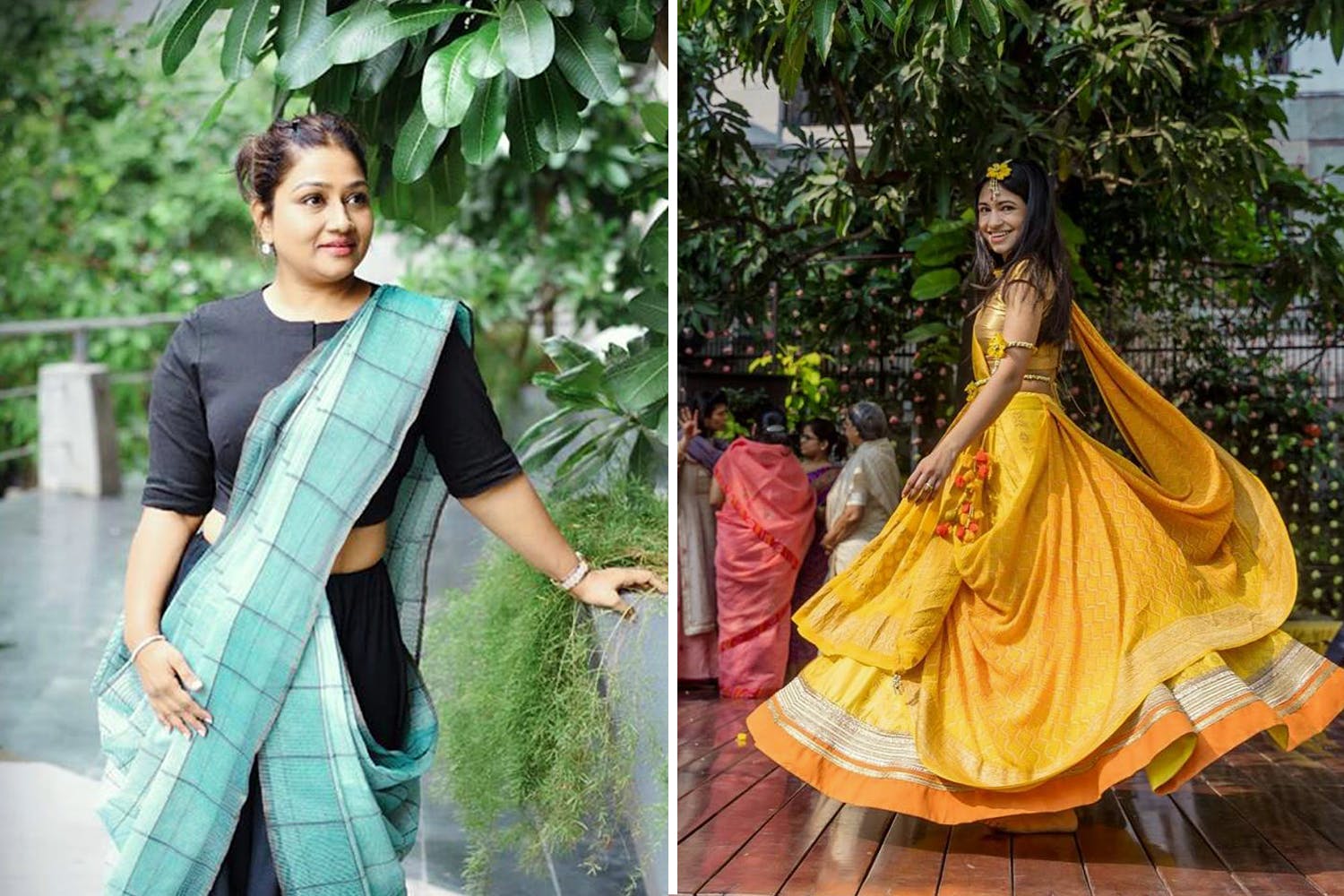 Mermaid To Coorgi Style: This Saree Draper Can Drape The Six-Yard In More Than 300 Ways
What Is It?
We're sure you noticed the outfits worn by Sonam Kapoor and family through all her wedding functions. While we instantly get to know about the designers, we seldom try to find out more about the person who has draped the outfit. Well, we did our homework and found out about Dolly Jain, the sought-after saree draper who can wrap you in your six yards in more than 300 styles!
Tell Me More
Dolly Jain often visits small towns in India to understand their regional style of draping. And then, she mixes and matches. For instance, she will sometimes mix a Coorgi style with a Bengali drape, or a Bengali drape with a Rajasthani style. And such permutations and combinations have led her to collate a whopping total of 325 different drapes (and still counting). We asked her what people are running after currently, and she let us in on the trend that girls prefer to wear a saree over jeans, jeggings or a palazzo instead of an underskirt because that's easier to move around in. Another draping style that is often asked about is her mermaid style of draping which is covers the whole body and accentuates the curves without any skin show. This style is often preferred for sangeet nights because it shows off all the dance moves clearly without making the person awkward or worried about showing skin. And yet another style of hers that massively in demand is when she drapes two whole sarees which adds drama to the attire without making it look bulky. But you can't just walk with your fabric to her and demand a style because she says that every fabric has a certain draping style. To make sure people pick up the right saree, she also consults brides and families when they start building the trousseau and picking outfits for the functions. If she sounds like the saviour you need to fill in the missing link between your sarees and you, check out her Instagram account, add her drapes to your wishlist and get in touch with her immediately. Price for draping is on request.
So, We're Saying…
If you have the kind of moolah to splurge on getting the perfect drape, or a kind that no one around you would have ever seen, Dolly Jain is who you should be talking to.
#DollyJainTip
We stretched our luck and asked her to give us some quick tips to make our life easier around the six yard. Here's what she had to say: 1. Always use an underarm pad. The designers craft lovely blouses that get spoilt because of our sweat, and that's hard to get rid of. To avoid it, use underarm pads, and if they aren't available, cut a sanitary napkin in two and stick it to save your blouse. 2. Save your sarees from getting tucked on by the safety pin's loop. Use a pearl, or a thermocol ball, or a shirt button to lock the loop. 3. If you're wearing studded footwear with a heavy saree, chances are the embellishments on the footwear will end up spoiling the work on the saree. To avoid such a crisis, rub candle wax vigorously all over the work on the footwear and then rub off the extra wax with a mal-mal cloth. Candle, FTW. 4. Always wear the footwear before draping the saree so you get the perfect height. If you're going to a place where you are likely to remove your heels, make sure you drape your saree wearing two-inch heels, so you get the length which is perfect for a higher pair of heels, and also if you choose to remove them. 5. The best way to set the creases on the pleats and drapes after you have worn your saree is using a hair straightener. That way you will never end up burning yourself, or the fabric.
Comments