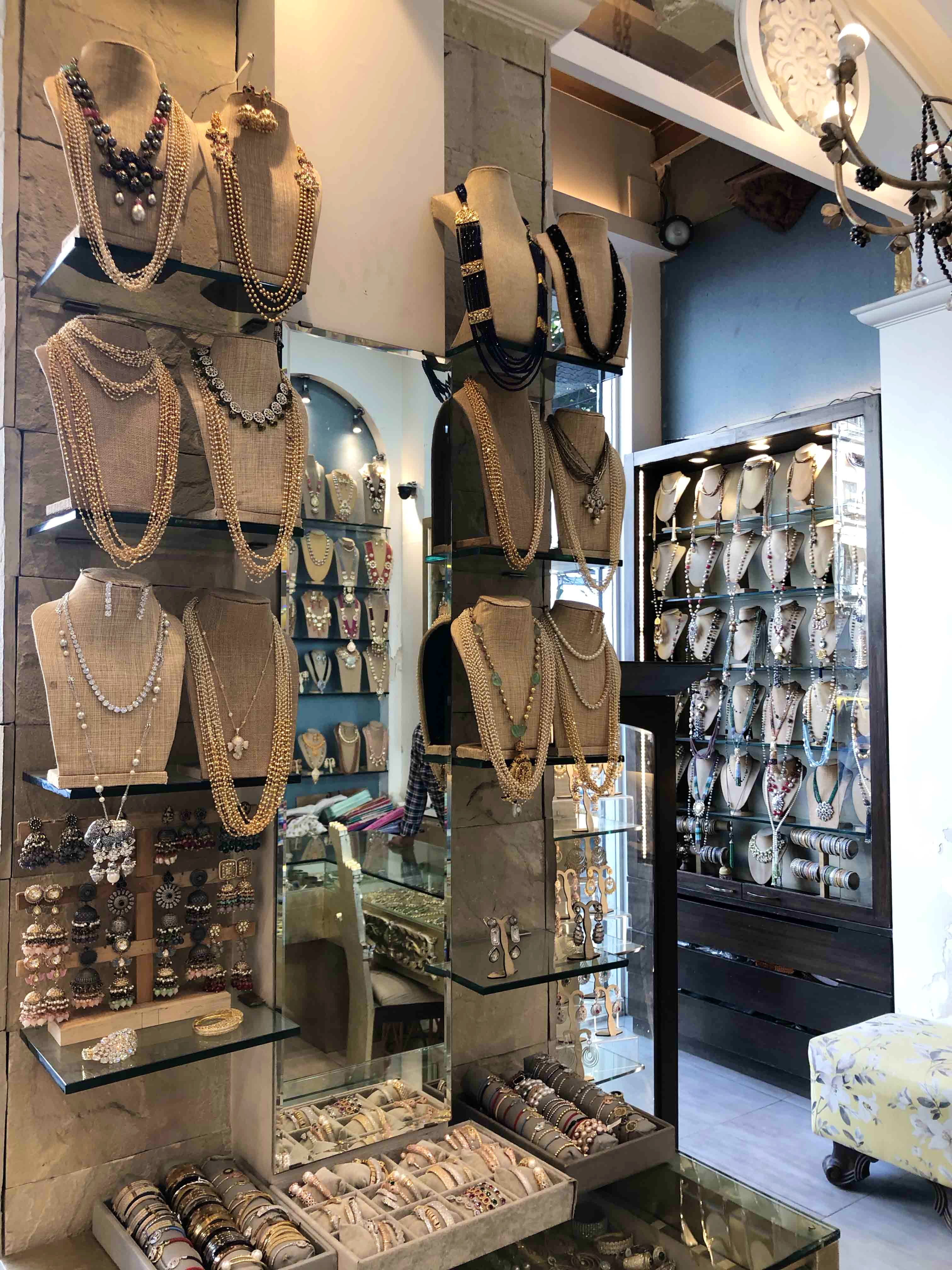 Your Fix Of Silver Jewellery At These Colaba Stores
Do you love collecting silver jewellery and accessories? We've put together the ultimate silver shopping guide for Colaba. Let's get cracking!
Popli
Popli caught our attention for its eclectic collection of silver jewellery starting at INR 1,000. The store is a great pick if you're looking for statement pieces to really complete your look or unique designer earrings and neck-pieces from Minerali. We loved a pair of silver earrings with dual-toned bright thread work at INR 2600 and also an elegant pair of rose-gold hoops at INR 3800. The staff were patient and helpful, and more than willing to answer all our queries. All in all, a great experience. You get what you pay for here.
Mangal Arts & Crafts
Mangal Arts and Crafts is a small handicrafts store located in the lane next to iconic Cafe Mondegar. The store has a wide collection of Indian handicrafts and art from around the country. Home decor and wooden decorative pieces start at INR 150 - 300 and bronze figurines at INR 400 up. They also have Meenakari work from INR 5,000-7,000. Silver jewellery enthusiasts will find a good collection to choose from here as well, and prices start at around INR 300.
Amar Gems
Amar Gems is also in the same lane, next to Cafe Mondegar. The store specializes in loose gemstones and customised jewellery which can be set in a design of your choice - you can bring your own design or they can help you choose one that's right for the gemstone you've purchased. Besides that, their range of silver jewellery starts at INR 500 and gold starts at INR 10,000 upwards.
We loved a pair of earrings - hand-painted miniatures set in silver at INR 875 up and also silver wristbands in beautiful designs from INR 3,500 up. Their range of silver jewellery set with semi-precious stones is also beautiful and range from INR 5,000 to 7,000. Best of all, the owner and the staff are super friendly and made us feel very welcome!
Aquamarine
Aquamarine is a jewellery label with outlets around the city. Their designs are unique and interesting, and we've often found eclectic and unusual patterns here, if you're tired of the run-of-the-mill cutesy stuff. The showroom is large and there's plenty of choice from large ethnic pieces to fusion designs and contemporary styling. They also have more traditional pieces if that's what you're looking for. Their costume jewellery starts at INR 1000 while their silver pieces go for around 3,000 up. From occasion wear to modern everyday pieces, this store has you covered.
Jewel House
Jewel House, though small, has a wide and varied collection of silver jewellery. The starting price for earrings is INR 1,500 here and we loved an aquamarine pair for INR 3,000, a blue topaz locket at INR 1,200 and handcrafted Meenakari bangles at INR 3,500. If you love accessorising with rings, you'll find their collection of silver rings set with semi-precious stones start at INR 2,000.
Silver Arts
Silver Arts is a Causeway staple for silver jewellery enthusiasts. The store has been here for the last 95 years and has earned a reputation for having some interesting and beautiful pieces. Prices here average at INR 1,000 upwards, though if you hunt you may be able to find cute silver charms and lockets for less. We found a hand-painted pendent here at INR 595, bracelets for 2,000 and an adorable mini silver dachshund dog at INR 1,000 and a silver scooter charm at INR 2,000. They're open all through the week, too.
#LBBTip: The store is small and can get rather cramped as well. You'll have to hunt a bit to find something you like, but we think it's worth it!
Sangam Jewelers
Sangam is located right on Causeway and is easy to spot. The store has a wonderful collection of silver jewellery and has been in the business for 40-plus years. We loved the cute silver studs at INR 200 and the silver chains start at INR 300. Bracelets start from around INR 3,000 - 4,000 and the glass display has several pairs of elegant and pretty earrings waiting to catch your attention. We liked a simple silver pair with a tree motif at INR 410. Quite the steal! They are open on all days, including Sunday.
Anaqa
Anaqa is located near the old Strand Cinema, close to Colaba Market. The upscale store specialises in more high end and blingy fashion jewellery with a contemporary mien. Prices here start at around INR 2,000 for the most basic earrings, necklaces and accessories. They also have collections for men, including cuff links, rings, and bracelets. We found an elegant pair of silver earrings with Swarovski detailing at INR 7,000 here that are perfect for party wear!
Silver House
No list of silver shopping in Colaba could be complete without mentioning Silver House. This store in Colaba Market, rumoured to be Shobha De's go-to for all things silver, has also designed jewellery for Bollywood films too. Prices surprisingly are in line with other shops in the neighborhood and you'll find a good selection from INR 700 up. Earrings, bracelets, necklaces, large pendants (one of their specializations ), decorative pieces and more can be found here. If you have a design in mind, you can place an order and they'll be happy to customise it for you. Chunky silver jewellery starts at INR 3,000 and we really like the choice of statement ethnic pieces here.
Mangal Silver
Mangal Silver is located in Colaba Market. The store has a great collection of silver jewellery, gift articles, and decorative pieces. Prices here start at INR 1,500 for earrings, INR 2,000 to 3,000 for pendents, and rings from INR 500-600. What's great is, they also have beautiful silver kadas and bangles, though these are rather expensive due to the weight. If you're looking for a gift for someone special their photo frames start at INR 2,000 and they have pretty silver gift boxes and jewellery boxes with elegant designs at INR 3,000.
Silver Palace
Last on our list is Silver Palace. Their collection is versatile and great for a variety of price points. We really liked their collection of wooden earrings inlaid with silver and semi-precious stones at INR 600. We also spotted some really cute and quirky items like miniature furniture sets in silver, complete with 4 chairs and a table at INR 5,000, as well as silver animals like a really adorable bunny rabbit!
Comments