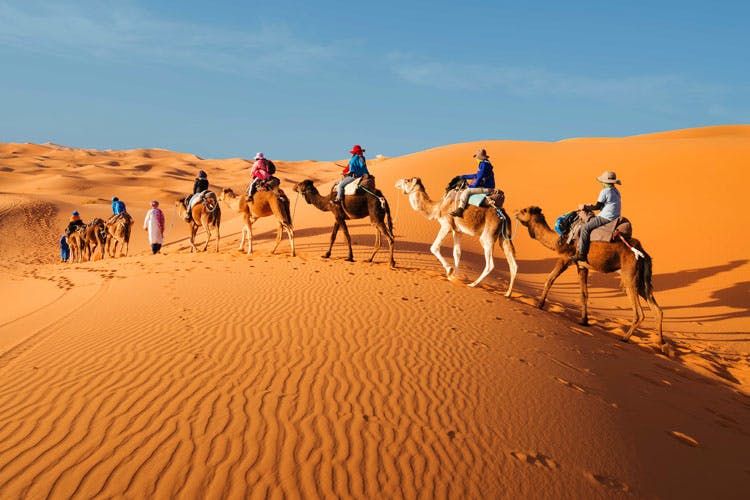 #VacayModeOn: Here's Why You Should Take A Group Tour With This Travel Company!
Shortcut
Want to live your dream of going on a solo trip but your shy-self always stops you? Veena World has the perfect solution for your woes - Group Tours! They're definitely the way to go if you want to experience the joy of traveling solo, meet new people, have a stress-free and safe travel experience! Read on to know why you should be booking them with Veena World.
Reliable Tour Managers
Travel with bae or solo, chill with like-minded travelers and create memories for a lifetime as Veena World's professional tour managers take care of everything and ensure our safety. When in doubt, ask them whatever you want to know about the place, history, culture et al, as they're all fully proficient with knowledge about the destination. You've just got to focus on looking good in the pictures and also relish food options from Indian or local cuisine.
Book Online Anytime
They've made booking a tour super easy with sales support that's just a click away, have a highly supportive customer care that helps on-tour and off-tour, so there's no chance of you having a thing to worry about while on the trip!
Fulfill That Bucket Wishlist!
Gift yourself one of the once-in-a-lifetime experiences with Veena World's exclusive tours. Witness penguins in their natural habitat in Antarctica, behold the beauty of Northern Lights in Ireland or the beautiful Cherry Blossoms in Japan. That got you dreaming away, right?
Go Desi Or Videsi
Veena World has both domestic and international group tours for the wanderer in you. Take your pick from international destinations across 7 continents—live your bollywood dream as you take a ride across Europe or go all out in a Las Vegas Casino! If you've been wanderlusting after the Indian spots, pick from domestic itineraries to the Northeast, Leh-Ladakh, Himachal, Kerala, Rajasthan and more. You'll surely be in for a sensory treat.
Choose From Over 500 Itineraries
Their international group tour packages start at a bare minimum INR 50k per head! So free-spirited singles, here's your chance to jump on the plane to your favourite spot anywhere in the world. Europe packages start at just INR 1 Lakh, Australia starting at INR 1.5 Lakhs and a sojourn across South America costs approx 8 Lakhs. Ladies, check out the Women's Special tours to locations across your favourite countries. Basically, indulge the way you would want! They've got something for everyone, so no-one feels their feet are tied to one place—Seniors' Special, Grandparents-Grandchildren Special or even festival tours to double the celebration!
So, We're Saying...
Don't just daydream, book that tour as Veena World has made it so easy for us all through their group tours and experience one for a lifetime. So get your inner traveler to make those plans and as Veena World says, Chalo, Bag Bharo, Nikal Pado!
Comments