The information in this post might be outdated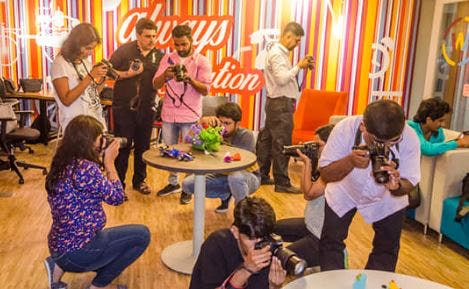 Want To Learn Professional Photography? Head To This One-Day Event At One Of The Best Co-working Spaces
What's Happening
Really passionate about learning photography, but your tight schedule barely permits you time? This one-day workshop taking place over this weekend will ensure you get a strong grasp basic photography using a digital camera. The workshop will help you extend your photography skills by introducing you to practical and theoretical concepts, and will help you master the manual mode of a DSLR camera.
Some concepts include understanding the multiple features of your camera like exposure etc, different types of lighting to create drama, posing and portraiture, composure and framing. In a nutshell, you'll learn how to click photos with a wow factor. Once introduced, you'll be encouraged to practice the newly acquired skills during the workshop - so ensure a perfect balance between practical and theoretical knowledge. Towards the end of the workshop expect an in-depth review and critical sessions analyzing your work.

How's The Venue
The workshop will be conducted at WeWork in BKC. Located in the city's new cosmopolitan district and commercial hub, BKC, this office space offers 16 full floors to Mumbai's professionals, designed with an international standard of business in mind.
Pro-Tip
You'll have to carry your own digital camera for the workshop. And, it would be great if you could carry a tripod along too. The fees includes a complimentary vegetarian lunch.

Comments