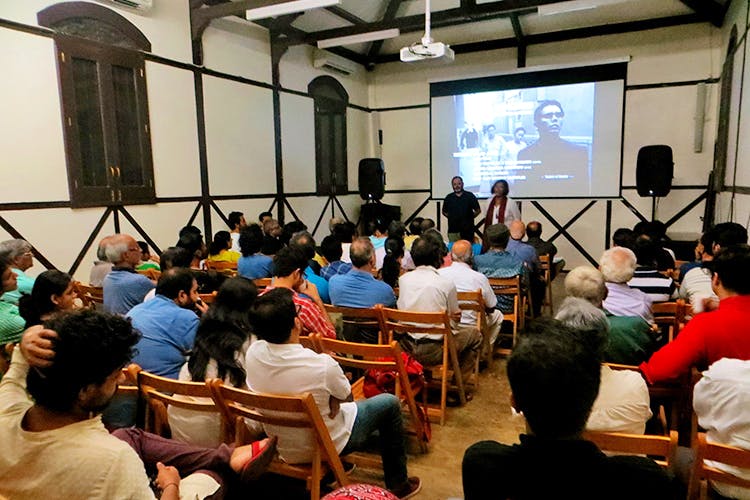 Where To Watch Movies For Free in Mumbai
When we're tired of paying exorbitant amounts at the local cineplex, or when we want to see something out of the ordinary without investing in an imported DVD — a French film, a banned Iranian movie or a documentary about a Mumbai hospital — we know where to head. Here are our five favourite venues to get some of that cinema magic — for free.
Alliance Francaise de Bombay
When we want to chase the Monday blues away, we head to this French centre in New Marine Lines in the evening.
Expect To Watch

Alliance Francaise screens both classic and contemporary French cinema with English subtitles.We've loved their screenings, which have included comedies such as The Nine Month Stretch, a comedy about a woman pregnant with the child of a convicted murderer, as well as Yves Klein, La Revolution Bleu, an evocative documentary about the French artist.
Reel Reality

The venue can accommodate around 70 people and has strong air conditioning, so bring a shawl or jacket.
Timings: Screenings every Monday at 6.30pm
Godrej India Culture Lab
Located in the Godrej One compound off the eastern express highway, the Godrej India Culture Lab has played host to some of our favourite standalone films as well as festivals.
Expect To Watch

For example, earlier in May they screened Getting Better, a film on KEM Hospital that traced the hospital's staff over four years as they struggled to provide the best treatment possible for an overwhelming number of patients.
Reel Reality

Go here if you love cutting edge cinema and talking to the people behind it — the Lab often hosts discussions with the filmmakers after the screening.
Timings: Screenings usually held post 5pm
Dr. Bhau Daji Lad Museum
Mumbai's oldest museum, Dr Bhau Daji Lad Museum has a variety of options to choose from for the movie lover.
Expect To Watch

Movies At The Museum is a monthly screening of films on a Friday, curated by filmmaker and cinematographer Rohan Shivkumar. The museum also hosts movies in collaboration with the Alliance Francaise as well as the Consulate General of Canada, the latter of which is to screen movies for children.
Reel Reality

The screenings take place in the Education Centre situated in the Museum Plaza. The Centre can accommodate around 90 people. The screenings can get a little noisy, so only come for this screening if you're not a puritan about pindrop silence during a film.
Timings: Once a month, usually on Thursday or Friday evenings
National Centre for the Performing Arts
The National Centre for the Performing Arts, at Nariman Point, has three distinct categories for the free cinema it brings to Mumbai residents.
Expect To Watch

Fresh Pix, started in September 2010, serves up indie and regional cinema which would ordinarily be inaccessible for most of the public, Reality Check, which screens contemporary documentaries, and Flashback, which screens Indian classics.
We love their Fresh Pix series the most, just for the careful curation that goes into it. They also screen pretty recent releases, so if you missed something while it was in theatres, you might catch it like we did — they screened hit Hindi film Nil Battey Sannata this June.
Reel Reality

The NCPA has some of the most beautiful theatres in the city. Do hit up the Cafe for a post-screening bite.
Timings: Screenings usually held on Fridays, post 6pm
Comments