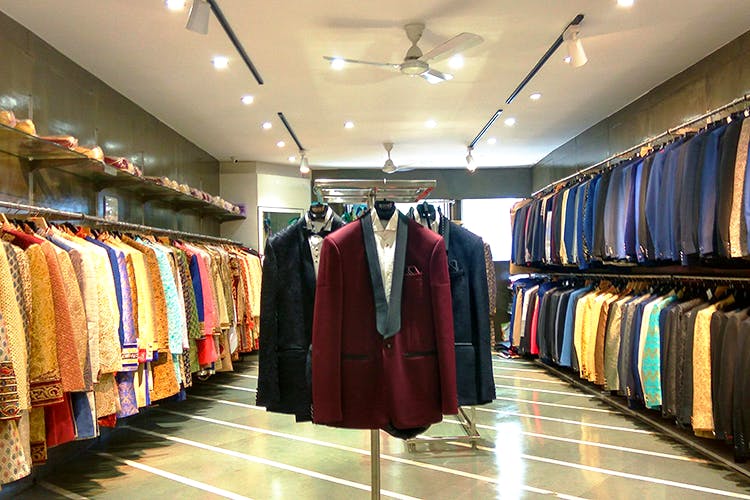 Fashion Emergency? Men, You Can Check Out These Suit Rentals In Pune
Shortcut
To broke to be bothered with buying a suit? Or did you forget to try on your old one to make sure it still fits? Whatever your reason, these suit rental services in Pune will help you suit up. Go on now, look dapper.
Rent An Attire
The Pune-based website is perfect to rent ethnic and western outfits for all your important occasions. They have several suits from a range of high-end brands including Van Heusen, Louis Philippe among others. Starting at INR 1500, you can rent a suit by paying a refundable deposit. And you can rent anywhere between three-to-10 days. The brand also offers free delivery and pick-up, so you needn't go through the hassle of dropping off any package either.

Popin Fashion On Rent
Located in Camp, this store is where you can rent everything from a bandhgala to a tux. All outfits out here are available in 3 sizes and imported all the way from Jaipur and Mumbai. You can rent the outfit a day before the event and return it after it's done. A refundable deposit of twice the amount of the rent is taken and you can collect it while returning the outfit to the store. So go on, try on a suit and borrow it for the next big social event. They also have a website where you can pick the outfit you want to rent.

Stage 3
Get designer suits from names like Elysian, Waris, Buttons N' Threads among others. You can chat or call their stylist to get some help on what'll best suit the occasion you're renting for. Starting at INR 1700, rent a suit with a refundable deposit of INR 900 for three-to-six days. The website delivers and picks-up the suit at a time that's convenient for you too.

Flyrobe
Rent suits and tuxedos from multiple brands from Flyrobe. It's a popular site to rent and buy apparel from. Starting at INR 1500, you can score a suit and the site allows you to get custom fittings on trousers for the suit. You can submit your measurements online and then have the outfit delivered to you, to rent for four days. It will be picked up on a scheduled date.

Ask Junisha a question