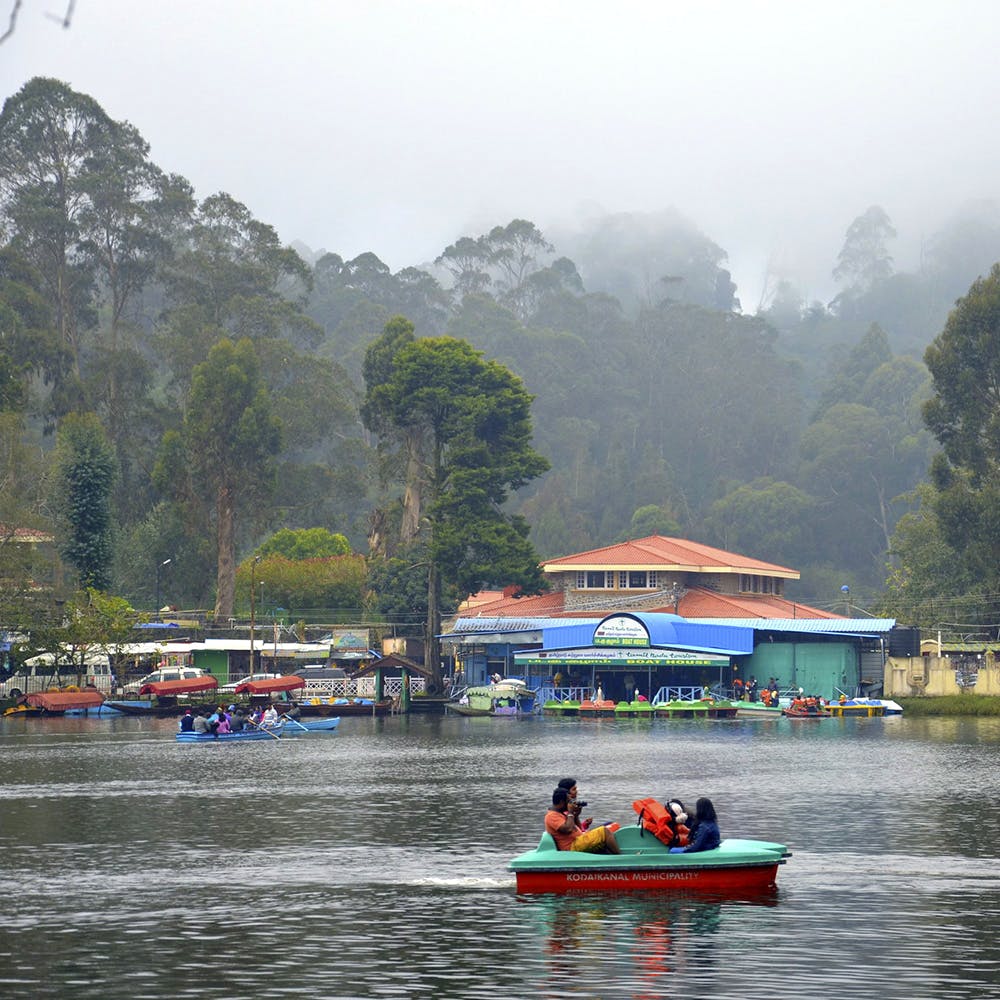 Heading To Kodaikanal? This Checklist Of Must-Visit Places Is Super Helpful
Kodaikanal is 8 hours on the road from Bangalore and makes for a good weekend getaway - you know leave Friday night and be back Monday morning for office. Whether you are there for two days or longer, there are various things to do and must-visit places to visit in Kodaikanal. And we've made a check-list of sorts for you, if you are planning on visiting Kodaikanal come weekend or when you are just bored with city life and want a quick escape.

Kodaikanal Lake
No itinerary of Kodaikanal trip is complete without checking out the Kodaikanal Lake, one of the most touristy spots in Kodaikanal. The artificial lake hosts boating, and you are likely to find both families and couples boating away happily. You can also get horse rides and rent cycles around the lake. Boating charges start at INR 100 and activities start at INR 60. There are shops around to shop for knick-knacks and snacks. Be sure to check out Bryant Park too, which is at the other end of the lake.

Coaker's Walk
One of the major tourist places to visit in Kodaikanal apart from the lake, Coaker's Walk is where you will find views that are just stunning. It's is one of the most beautiful spots in the hill station simply because on a clear day, you can see Dolphin's Nose and panoramic views of the valley. It's a short walk, but with colonial houses on one side and mountains and hills on the other, you might want to just keep walking back and forth between Van Allen Hospital where it starts and St.Peter's Church, where it ends.
Dolphin's Nose
Dolphin's Nose is another spot you cannot miss while you are vacationing in Kodaikanal. It's at a height of 6,600 feet and while it's nothing more than just flat rock protruding (it looks like a nose of a dolphin, hence the name), the trek to reach the spot is quite fun and adventurous. At the top, you will be treated to pretty cool views of the valley in front of you. Sit here for a while and enjoy the calm vibe of the place. The best time to visit here is early morning since there won't be too much of a crowd.

Pillar's Rock
Writing about trekking and not mentioning Pillar's Rock is a crime, hence the next place to visit in Kodaikanal is this spot that's a little away from the main town. Trekking with a side of adventure is what's offered here but the three giant rock pillars that stand out of the mountain also offer some Chinese Floating Mountains at Zhangjiajie National Forest Park vibes especially there's a bit of mist surrounding the area to give you a magical view of the mountains. Take epic photos and make everyone on your Instagram handle jealous.

Pine Forest
Kodaikanal's pine forest is magical, scenic, and a world of its own. You can walk between huge pine trees, spread out a mat and have a picnic (be sure to clean up afterwards), and just enjoy the cool and calm weather. If you are here solo, just walking with your headphones playing music is something we recommend. At the entrance, there are small stores selling snacks and you can also go for horse riding. It's a spot for photography too.

Guna And Kookal Caves
Guna Caves and Kookal Caves are two caves that you need to add in your places to visit in Kodaikanal list even if you are there for two days. Guna Caves gets its name after the Kamal Hassan movie of the same name. It's near to Pillar Rocks, and the trek through is a beautiful pine forest and from the hilltop, you can see the Rocks and the valley. Kookal Caves is one of the best-kept secrets of Kodai, and it's about 40kms out of the main town. The trek down to the caves is rather steep but makes for a great adrenaline rush. You'll reach the dwellings of the Paliyan tribes at the end of the trek.

Berijam Lake
On our list of top things to do in Kodaikanal, Berijam Lake is more serene and far less crowded than Kodaikanal Lake. A picnic on the banks is possible while boating is restricted, but who cares when the view is awesome. You can spot animals in the distance and the backdrop of Palani Hills. Oh and during the afternoons, the place gets shrouded by mist, so it's really something else.

Shembaganur Museum Of Natural History
It's no Smithsonian National Museum of Natural History, but hey, this century-old museum will still wow you with its curated collection. There are skeletons of animals, specimens of snakes, mammals, and butterflies, and it's also home to over 250 species of orchids. It's not a huge museum and you can tour the place easily in an hour, but be sure to check out every bit of the museum. Our favourites are the archaeological artefacts related to Paliyar tribes and coin collection.
If you are wondering where to stay, here's a list of homestays to stay in Kodaikanal for you to check out.
Comments