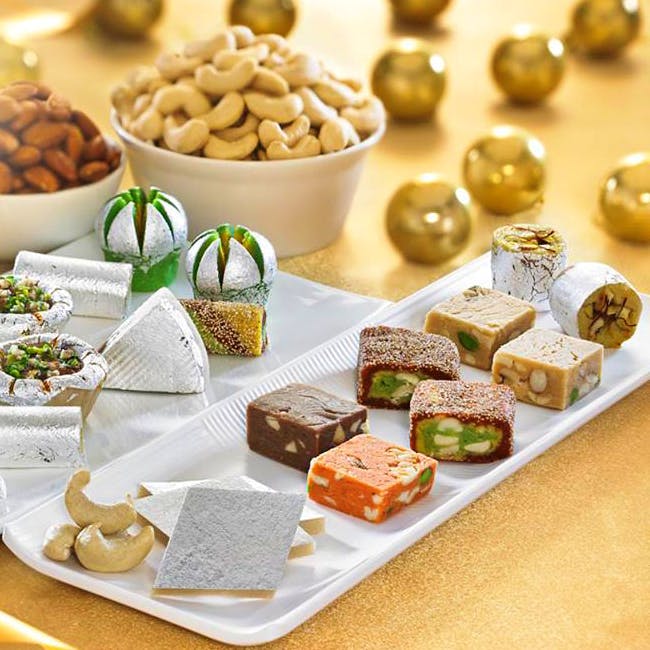 From Crispy Jalebis To Milky Pedas, Take Your Pick At Some Of The Best Mithai Shops In Town
From Rakhi to Diwali, India is a land that loves a good celebration. And every celebration needs plenty of mithai to make it that much sweeter. Here are some of the best sweet shops in the city to pick up some mouth-watering Indian mithai from.
Anand Sweets And Savouries
Recommended for: This iconic sweet shop has been satisfying many a sweet tooth and mithai craving over the years. With plenty of outlets in and around the city, this mithai giant is known for serving up some rich Indian sweetness from badam barfis and besan ladoos to juicy gulab jamuns and rasgullas. And to balance it all out, these guys also sell namkeens like bakarwadi and ribbon chakkali that make tea time our favourite time of day.
Karthik's Mithai Shoppe
Recommended for: Around for ages, Karthik's Mithai Shoppe is almost synonymous with Indian sweets in the city. Known for their mootichoor laddoos and crispy jalebis, this sweet shop also does chaats, from pani puri to raj kachori, that we can't get enough of. And their chole batture is another crowd favourite. But coming back to the sweets, they serve all the classics from gulab jamun to kaju katli that definitely deserve to be a part of your mithai spread.
KC Das
Recommended for: Bringing all of Bengal's classics to Namma Bengaluru, KC Das has earned quite the loyal customer base over the years. Often credited to be the creators of the iconic Indian sweets rossogolla and rossomalai, these guys are truly game changers. Apart from trying these, give their barfis, khir kadham and sondesh a go. Thank us later!
Bhagatram Sweets
Recommended for: This famous sweet shop on Commercial Street has been giving the big boys like Anand Sweets, which also has an outlet there, a run for their money. Developing a sweet reputation over the years with their famed gulab jamuns, rasgullas and jalebis, this place is now a landmark in the city and a great stop to tuck into some sev puri as well.
Kanti Sweets
Recommended for: Spreading sweetness since 1957, Kanti Sweets now has about 50 branches in the city, so you probably have one of these joints right in your neighbourhood or very close by. From dry fruit ladoos to kaju Mysore pak, here's where to get boxes and boxes of mithai from. And these guys have their very own app so you can browse through their extensive collection of mithai and order away. Now that's what we call a sweet deal.
Adyar Ananda Bhavan
Recommended for: Ah! Good old A2B. This joint is yet another of our go-tos when it comes to stocking up on mithai. This Chennai-based sweet shop has branched out over the years and has over 20 outlets in Bangalore as of now. From ghee-rich chandrakalas to their kala jamuns, all the mithai in their display case looks absolutely delish and whatever your pick, you can't go wrong here.
Sri Krishna Sweets
Recommended for: If you're not here for their melt-in-your-mouth Mysurpa (which is their take on Mysore Pak), we're sure their wide selection of pedas and burfis will have you drooling. With trays of ghee-loaded goodness on offer, pick up your very own box of sweet treats from any of their outlets in the city.
Bhartiya Jalpan
Recommended for: Yet another Indiranagar joint on the list, Bhartiya Jalpan is wowing its customer base with its delish malpua and sugary jalebis. And it's not just mithai that these guys do. With a bunch of North Indian breakfast dishes and snacks on the menu as well (think puri aloo and chole bathure), they've got your whole meal sorted and not just dessert.
Sangam Sweets
Recommended for: A favourite with many, Sangam Sweets has a few outlets around town, including HSR and near Shivananda Circle. For all the sweet moments in your life, you can rely on them for ghee-loaded motichur ladoos, malai sanwiches, and jamoons. Chaats and quick meals are part of their offerings.
Asha Sweet Center
Recommended for: This Malleswaram legend is a buzzing beehive of activity during the festive season. Here, you can gobble up plump rasagullas or jamoons. Or take home colourful boxes filled with kaju katlis, Bombay halwa, and keerkadam.
Banchharam
Recommended for: When you are looking for the real deal in Bengali sweets, it's got to be Banchharam's. Their stellar sandesh, rasagullas , and slurp-worthy mishti doi can light up any day. During the festive season, they sell out pretty quickly so you better get in line, in time.
Comments