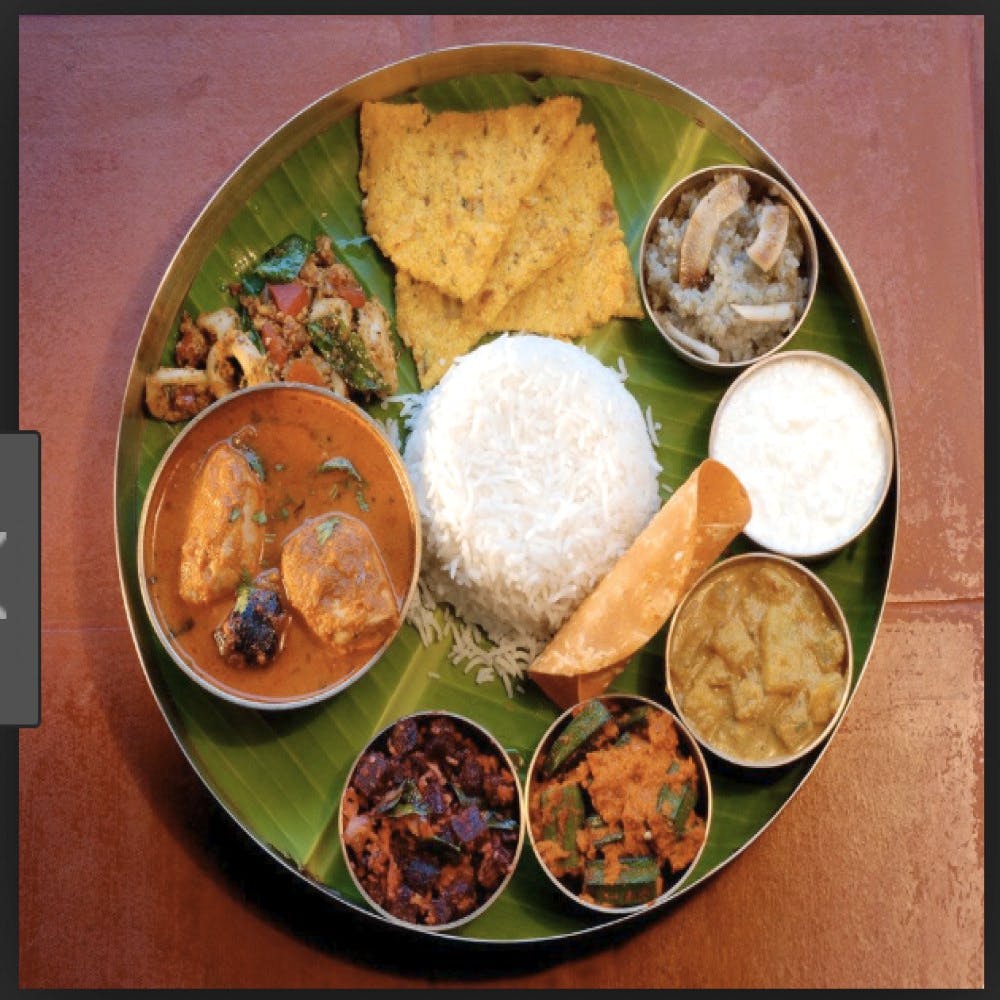 Fish Thalis In Goa We Swear By
There's something comforting and homely about a simple plate of fish curry and rice. While every other place in Goa, both fancy and run-down, does a thali, not everyone does it well. So, if you're really after a good meal, complete with sol kadhi, rawa fry and rice, hit up these restaurants in Goa where the fish thali rules the roost.
Vinayak
A local's recommendation for a thali joint in North Goa, Vinayak is a home-style restaurant run by a Goan family. The fish thali is an absolute delight and will mostly feature the fresh catch of the day, along with portions of local veggies and clams. You can also check with them for the daily specials — all of which will be one or the other delicious local goan curry. Their fish xacuti, prawn rawa fry and prawn sorpotel are among our favourites.
Star Light
This Goan dhaba in Arpora is known for its amazing, authentic preparations and for offering delicious, flavourful seafood and fish thalis. Perfectly flavoured, rich in taste and light on the pocket, Star Light is the place to get your fix of Goan seafood. Everything from the fish thali, calamari, mussels to the prawn pickle is worth a try. Coupled with friendly staff and good service, you have to try this place for their portions and quality.
Ritz Classic
A paradise for seafood lovers, the signature dish at Ritz Classic is their thali, which has four different preparations of seafood included. The restaurant has a collection of impeccably fresh seafood that is made into a host of curries and flavourful preparations. Located in the heart of Panaji, this restaurant is always packed with locals and visitors. You can try their rice and fish curry, crab masala, fish thali, butter-garlic calamari and you're best off with the thali that's an amazing value-for-money deal. They also have branches in Porvorim and Panjim Gymkhana.
Kokni Kanteen
Kokni Kanteen, a small but bustling restaurant in Panjim, gives Ritz stiff competition. Their fish thali is likely to make you shamelessly critique each and every thali you've ever devoured in your life. The Kokum saar to the Surmai rawa fry to the mussels stir fry, are equally delicious. Once here — definitely try their seradurRa, it's quite possibly the best in the world! A deceptive layer of biscuit crumbs conceal velvet soft pudding in generous quantity beneath it. They serve a special thali on Sundays which has more dishes and prawn fry and prawn curry for INR 265.
Fat Fish
Open through the year, Fat Fish is a charming restaurant on the Calangute-Arpora Road. It serves up stellar fish thalis and other Goan delicacies. Their seafood and fish thalis can only be defined as epic! The Special Goan Fish Thali comes for a meagre INR 200 and serves huge helpings of rice, two different kinds of fish curries along with a giant slice of rawa-coated, fried King Fish and generous helpings of crab masala in a coconut based gravy, a mussels curry and tossed veggies. The fish thali is only available between 1–3pm and the place gets packed during the peak season, so be prepared to wait… It'll be totally worth it.
Anand Seafood Restaurant
Anand is a humble, no frills local restaurant that serves authentic Goan home-style fish curries. Here, you can choose from a wide array of local catch and gorge on the best fish fries in town. Their fish thali is delicious as is leppo fish and mackerel rechado. Those that are not fish-eaters also have a choice of local chicken and vegetable curries to pick from. The veg xacuti and chicken cafreal are amongst the bestsellers for non-fish-eaters. We'd also recommend the prawns rawa fry, the butter garlic squid and the kingfish curry — keep in mind that most dishes are spicy and come in generous helpings.
Spicy Family Restaurant & Bar
Located in the heart of Margao city, Spicy Restaurant offers an elaborate thali lunch that has already become locals' favoUrite. The restaurant packs a punch with its tasty and authentic Goan flavours that feel like they came right out the Goan grandmas's kitchen. Their fish thali comes in large helpings, and coupled with good service it qualifies as an ideal place for a nice family dining.
Anandashram
Located in the colourful bylanes of Panjim, near the Mandovi river, this place is loved by the locals and tourists alike and is thronged by them throughout the day. With a humble setting of just plastic chairs and great Goan thalis, this place has been winning hearts since 1945. The fish thali is a must try here, with rava crust fried fish, piping hot rice, roti, coconut fish curry, clam curry, dry prawn, salad and sol kadhi. The other specialities here that you must try are chicken sukha, chicken cafreal and prawn masala.
Konkani Coastal Food Delicacy
With three variations in seafood thalis, the Konkani Coastal Food Delicacy, Pajifond, Margao is another of our absolute favourites for a delectable fish thali. Pretty much a no-frills restaurant that is also a favourite among locals, here you can choose between a Malvani fish thali, special fish thali or a prawn curry thali, all of them priced anywhere between Rs 100 — Rs 160. So go dig in!
Comments