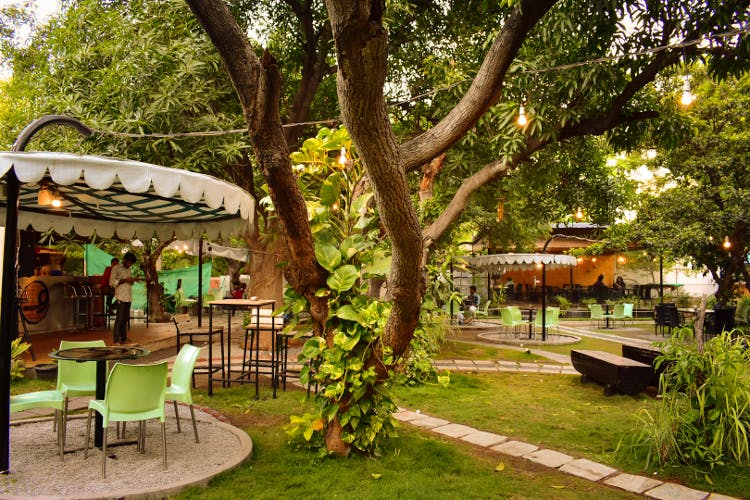 Rabbits In The Garden To Open Mics: Chill At These Cafes In Secunderabad
Secunderabad has some of the coolest cafes and people in the city. And while most of our Secunderabad friends joke that they have to travel all the way to Banjara Hills or city centre to check out cool cafes, we think otherwise. Here is a list of the best cafes in Secunderabad that you've got to check out.
The Coffee Cup
The charm of The Coffee Cup is boundless. Known for its live music and popular karaoke nights, you'll never find an insipid moment here. Your Monday morning blues can be straightened with their breakfast platter, Latte Cinnamon Dust Coffee, and wandering pets. For the comic lover in you, head over to their red brick wall adorned with superhero pictures. What's not to love? Their Ice Cream Cottage downstairs will remind you of The Hobbit and all things fantasy. Plus, they've opened another cafe right next door. Grab all deets here.
Groove 9
Fellow coffee lovers, would you enjoy a Cappuccino in the company of rabbits? Then Groove 9 located in Sainikpuri is where you should head to. Think of a home garden, modest yet quirky seating, kids frolicking around with their pets, and a fresh gust of wind. Groove 9 is a bit of this and everything, and we vouch for this place because it's not beautiful just around the sunset hour or rainfall, but has a natural appeal that can make you unwind for long hours.

Explore - The You
When you step into Explore The You in Sainikpuri, the first thing you'll notice is the woody ambience. Find yourself surrounded by paintings on the walls (Which are for sale), lights dangling from the ceiling, and a lofty shelf full of books. Considered as a cafe that is full of abandon you'll find hipsters playing guitar, families chattering over burgers, and artists musing in one corner over coffee. But for the most part, it's a popular hangout for students.

Jackie's Patisserie & Cafe
Jackie's Patisseris & Cafe is run by an Anglo-Indian family. Tucked away on SD Road in Secunderabad, this hidden gem of a cafe will take you by surprise. Actually, this is an apartment that is turned into a cafe and it serves up some rare dishes like chicken vindaloo, meatloaf. Love Indo-Chinese dishes or even momos? Get a scoop of them at Jackie's. Plus, their desserts and baked goods are top notch!

W Cafe
Think of outdoor garden seating, all-day breakfast, lots of board games, and your gang of friends. W Cafe in Sainikpuri offers all this and more. The graffiti on the walls remind you of dainty Goan cafes and the interiors are equally lovely with printed chairs, funky cushions with slogans, lights suspended from the ceiling. Wondering what's the best time to visit? Go during the evenings, because the cafe is well lit up and you can take plenty of pictures for your Instagram feed. We love the eggy dishes from Wich Way, and if you haven't been here before, do try the Egg Slut (an egg burger), and we tried the Eggs Gigolo and fell a bit in love.

Chai Kahani
Chai Kahani's outlet in Sainikpuri is so beautiful that you wouldn't mind spending hours there. The wall art is so easy on your eyes and the lighting, although dim, lightens up the entire place. Order yourself a round of masala chai or ginger chai and spend an evening with a book. Solitude assured!

Comments