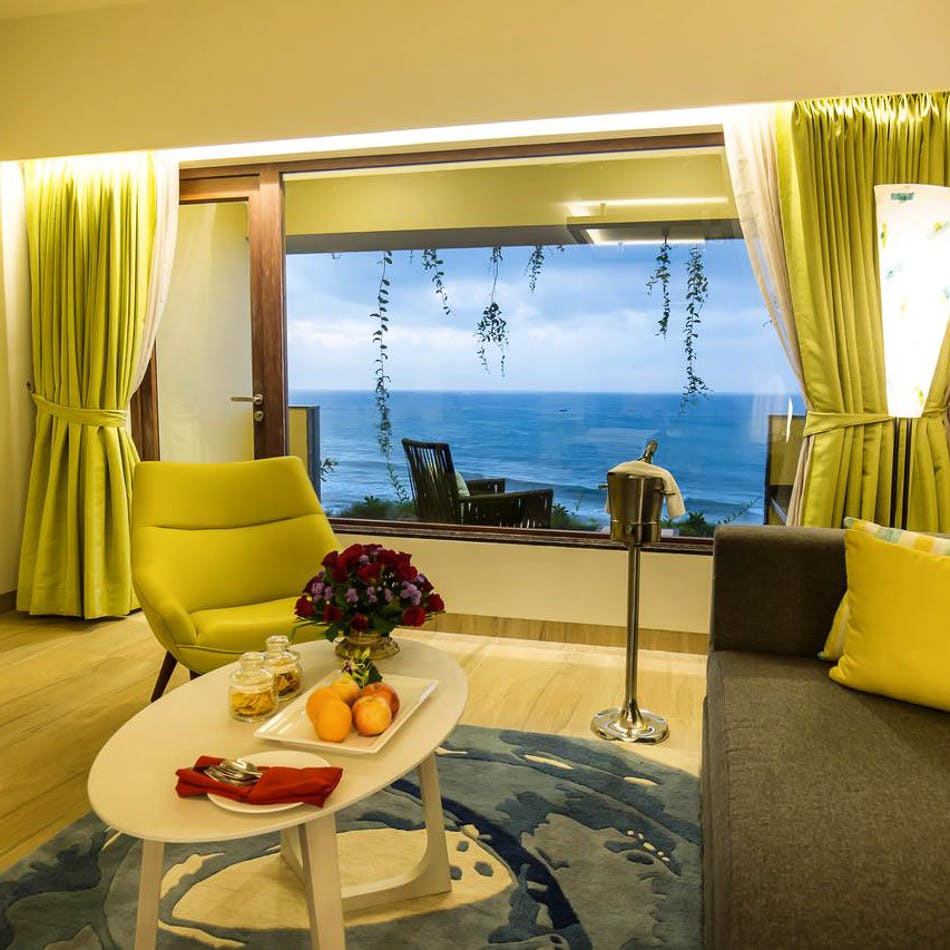 Ocean Views To Artsy Rooms: Crash At These Hotels If You're Traveling To Vizag
It doesn't come as a surprise that Vizag is making home for some of the coolest hotels. The city is growing rapidly, and people are rushing to visit it more than ever. If you are one of those, take note of these top hotels in Vizag, and spend a lovely time.
Andhra Arts & Crafts Hotel
Ever imagined you could stay in a room surrounded by Kalamkari artwork or Etikoppaka toys? The Palm Beach Hotel in Vizag has opened a new heritage wing — Andhra Arts & Crafts Hotel — with rooms themed and created after traditional art forms of Andhra Pradesh. You will find yourself gawking at the sculptures that are spread across the corridors and lobby. But before you Instagram everything, remember that the rooms behold more beautiful handicrafts. Whether you intend to check into a Tholu Bommalata room or a Brassware room, right from the wardrobes and study tables to washrooms, everything is exclusively handcrafted by award-winning artisans, sculptors, and interior designs.

The Gateway Hotel Beach Road
The Gateway Hotel is close to RK beach and has all the amenities you'd want for a luxurious trip — spacious rooms, spa, and multi cuisines. From garden view to sea view rooms, this hotel is perfect to rejuvenate. We're talking about a fully-equipped fitness center, hygienic pool to cool off, professional spa, 24/7 business services, travel assistance, sightseeing on request, etc. And not to forget, a pleasant weather thanks to the Bay Of Bengal waving us hello from the other side. You can book a luxurious room here with tasteful interiors which are totally Insta-worthy.

The Port Hotel
We know you want to step into a nautical-themed world. We mean, who doesn't? The Port Hotel in Vizag is making those dreams come true. For one thing, the exteriors of the hotel are designed to remind you of a dockyard. Walk in and voila — you're surrounded by artefacts like compasses, maps, and more. Often regarded as a museum of shipping and naval architecture, you won't stop Instagramming every corner. Saunter into the lobby to find lovely artwork, and walking in the corridors is almost like walking inside a ship.

The Bheemli Resort
The Bheemli Resort in Vizag is winning all the brownie points for its beach views, infinity pool, and rooms that spell opulence. Staycation with bae? Romance is totally in if you're checking into this hotel. Run by AccorHotels, The Bheemli Resort is a world in itself, and you don't even have to get into the city for your dose of fun. For one thing, it's super luxurious, and the beach is just two minutes away. Plus, they have an outdoor pool where you can have elaborate lounge sessions. Also, you can spot lite house from this resort.

Vizag Farm Stay - Taruva
Tucked in the centre of sprawling farms, this beautiful home farm stay near Vizag is legit giving us a Telugu movie feels. Want to unwind like a pro for a long time? This is where you should be. Sign up for a lovely rural life by going fishing or feed birds. As if the stay smacked amidst lots of trees and greens isn't lovely enough, it has a flower garden and you can go for an organic farm exploration. We think this is where you're going to properly unwind because they've got a river nearby where you can read a book or gawk at nature by sitting on the riverbed.

Sai Priya Beach Resort
Located near the turquoise waters of Rushikonda Beach (which is one of the cleanest beaches in Southern India), this resort is picturesque with sprawling lawns and if you're lucky, ducks! Suit yourself to a luxurious stay in their deluxe and premium rooms that don't compromise on comfort. Speaking of comfort, this is what they have to offer — AC rooms, cottages, beach view, swimming pool, travel desk, and an in-house restaurant and bar. What more could anyone need, right?

Comments