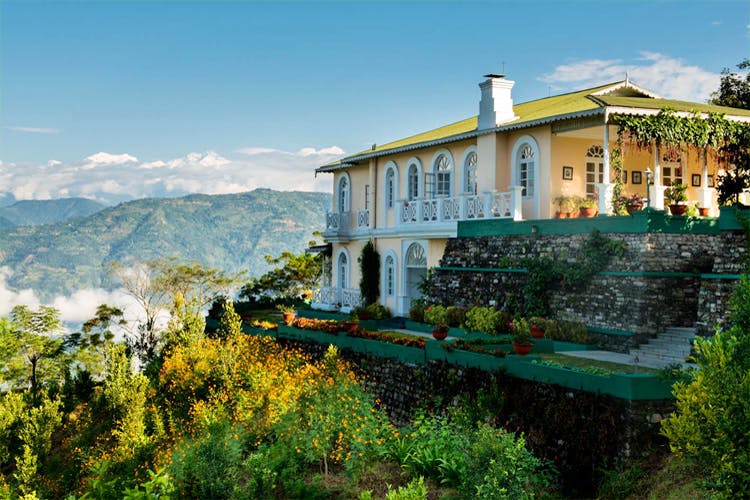 These Heritage Bungalows In The Middle Of Rolling Tea Estates Are Perfect For A Summer Vacay
If you are a tea person and love hill stations, try a stay at a heritage tea plantation bungalow on your next holiday. These atmospheric, Raj-era estates are located in some of the most scenic destinations in India — the rolling Himalayan foothills of Darjeeling and Dooars. You will get to tour the estates and indulge in tea tasting. And also avail of nature walks, birdwatching, trekking, and in some places, river rafting.
Selim Hill
The last stretch to this heritage bungalow is seriously steep – like a 90-degree slope. Do steel your nerves and brave the hairpin drive, as the estate is beautiful, surrounded by gorgeous Kurseong hills. It was set up by a British planter sometime in 1800. Rooms have exposed, painted-over-in-white, bricks, some have gorgeous cast-iron fireplaces and windows overlooking the huge gardens. The living room area has windows along all the walls and shelves full of old and new books and magazines. The resident chef is always on hand to rustle up great food — from pancakes and momos to aloo parathas.
Singtom
The small wooden bungalow has just four bedrooms, so do book in advance if you plan a stay here. The Steinthal Suite is the biggest one and has a beautiful bay window where you can sit and enjoy the landscape around. It has an ancient fireplace. The menu is all vegetarian – every dish is made with local organic ingredients.  the Buddha-centric decor, the wooden flooring,
Fagu
A stay at this majestic colonial bungalow is easy on the pockets and eyes. All rooms have fireplaces. The kitchen serves local cuisine. You can lounge around in the open terrace. Take day trips to an ancient Buddhist monastery, the Sevoke Coronation Bridge, and a gorgeous waterfall. You can also explore nearby reserve forest areas.
Tariff: INR 2,990 upward
Nya Sylee
You get to stay at the Directors' Heritage Bungalow with a sweeping verandah overlooking the tea gardens. Go just for the gorgeous sweeping verandah that has a beautiful view of the tea gardens, and a cosy living room with fireplace, pool table, TV and a small library. Enjoying tea tasting, which can be an involved business, much like tasting wine. Take a river rafting or paragliding trip nearby. Or just while away the afternoons lazing in the garden hammocks.
Goomtee Tea Estate Bungalow
This incredibly charming white bungalow with red tiled roofs was built in 1899 and gives you major flashbacks to an era long gone. Ask the people and they will tell you proudly that a film called Sagina Mahato (with Dilip Kumar and Saira Banu) was shot here. They will tell you their tea is famous, they have framed thank-you letters from Indira Gandhi who was served their tea. Enjoy the throwback, and the stunning view of the surrounding valleys and mountains.
Glenburn
If you are looking for a plush experience, then this one is for you. This luxurious boutique hotel dating back to 1859 made it to the Tatler Travel Guide's list of the best 101 hotels of the world.  The views are from the wide verandahs attached to suites are jaw dropping. Check out the quaint dressing rooms, the  claw-foot style bath tubs and the green tea toiletries. You'll love the fresh produce here – vegetables, fruits, salads and herbs sourced from Glenburn's own gardens. You can do a lot here – walk the trails in the hills, take a tea tasting session or just put your feet up by a cosy fireplace and snooze.
Comments