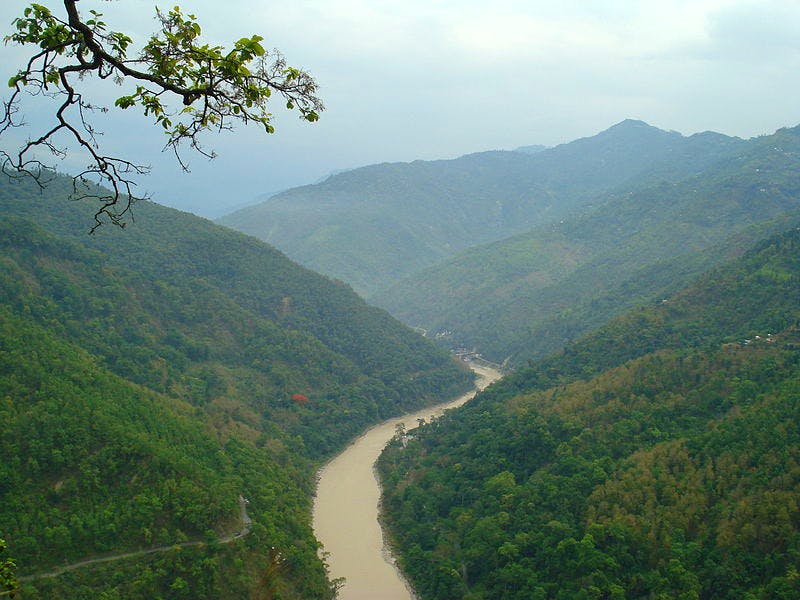 Placid Lakes To Gushing Waterfalls: You Can't Give These 10 Stunning East Sikkim Spots A Miss
Summers are around the corner, perfect time to take a break in the eastern Himalayas. Have you thought of a destination as yet? If you still haven't, we would like to suggest East Sikkim as a tourist spot. And just you help you figure, here's 10 stunning places that you just can't miss.
Tsomgo Lake
You'd probably better know it by the local name, Changu - one of the most popular places in the region. Known for it's scenic beauty and cultural importance, Tsomgo is a glacial lake that is located some 40km away from Gangtok. The word 'tsomgo' in Bhutia language means 'origin' and it is considered as a holy place by the local people.
The lake remains frozen during the winter months and in summer is it known to reflect the changing colours of the sky above. Plants like primula flowers and many more grow in the vicinity to add beauty to the incredible lake. Brahminy ducks and various other types of migratory birds are also found here, attracting a large number of visitors.
Nathu La Pass
Nathu La is one of the three open trading border posts between China and India (the others being Shipkila in Himachal Pradesh and Lipulekh at the trisection point of Uttarakhand, Nepal and China). An offshoot of the ancient Silk Road, this mountain pass is also ranked as one of the highest passes which can be accessed via road. One of Sikkim's most visited attractions, it has an army exhibition centre and a war memorial exhibiting the old methods of trade.

Fambong Lho Wildlife Sanctuary
A must visit place for all nature enthusiasts, the Fambong Lho Wildlife Sanctuary is famous for its varieties of both flora and fauna. Located conveniently about 20 km from Gangtok, Fambong Lho lies between Singtam and Dikchu.
The wildlife sanctuary is also home to a variety of rare species of plants and animals like red panda, Himalayan bear, rhododendrons, barking deer, yellow-throated marten, takin and others. Tinjure is the sanctuary's highest point at 7,000 feet. It has a wooden observation deck managed by the forest department.You can also go up to the Chuli hamlet (which has a trekker's hut) located at the highest point of the sanctuary.
National Parks & Wildlife Sanctuaries
Rumtek Monastery
It's by far one of the most popular and largest monasteries in the entire Sikkim, tbh. Located in Rumtek district, nearly 23 km away from the main town of Gangtok, it belongs to the Kargyu sect of Buddhists. Known for the striking resemblance to the famous Tsurphu Monastery of Tibet, the main temple spans four stories, and overlooks the sprawling town of Gangtok. It is also famous as the Dharma Chakra Centre. The monastery commands outstanding views of the neighbouring mountains and valleys.
Zuluk
A fairly recent tourist destination, this quaint little hamlet is nestled in the lower Himalayas of East Sikkim. Zuluk offers a stunning combination of solitude, adventure and serenity, drawing travellers and trekkers into its realm every year. Located at least 10,000 feet above sea level, Zuluk is widely known for its winding and undulating roads that scarf around the hills, including the magnificent old Silk Route that is an ancient trade route between Tibet and India. In fact, the first village en route the Silk Route is Zuluk!
This is also the base point from where you can explore the higher altitude destinations of Nathang Valley, Kupup and Tsongmo lake.
Aritar Lake
It's one of the oldest natural lakes in Sikkim, and interestingly it is shaped like a boot (much like Italy!). Lampokhri Lake (aka, Aritar Lake) lies next to the Aritar village in East Sikkim, nestled at the heart of a dense pine forest. This brilliant emerald lake is looked after by the army, but you can boat around or feed birds around here. You can get an arial view of the lake by trekking 2km uphill to the viewpoint.
Namgyal Institute of Tibetology
One of the most celebrated research centres of Tibetan history and culture, the Namgyal Institute of Tibetology is cradled by lush green forests of oak and birch. Located a couple of kilometres away from Gangtok, the building houses a spacious museum where numerous ancient artifacts, artworks, coins, statues of manuscripts in Sanskrit, Tibetan and Chinese are showcased. There's also a library that is a part of the institute, harbouring countless resources in Tibetan language, mountains, history and culture. The striking attributes of Tibetan architecture are mirrored in the institute's grand exterior too.
Nathang Valley
This charmingly beautiful village is often referred to as the 'Ladakh of East Sikkim'. Falling on the old Silk Route, this remote Tibetan village in the Eastern Himalayas remains shrouded under a thick veil of snow throughout winters, offering thrilling opportunities of skiing and other winter sports. There is a beautiful frozen pond near the Durga Temple, where the Brahminy ducks are commonly sighted. There's also a small Buddhist monastery which sits shaded in the extreme right of the valley, untouched by tourism. If you're an explorer at heart, Nathang Valley is heaven for you.
Bakthang Waterfalls
It's one of the least touristy places in East Sikkim, but gushing waterfall is a sight to hold and experience. Spread against a backdrop of the Eastern Himalayas, Bakthang is an hour's drive from the main town of Gangtok, and is a perfect spot if you are an explorer seeking untrodden paths and some peace. The falls originate from the river Ratey Chu, and cascade down as beautiful silver threads, the roaring of which can be heard even from a distance. It is visited mostly by nature lovers and trekking enthusiasts every year. The melodious gushing of waters, coupled with the deep forested beauty and the spectacular Himalayan background is a captivating experience.
Tashi View Point
Nestled in Gangtok's Tashi district, the Tashi Viewpoint is a favourite tourist haunt. Offering a vantage point to the sweeping views of the magnificent Kanchenjunga range, the place is best known for the predawn views of the snow-capped peaks. If you reach here before 5am, you can see the magical, although momentary, phenomenon that occurs when the first rays of sunlight break on the massive peaks, shrouding them in a surreal golden hue. Not only that, these peaks keep changing colours throughout the day, turning into a blissful orange-pink at dusk. Cameras won't do justice, trust us!
Comments