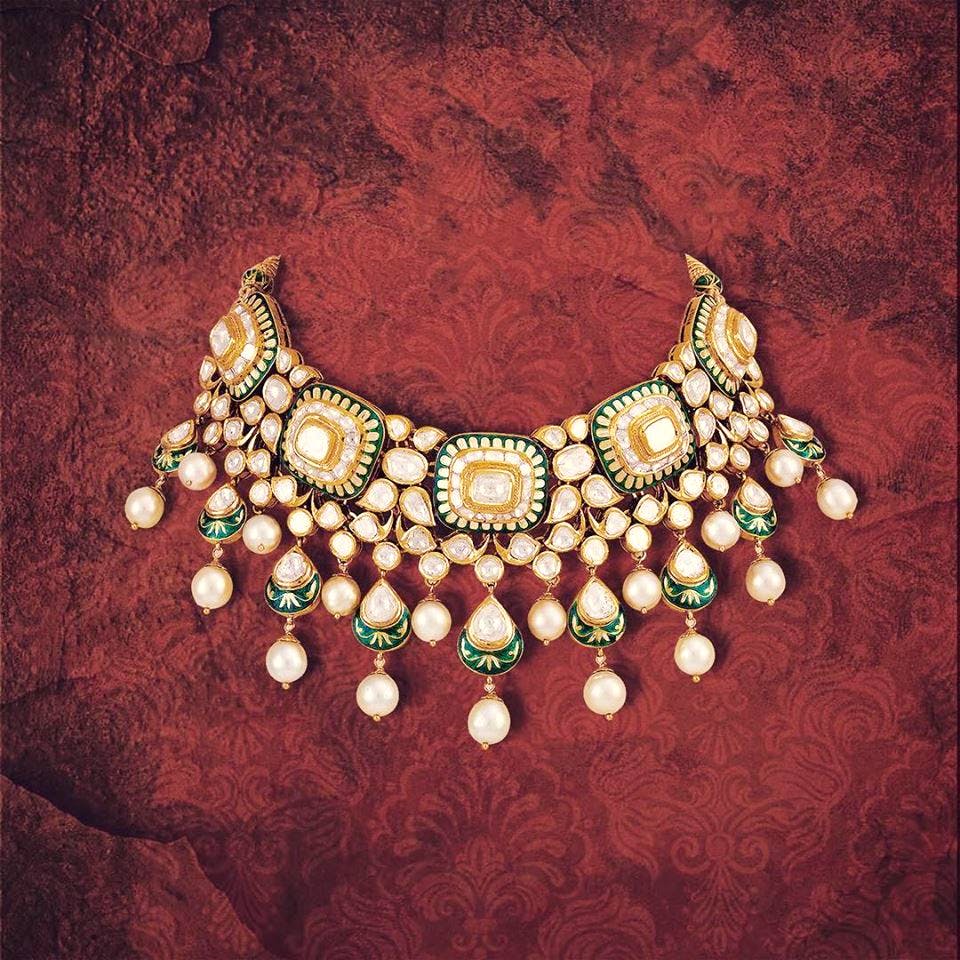 All That Glitters: Dazzle It Up At These 10 Famous Jewellery Stores In Park Street
Wedding or anniversary? Bae-love or self-love? Whatever be your excuse to buy precious jewellery - this one stretch from Park Street to Camac Street has enough jewellery stores to take care of all that and more.
Satramdas Dhalamal Jewellers
Bespoke, legendary and revolutionary is what defines Satramdas Dhalamal's jewellery. Founded in 1880, as one of the pioneers of wearable jewellery, its first store was where the restaurant Moulin Rouge is today. Marrying ancient art forms with modern connotations, their jewellery is a choice of the who's who of the country. Love the ethos, drama and energy of an oversized jewel? Here's where you will find a whole collection of statement pieces that will do all the talking for you.
Tribhovandas Bhimji Zaveri
They are the first jewellers in the country to offer a lifetime buyback guarantee on any gold and diamond jewellery bought from them. The best thing about TBZ's jewellery is its eclectic designs. You are sure to find what you are looking for no matter what the occasion. If you have been eyeing the traditional side jhummar passa (from the Mughal era) to go with your sharara, then this is the place to get it from.
Syndicate
Want designs that are exclusive and customised as per your taste and preferences? Syndicate will do that for you. Shine bright like a diamond with their made to order stunning pieces. Whatever you do, don't miss out on checking their collection of antique jewellery that includes timeless pieces such as the emerald and pearl stringed choker or the Lotus chandelier earrings.
Kalyan Jewellers
Go to Kalyan for their brilliantly done antique designs. A journey that started in 1993 in Thrissur, Kerala, has grown into 135 showrooms spread across India and the Gulf. What really makes them tick is their deep understanding of local tastes and preferences. We love the Anokhi collection - a range of uncut diamond jewellery - raw, natural, true and wild just the way Nature intended us to be.
CaratLane Store
Millennials, tired of run-of-the-mill, overtly traditional jewellery designs? CaratLane is your knight in shining (pun intended) armour. Refreshing, courageous, affordable and minimalistic designs - need we say more? They even have a virtual jewellery try-on app to save you the hassle of going from store to store in finding the pièce de résistance. Like something from the app and still want to have a real feel of it? Schedule an appointment for a try @ home and their consultants will bring your favourite picks to you without any obligation to buy. Swell! Ain't it? We have our eyes and hearts set on their butterfly collection.
Malabar Gold & Diamonds
Another gem from Kerala established in 1993, with a strong retail network of over 250 outlets spread across 10 countries, Malabar will knock you off your feet with its gorgeous display of all things sparkly and nice. In fact, Malabar ranks among the big 5 jewellery retailers globally. Choose from heritage jewellery, uncut diamonds jewellery, handcrafted designer jewellery, kids jewellery, precious gems and diamonds unlimited. Also, check out their very affordable Filigree Collection and thank us later.
H M Diwan Jewellers
H M Diwan, as royal as the name, is an exquisite romance of diamonds, gold and polki set in the times of sepia tinged royalty. You will be besotted with the sheer brilliance of their craftsmanship. Their designs merge past, present and future to handcraft jewelley that has a timeless appeal to it. They are soon coming out with a delicate and divine collection inspired by orchids (*rubbing hands with glee*). Watch their website space for more deets.
R. R. Agarwal Jewelers Pvt. Ltd.
Wedding shopping? Looking for Polki and Jadau to go with your lehenga? Make a dash to R.R. Agarwal. Trusted and traditional, you cannot go wrong with your wedding needs here. Don't have a budget for diamonds? They even have a Moissanite (gemstone born from the stars, engineered to give the illusion of diamonds) collection, to make you look like a million bucks without actually spending that much.
Common Wealth Jewelers
The oldest (established in 1928) amongst the most trusted jewellers in Kolkata, for not just buying but also selling valuable jewellery, collectibles and curios. If you have inherited something vintage from your ancestors but aren't sure about how valuable it is, head to their store and get them to check it out. They have a fair and meticulous valuation process in place and it might take you by surprise how valuable even apparent junk turns out to be! You will get spot cash payment if you wish to sell your valuables or even get a loan against it. Very few trusted stores in the city offer that service.
Sawansukha
With over 250 years of experience in the business, Sawansukha are the traditional diamond merchants hailing from Bikaner, Rajasthan. They are even recognized as a design and industry leader from Bengal with one of the largest and finest collections of handmade diamond and jadau jewelry. Their signature collection will wow you like no other. Apart from the stunning jewellery, check out the accessories including diamond studded cufflinks and precious gemstones studded smoking pipe, for your luxury gifting needs.
Comments