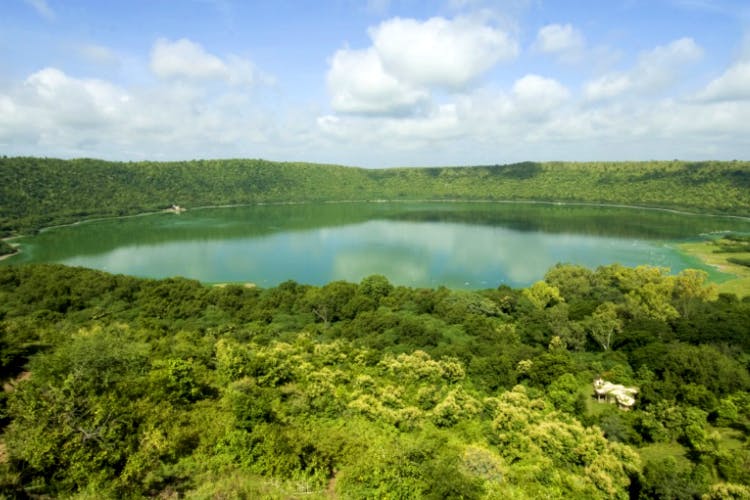 Aurangabad, The Tourist Capital Of Maharashtra Has Beauty To Offer In Abundance
Shortcut
Deriving its name from Mughal emperor Aurangzeb, Aurangabad, as many might not know is one of the most sought after tourist destinations in Maharashtra and was crowned to be the Tourism Capital of the state some time last year. The city offers a wide variety of things to see; from UNESCO World Heritage sites to markets that are brimming with the choicest silk items and more.
There's so much to see and do here that just a few days might not do enough justice to your trip here, but we have rounded off a list of some of the must-do/see things that you shouldn't miss if you're here on a short trip and need to make the most of it. Check it out!
Bibi Ka Maqbara
Bibi Ka Maqbara is the beautiful mausoleum of Rabia-ul-Daurani, the wife of Mughal emperor Aurangzeb. It is the only exhibit of Mughal architecture in this part of the country that was designed by a Persian architect which is seen in the way it is constructed and the details speak loudly of Persian influence too.
While it strongly resembles the Taj Mahal in Agra, it is built on an elevated platform that is guarded by four minarets on the four corners and can be reached via a series of steps on three out of the four sides. The pillar tips that are made with red stone are an absolute beauty during sunset, but the best time to visit is in the morning when the first rays of the sun hit the mausoleum and cast its reflection on the water. It is open from 8AM to 6PM, and we'd strongly recommend a visit to Bibi Ka Maqbara.
Siddharth Garden
Set in the heart of Aurangabad, Siddharth Garden is a beautifully landscaped garden that boasts of perfectly sculpted shrubs and trees. Spread over a massive area, it is a very popular picnic spot among the residents of Aurangabad. On any given day, it is thronged by nature lovers, fitness freaks, photographers and is frequented by families on weekends. The picture-perfect lawns make Siddharth Garden stand out from the rest in the city. It is easily accessible and located very close to the railway station. Head here for some peace and quiet amidst nature.
Ajanta Caves
This UNESCO World Heritage Site has been a part of our history textbooks through our time in school. The Ajanta Caves showcase the Buddhist narrative artwork between 200 BC and 650 AD, and were rediscovered hundreds of years later when a British officer was hunting around the area. Ajanta comprises of 29 caves that have been constructed by using simple tools like hammers and chisels (we couldn't believe it). These gorgeous caves are accessible to the public between 9AM and 5PM.

Ellora Caves
Yet another wonder that has been a part of our history textbooks, and often whose name is taken in the same breath as Ajanta Caves, Ellora Caves is one of the largest rock-cut monastery-temple cave complexes in the world, and a UNESCO World Heritage Site too. It is made up of 34 caves, which have inscriptions and intricate carvings that throw light on Jainism, Buddhism as well as Hinduism. The architectural brilliance and grandeur of the Ellora Caves is enough to leave you speechless, and deserves a visit at least once.
Lonar Crater Lake
Even though the Lonar Crater Lake might not be situated exactly in Aurangabad, it is easily accessible and is situated at a distance of only 3 hours from Aurangabad in Buldhana District. Often flocked by geologists, naturalists, students, and archaeologists and tourists (like us), this lake was the result of the impact of a large (really large) meteor. The huge mass and velocity of the meteor while it hit the ground created this saline soda lake that soon became a tourist attraction. It is surrounded by low lying hills and greenery which adds to the beauty of this natural wonder.
Jyothirlinga Grishneshwar Temple
The Grishneshwar temple is believed to be the last Jyothirlinga (devotional object that represents Lord Shiva) temple on the planet. Legend has it that a staunch follower of Lord Shiva once found a treasure inside a snake pit, which was then used to build the Grishneshwar temple. The walls of the temple are covered with intricate inscriptions of several Hindu gods and goddesses. This temple is a must-visit for its architectural style and the peace and calm that it offers. One can visit the temple from 5:30AM to 9.30PM.
Comments