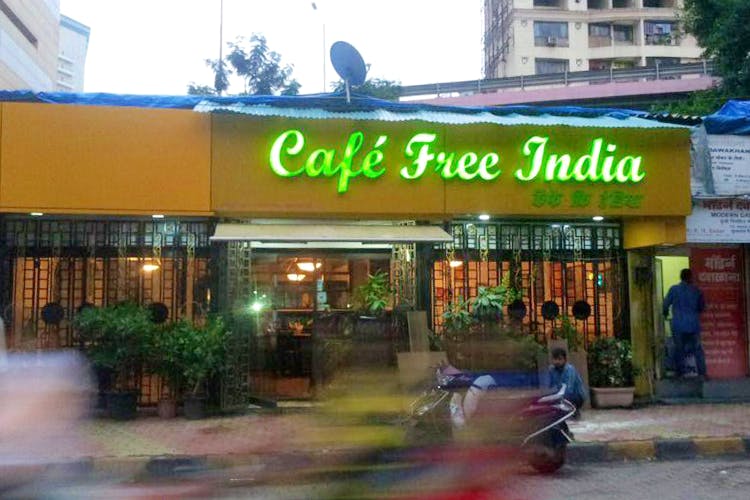 Head To Lower Parel's Cafe Free India For Southern-Style Fried Chicken
Shortcut
Cafe Free India, located near Kamala Mills in Lower Parel, is just the place to head to when you want to have a quick gossip session with your colleagues.
Chow Down
Pizzas, burgers, shakes and more basics can be found at this small, brick-walled cafe. Located just off Senapati Bapat Marg, you'll find it by the chalk board with the day's specials which is usually displayed outside.
The menu also includes Thai selections such as prawns fried rice and chicken Thai sauce – keep an eye out for the red Thai sauce, which is fresh, hot and delicious for INR 240. CFI is located just off the Senapati Bapat Marg. Parking can be an issue when visiting this place. From the outside it looks quite austere. A chalk board with the day's special menu is displayed outside.
Sip On
The eatery doesn't serve alcohol, and does have a couple of 'freak shakes' such as kitkat shake and Snicker shake, but we would advise that you go for the peach ice tea for INR 90. The large quantity and fresh flavours will have you coming back for more.
Winning For
Don't forget to have the crab cakes, which are heart-shaped cutlets served with a tangy tartar sauce for INR 300. They also have a very interesting and surprisingly authentic New Orleans-style fried chicken and chips for INR 310, and a Louisana crab burger which is juicy and filling for INR 345.
So We're Thinking...
We advise that you head here for lunch, but make sure you time your visit strategically, since the cafe can be overflowing between the hours of 1pm and 2pm with hungry office-goers. They will also deliver to your nearby office, but be warned – the crab burger might lose some of its crunch of its way to you.
Comments