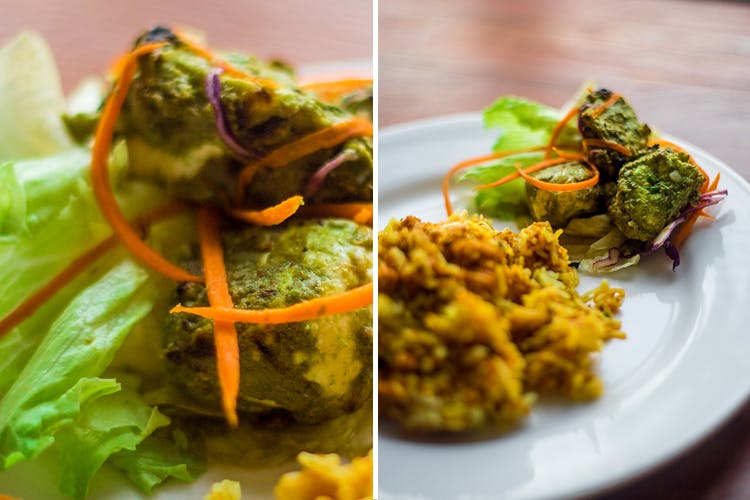 Paneer-Lovers Need To Try The Delicious Biryani At Durga Restaurant And Bar
Shortcut
Located a stone's throw from Matunga railway station, Durga Restaurant & Bar is the place to hit up for some super delicious grub.
Chow Down
This one's for all those looking for a hearty Indian meal that's flavoured just right. If you're into eating healthy, stay away. Plus, it's a bar so it's definitely not a family place. Though, you could always opt for takeaway. The prices may seem a little steep but the food is worth every penny.
The paneer pahadi kebab will have you licking the gravy off your fingers, guaranteed! It's flavoured with just the right amount of spices and is spicy enough without you having to reach out for some water after every bite.
Next up, their delicious biryanis. You haven't eaten biryani if you haven't tried the ones at Durga! Go for their paneer biryani – soft chunks of paneer are thrown into the melee of delicious rice and even more delicious gravy. You will be wondering what their secret ingredient is, once you've had the paneer biryani.
Anything Else?
To me, flavour has always mattered above everything else and this place never disappoints. Even if the place doesn't live up to my expectations in terms of decor , it more than makes up for it in terms of the food. You will not have tasted food like this anywhere else. A nice, hearty meal that makes no compromise whatsoever on flavour, is what Durga is all about.
Well, it's a bar so the ambience is really nothing great. If you're going here for the decor, then don't! A bright white tubelight and mostly male patrons will greet you when you step in. However, expect quick service and heady aromas to make up for what the place lacks in ambience.
So, We're Saying...
If you're a gang of friends, eat here by all means. Otherwise, I'd suggest opting for takeaway, if you aren't comfortable in the ambience of a proper bar.
Also On Durga Restaurant & Bar
Comments