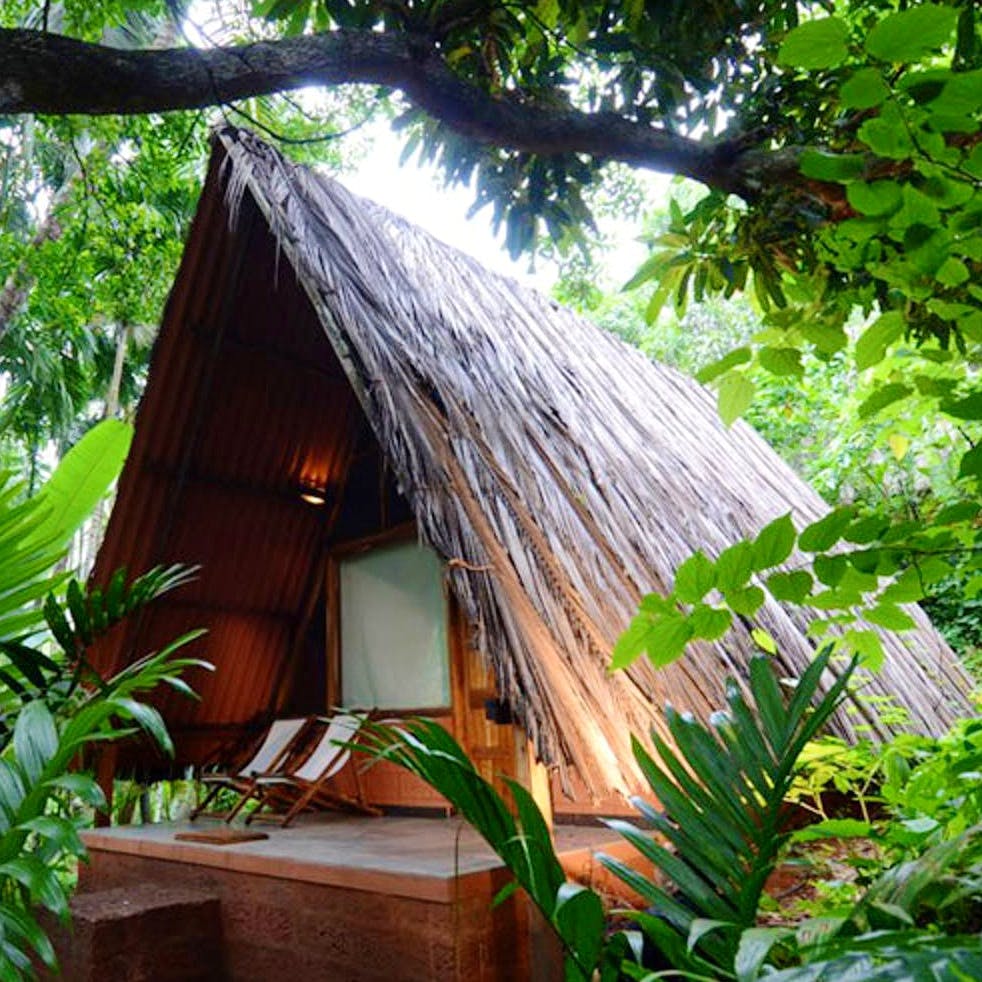 Eco Friendly Resorts Near Mumbai For The Perfect Sustainable Holiday
When you think of eco-tourism, most of you imagine a space that likes to live in the past, especially when it comes to the amenities on ground. But, let's correct that notion. What if we tell you that eco-tours are the rage of the day, and are absolutely 'in' right now, with tourists from all around the world flocking for a unique experience? It's adventurous, fun, challenging and relaxing, making you feel amazing and offering you memories to last a lifetime, if not longer. Intrigued? Read on.

Dongarmatha Eco Resort, Ratnagiri
This resort is as unique as its name. Dongarmatha is a resort that's perched on top of the hill. Located in Ratnagiri district, this eco-resort aims to bring tourists closer to nature, and provide them with amenities that promote sustainable living. The resort has tried to conserve natural resources by adopting renewable construction materials such as bamboo. Spread across five acres of land, Dongarmatha has eco-friendly semi deluxe rooms for a capacity of three people. Each room has bamboo roofs and cow-dung flooring that inculcates naturopathy.
Ka-ching: For INR 4,500, you get all of this, plus a scrumptious local breakfast with tea or coffee, an evening snack, and a dinner that's complimentary.
The X Factor: Dongarmatha helps you learn new skills like terracotta miniature pottery and pottery painting. Apart from this, the owners love taking their guests on a nature trail that allows you to witness the deciduous forest amidst which the resort is located. There is also a crocodile and bird-watching tour that can be conducted via boats in the estuaries nearby. And in case you want to cater to the adventure junkie in you, make sure you avail the rappelling and rock-climbing activities.
Gandhar Eco Lodge, Alibaug
Gandhar, an eco-lodge in Alibaug, is all things calm and beautiful. The idea of Gandhar (which means space, tranquility, and serenity) was born with the intent of making eco-tourism exist with rural areas in the State. The property has used all natural means to create a magical experience for us. It has little bamboo huts, water heaters made of wood-fire, and betel-leaf wood plating. On arrival, you will be welcomed in a traditional style with garlands being adorned on you by the local caretakers-Kiran and his wife. They will take you to the vegetable gardens behind the property, and help you choose the freshest pieces for your meal.
Ka-ching: Their tariff for a double bedroom on weekdays is INR 25,950 and for weekends the price is INR 34,600. You need to book this lodge for a minimum of two nights and three days, and the cost includes all the lip-smacking meals that you consume, along with beverages and snacks.
The X Factor: You can indulge in activities like rangoli and statue-making, or choose to laze around the quiet lanes of the property and play a board game or two. Also, Gandhar's conscious effort is to inculcate a no-wifi/no internet culture because they want their guests to bond with/amidst each other, and with the locals around them.

Avanti Kalagram, Pune
This beautiful eco-resort, located around 160 kilometers away from the city, is a cultural hub that showcases and engages with indigenous arts and crafts of the locals from the village. Started by the Nalanda Prathistan Trust, one should think of this resort as a shelter where one can enjoy nature, cultural activities and at the same time promote the rural arts. It's a unique concept in itself as it aims to provide the locals of the village with skills and employment and promote their growth.
Ka-ching: For an ac deluxe room one pays INR 2,900 upwards (for a couple), or for a simple dormitory room you pay INR 1,500 per night.
The X Factor: The resort keeps organising a lot of fun activities. Art and crafts workshops are conducted regularly as one can learn pottery or the traditional batik paintings. People seeking thrill and adventure, you can sign up for rappelling, zip lining across the valley or even go rafting for as low as INR 300.
Forest Hills Tala
Forest Hills at Tala is a gorgeous, eco-friendly mountain valley getaway and is perfect for those looking for a luxurious getaway surrounded by nature. We're already imagining catching up on our beauty sleep tucked in the comfortable beds in one of the romantic villas or mud houses in here.
Ka-ching: The best time to spend at this resort is on any special occasion. Because well, it is slightly on the steeper end. The rooms during weekends start at INR 10,000 for two people.
The X Factor: There are outdoor activities such as fishing, archery, rifle shooting, swimming, football, segways and lots more. The Buddhist Kuda caves and Tala Fort are around in case you'd think about leaving this super cosy space and go explore. They have a restaurant inside that will take care of your food cravings.

Vasundhara Eco House, Parule
Choosing the right villa is really important while vacationing and this one with a huge garden space and a personal swimming pool makes life tranquil. Vasundhara Eco House is an eco-friendly property made out of clay predominantly, and the spacious (Instagram-worthy) rooms are what sustainable living looks like. They also have a roof made out of bamboo and wood, and a spiral staircase that stands on wooden logs (super cool, right?)
Ka-ching: Each room comes for INR 3,500, with breakfast and morning tea.
The X Factor: Vasundhara EcoHouse is quite centrally located. The market place is nearby, and many pretty tourist spots like Malvan, Tarkali, Devbag, and the Bhogawe beach are all within a radius of 10 kilometres, in case you want to put on your exploration cap.

Maachli, Sindhudurg
Maachli is a peaceful and unadulterated farm stay bang in the middle of nowhere in Vengurla for a quick getaway. It's situated on a peaceful plantation and the owner makes that no tree is cut in the area. The cottages are eco-friendly, wooden and go well the overall ambiance of nature and greenery surrounding them. The food is served on banana leaves, with earthen pots that are used to serve the food. The vegetables are organic-grown on the plantation itself and cooked on the chulha (mud-stove) to really bring out the flavour to the T.
Ka-ching: For INR 5,900 for a double occupancy per night that includes breakfast, lunch, dinner, and tea, this serene plantation stay is for anyone who's looking for a detox from their busy lives amidst the calming nature.
The X Factor: A lot of activities are planned as well if you'd like to get involved like taking a guided tour of the village society "Avaath" with its Konkani style houses, their Friday bazaar, take to farming at the plantation or visit the nearby temples and beaches.

Comments