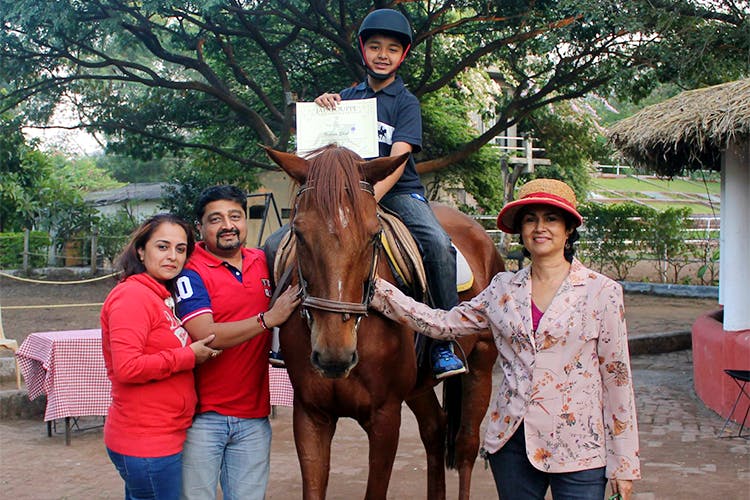 Need A Family Getaway? Check Into These 5 Kid Friendly Resorts Near Pune
If you're planning a family holiday where you want your tots to have something to do, then these places are ideal. We found five kid-friendly resorts near Pune, where your little ones won't get bored.
The Upper Deck Resort
Located in the most popular getaway near Pune, The Upper Deck Resort in Lonavala is ideal for a weekend getaway. The hill station became a popular weekend spot during the British Raj and the resort has a lot of activities that you could do around. Trek to Rajmachi fort, visit Kune falls, Karla caves and more. The resort has a spa, for when you want to leave the kids in the room and relax instead. There's also a jacuzzi and a kid's swimming pool with picturesque views. There are other activities at the resort too, which include table tennis, carrom, a children's park and more.

Della Adventure
The extreme adventure resort in Lonavala is ideal if you want an activity-packed weekend. There are a range of things that you and your kids could participate in. There's artificial rock-climbing, bungee trampoline for kids, bubble zorbing, you can walk dogs, milk jersey cows, horse ride, ride ATV bikes and a lot more. There are many rooms to choose from for the night. Book a luxurious suite, check in at the resort, live in air-conditioned tents, or get a villa room if you're a large family.

Parashar Agritourism
If you want your kids to learn about the farm life, take them to this agro farmstay. Located in Junnar district, this farmstay will take you on a farm tour, teach you a bit about organic farming and you can eat authentic Maharashtrian food. You can also explore Junnar as well. Trek to Shivneri fort, climb Malshej and Nane ghat or explore Lenyadri caves. The farm stay has typical hut-like rooms, where you can spend the night too.

Palmwoods Retreat
Book a luxury villa near Mulshi, gracing the Mutha river. You can get a one or two-bedroom villas in the resort, combined with a large private lawn, meals and several other basic amenities. The resort is surrounded by palms, scenic views of the river and it's the ideal space to be at if you're trying to get away from the city. You can enjoy outdoor activities like horse riding, rifle shooting, cycling, and archery. And, you can take an agro tour as well and farm a little, milk cows and grab fresh fruits and veggies.

Japalouppe Equestrian Farm
If your kids love horses, take them to this equestrian farm stay. If you're focused on learning to ride and care for horses, then sign up for their week long camps. Or you could head here for a picnic too. The farm stay allows you to visit the petting farm, learn a bit of horse riding, have a picnic in the farm and visit the stables to care for the horses. You can book a cottage or spend a night in the dorms, if you're looking for a more budget stay.

Comments