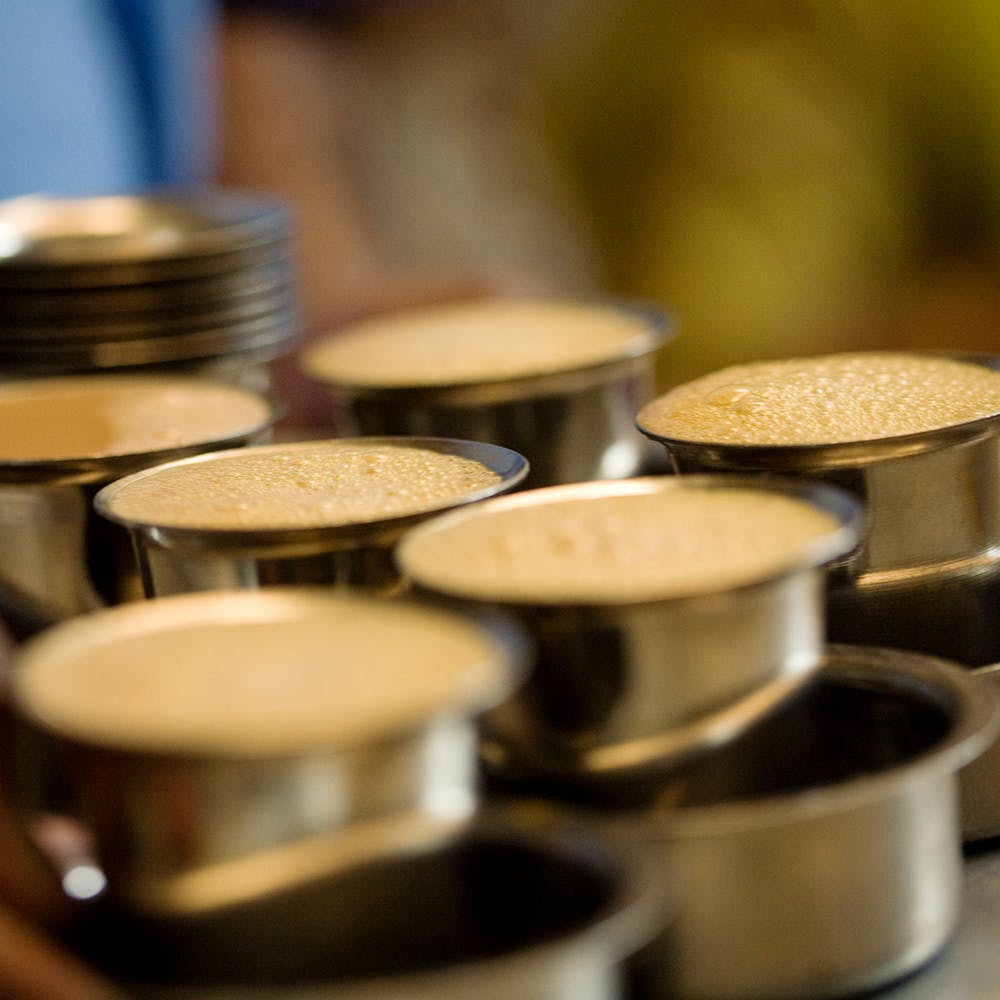 Kaapi Nirvana: Here's Where You Can Get Your Shot Of Caffeine, South Indian Style
The best things in life come in small, caffeine-filled tumblers. If like us you love to take your love for coffee seriously, we're here to take you to filter coffee heaven. Think you're up for the ultimate coffee trail of your life? Get set, we're all about to introduce you to the best piping hot tumblers of filter coffee.
Café Madras
This iconic eating joint in Matunga is our early morning weekend favorite when we drop in to enjoy a fulfilling meal (set dosa for the win) and probably some of the best filter coffee in the city. It's difficult to stop at one here, so if you find yourself ordering for that second tumbler, order away! Life is too short to miss out on good filter coffee. A tumbler of filter coffee will cost you INR 25.
Arya Bhavan
This eatery at Matunga is frequented by coffee lovers at all given hours of the day. At INR 40 you can get your hands on some of the best filter coffee around town, and we guarantee you'll be going back for more of the frothy caffeinated goodness here!

Madras Cafe, Colaba
This simple Udupi restaurant at the end of Colaba Causeway might have you waiting to get a table, but the wait is worth it. Order some idli-vada for a quick snack, or simply drop by to relish a delicious cup of filter coffee. If you're in the area, you can drop by early mornings for quick breakfast meetings too! A cup if for INR 27.

Swati Snacks
This iconic canteen style restaurant in Nariman Point is a great place to drop by for a quick meal if you're working around the area. We highly recommend dropping by for a cup of strong filter coffee and a heavenly meal – something that also comes highly recommended by the office goers around the area. A cup of filter coffee here would cost you INR 30.
#LBBTip- the filter coffee here is served only between 3 PM-6 PM.
Poornima
This old-school establishment in Fort is a cozy comfort one we like to retire to once in a while, thanks to their soul-comforting filter coffee that is enough to make you feel everything is all right once again. Head over during tea break or even for breakfast as you make your way to office. A cup of filter coffee here costs INR 29.

Banana Leaf
This restaurant in 7 Bungalows Versova is a popular haunt for families and large groups to enjoy soul-satisfying south Indian meals. We love walking down to enjoy our breakfast mornings here on weekends. The filter coffee here is so good, we order one before AND after the meal. You'll know when you get a taste of it. You can thank us later.
A cup here will cost you INR 60.
Aaswad
This iconic joint might be known for great Maharashtrian food, but you'd be surprised to know how many loyal patrons swear by the strong and delish filter coffee that is served here. Order a cup for INR 31 after lunch and find out for yourself!

Adar Udupi Refreshment
This simple Udupi restaurant in Vile Parle is great for a quick meal, or like us, you can simply walk in for a quick cup of filter coffee. Priced at INR 33, this filter coffee is sometimes the only rejuvenation that you need in the middle of a work day.

Comments